After spending a better part of the day looking at fellow Craftsters' hair and tattoo photos, I retired to the couch to watch Comedy Central with my DH . . . and bead.
My poor eyes hate me right now. Which may have something to do with the less-than-stellar photos.
But before I fall into an Americone Dream-induced coma, I feel compelled to post my efforts and beg for feedback. Not perhaps as pathetic as the dreams I will have about Jon Stewart and Sarah Silverman tonight, but there it is.
This little guy came from a friend's stash. He looks kind of sleepy too, come to think of it.
And the close ups.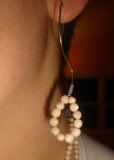 Have I mentioned my loathing of plastic-wrapped wire?
No matter, this is all for practice.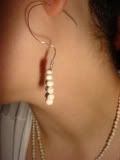 But I luh-uhv long ear wires.