This started out as a simple hoodie recon. (Hence the kangaroo pocket.)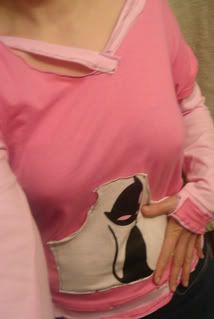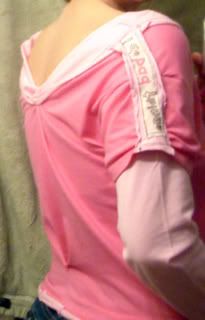 But then I somehow got sidetracked and scissors happy.
So now the top has a gathered back, a very wide asymmetric neckline, epaulettes (one of them flying),
(the flying epaulette)

-- also thumb holes and hella topstitching.

This was made from three t-shirts: a long sleeved pale pink American Apparel Girl S; a short sleeved bright pink Hanes youth L and a tiny short sleeved girl shirt from Doe was the inspiration piece from which the cat and the text

I do

bad

things

came.

The shirt drapes much better when I am not stretching to try to get a good picture of myself in the bathroom.

This is especially true of the right front semi-detached collar.

So here's an inaction shot.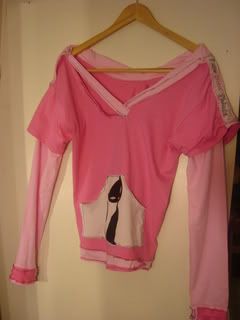 Feedback would be very much appreciated as this is the first machine sewing recon I have done for myself. Obviously, technical skills need plenty of practice. What do you think of the direction of the piece?