Unfortunately all I have is a party snapshot (our camera was acting up that night) but I was deliriously happy with the Mojo Jojo and Him costumes I pulled together.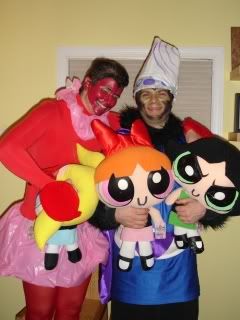 (Those who are less familiar with the Powerpuff Girls villians can look at the originals here
http://www.cartoonnetwork.com/tv_shows/ppg/index.html
in the pull tab labeled "Characters". These are the images I used for reference.)
I have been wanting to be Him for three Halloweens now and finally had the time to put together a costume. Dressing as the tutued tranny devil with a Santa belt, f*** me boots and lobster claws required only that I make the tutus and claws.
For the tutus I turned to this incredibly cheap, flimsy 'tablecloth' from a weird dollar-ish store near us called
Amazing Savings
. I cut pieces 2-3 times my measurements, doubled them over, stapled them and ran elastic through the resultant tubes to bunch them and then stapled them closed.
The claws got the most kudos and were dumb easy: red felt Elmer's glued to Styrofoam plate cutouts.
(These were the last thing I made and when I admitted I was not 100% sure what materials I was going to use, my DH said, "We could go to the store and see if they have some red oven mitts." And I had a Craftster crackup; scurried around the house muttering, "Store! Oven Mitts!" tutting and shaking my head.)
I punched holes and used ribbon knotted at its center to both create a hinge for the claw halves and to tie the claws to my wrists. This is a better shot of how they work: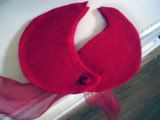 To make my DH into Mojo was a bigger challenge. Starting from the top, then . . .
The turban is the back panel from a very shiny, thick white polyester thrift store shirt stretched over a frame and Sharpied. I made the frame with strips of those dense, crosshatched hard plastic bands which are used to bundle newspapers and cardboard boxes. I have no idea what they are properly called but I love love love them.
Mojo's cape is a ladies dressing gown --also thrifted-- with the pocket and arms removed and their holes stitched shut. I moved the ties from the side seams up to the shoulders.
The tunic is a football jersey (thrifted, yes) turned back-to-front. What you cannot see in the picture is that I removed the sleeves and used some more of those miracle plastic shipping strips to make a more pronounced "V" shape in the garment.
The belt is a thrift store cummerbund turned back-to-front, to which I attached a purple triangle cut from one of the gown sleeves.
Mojo's fur is my proudest point. I found a suede ladies coat (interestingly in my size) at the thrift store which had this natty black faux fur trim. This is where the clouds parted, light shone down on me and trumpets sounded. The trim looked grotty on the coat, but was just what I was looking for for Mojo.
As you may know, fake fur can be pricey and tends to be short and shiny. Not what I was going for. So I removed the trim from the coat
and attached it to the sleeves of a black long sleeved t-shirt (which is worn under the tunic.) The fur on his neck is just wrapped and tucked, scarf style.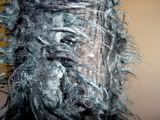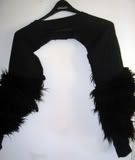 Not visable in the picture are the go go boots. As luck would have it, the DH and I have the same shoe size, soooo when I found some cute leather ankle boots with a snakeskin finish and a low chunky heel at the thrift store for $4.99 and I already had the shiny white shirt in my hand I KNEW. I chopped the shirt sleeves and slid them over the boots. A few staples to secure the sleeves to the soles and -presto- go go!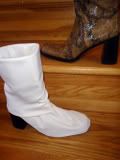 I used the remaining (front) panels from the shirt to make gloves, with the cuffs from the sleeves tacked on facing backwards to give them a nice flare (and perhaps distract from the sloppiest hand stitching ever.) You cannot see these in the snapshot because Mojo took his gloves off to eat Doritos.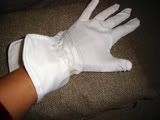 The one piece of Mojo's costume I did not make or alter are the pants. In the PPG, one never sees Mojo's legs. I was not going to try to achieve this boots-meet-tunic effect on my DH. So I had him put on a pair of his kung fu pants, which have a great bowed shape to complement the Mojo stance.
All told, I spent $30 at the thrift store for costume components. Fully half of that was for the coat. I figured $15 was not too spendy for the fur. And the coat fits me beautifully. (I ususally have a hard time finding long enough sleeves.)
My question for you Craftsters is this: should I re-trim the coat OR use the outer suede shell to recon into a winter shirt dress?
I am leaning to the latter. I have a half dozen coats as it is (and perhaps a bit of a thrift store 'habit', yes.) And I really cannot see myself wearing one with floral embroidery. But a suede shirt dress could make for a hot January . . .
Either way, I also got a pair of boots in the bargin. And the best part of dressing as cartoon characters is that everything is clean lines and chunky color. No fussy details to trip up the noob costume maker.