Inspired by Phranc's piece in the holiday issue of Craft, I was going nuts making gift boxes from grocery paperboard scraps and magazine pages (of which I keep multiple file folders. I have a bit of a magazine addiction and the only thing that keeps me from suffocating beneath a stack of the things is my Xacto-aided save and purge sessions.) And, well, I got to the Silk soymilk two pack cardboard and got carried away with the handle and its potential. Instead of a gift box, I ended up with a clutch.
Front and back views.*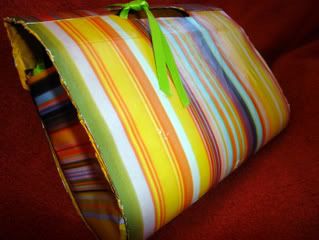 I used magnet tape for the closure.
This little bag is going to my Niece Momma, with these earrings inside.
https://www.craftster.org/forum/index.php?topic=212561.0
*The stripes are actually photos of paintings. I cannot remember the artist's name. His work was featured in
Breathe
magazine about three years ago. That is all I can recall. A quick Google search only confirmed that these paintings are sharper and more compelling than any other stripe paintings I have seen. So if anyone out there recognizes the work, please let me know.