Aka... my dining room/kitchen. My boyfriend does vinyl stickers at work (the type for your car windows) and so I took some black and covered half of the white tiles on my countertop. I already had the checkerboard barstools, I got those from biglots for $20 each!
And those are my empty cookie jars... I love the look of them with cookies in them, but the cookies don't seem to last long around here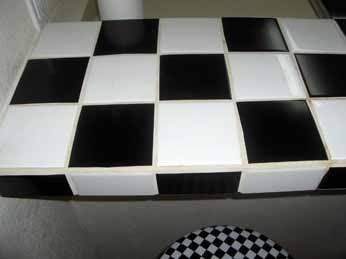 A close up of the stickers
They're not amazing, a lot of the stickers are uneven or too small, but you can't really tell unless you're looking very closely, but I like it.
What do you guys think?