In an attempt to tear myself away from Christmas crafting (or making lists about Christmas crafting) for a little bit, I've decided to post pics of what I made for my boyfriend last Vday. Or "just another Saturday", as we called it.
He's a huge horror buff.... and also loves oatmeal raisin cookies. (Who doesn't?)
So I found a fuzzy pink heart-shaped box on sale at Party City... and bloodied it up.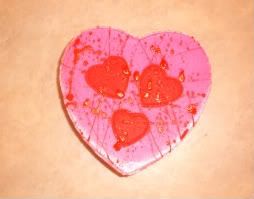 And of course I splattered the cookies, too. Mmmm.