For the last 4 years I've participated in an Adult Pinewood Derby. In addition to making cars using the official boyscout kit (but usually not with the official boy scout rules) we make dioramas, wear costumes, eat, drink and smack talk. Especially drink and smack talk.
This year we had a new host and a Derby Theme: Super heroes and Super Villians. I had decided previously to this that my fantasy super power would be "being able to make it 5 o'clock where ever I was" and from there I built my character: Major Margarita: The Happy Hour Heroine...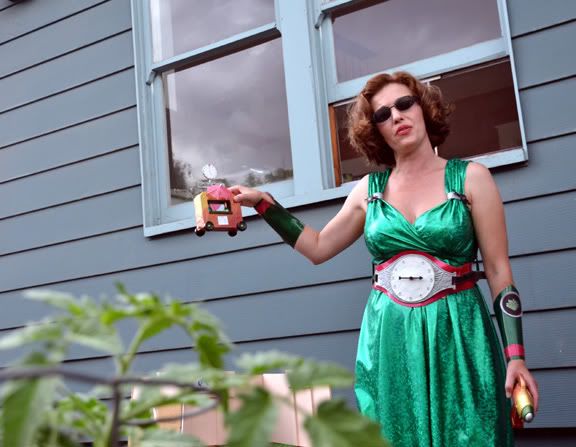 who, with her sidekicks Private Label: The Hooch Pooch & General Garnish: Olive Dog, fights for your right to party!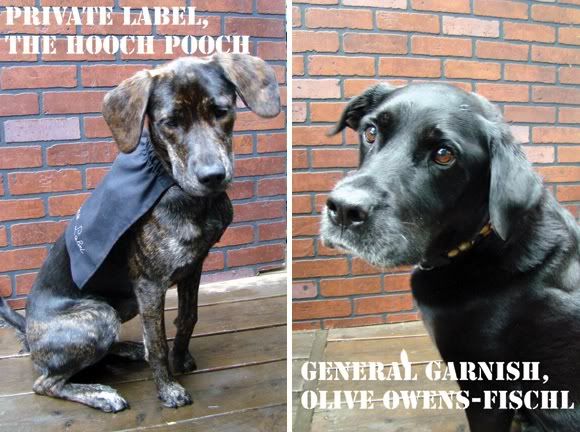 (My sidekicks were unable to attend the event as they were dealing with a mixer emergency on the other side of town).
The dirty (martini) details:
A reconstructed child's pro-wrestler belt toy from the dollar store for the belt. Repainted a less chrome-y steel & silver color, an Always 5 Oh! Clock with spinning clock hand, sparkle vinyl, black vinyl...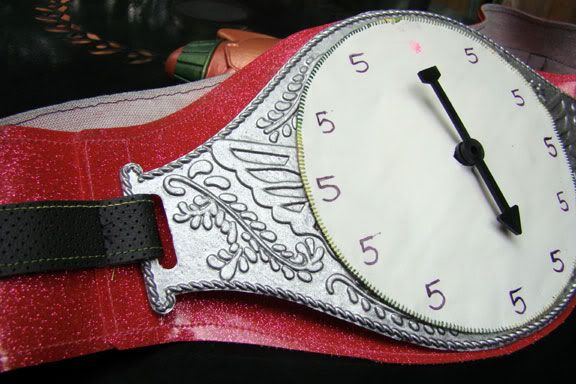 and on the other side a holster for the Sunset Gun (see below).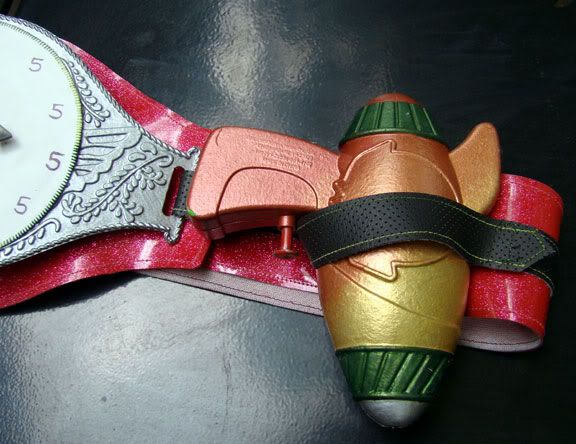 Turns out that a US Army Major's insignia is an oak leaf, but since that wouldn't fit my theme I chose a lime wedge for the chest detail insignia. The cocktail swords were removable just in case some Overtime Overlord needed a stab.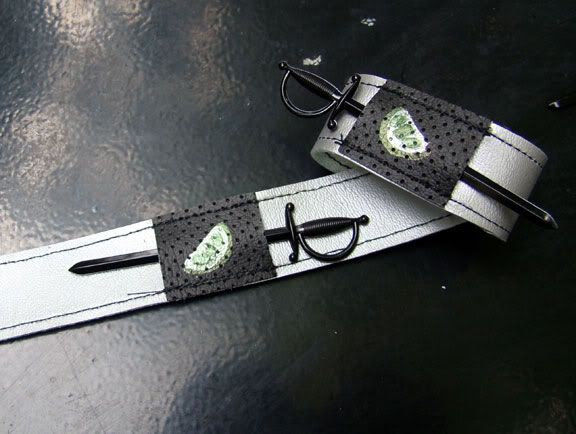 I added gauntlets with agave cactus patches
I picked up a couple of water weapons at the dollar store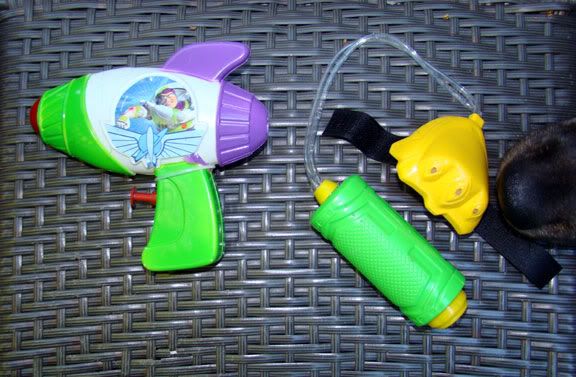 that I repainted, then filled with margaritas which I shared with the other derby racers.
(Left: Sunset Gun and Right: Make It A Triple, which mounted on my left wrist (there are 3 holes that margaritas shoot out of)
What you can barely see is that there is matching green garter on my left thigh with a pocket for a mini-flask. Here's an action shot of Major Margarita taking a good luck swig at the beginning of her first race.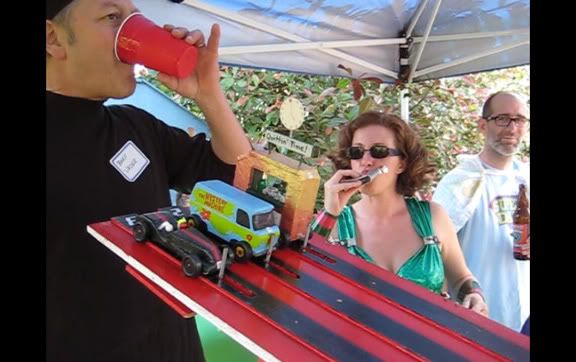 COSTUME CATASTROPHE: I didn't have time to get pics of me posed in my costume before the race, so I thought I'd get back into it and shoot some the next day. It was SOOO hot/sweaty in that dress (made of swimming suit fabric) AND my weapons leaked margarita all over it that I decided to wash it first. The color was RUINED! The hole thing lost a lot of the green and sparkliness and where my belt was it lost ALL the green. Now it's the uniform of a washed up has-been of a super hero.
Luckily, there was no shortage of photographers (some actual pros) at the party. The top photo is by Daniel Root (
http://www.danielrootphotography.com/#
) who took portraits of us all and I can't wait to see the rest!
My car (seen above): Quittin' Time Bar Cart is posted here:
http://www.craftster.org/forum/index.php?topic=386228.0
Past years:
2010, Egyptian War Chariot:
http://www.craftster.org/forum/index.php?topic=355463.0
2009, Slogo the Driving Slug:
http://www.craftster.org/forum/index.php?topic=315638.0
2008, Vampire Scouts:
http://www.craftster.org/forum/index.php?topic=260397.0