Last autumn, I saw a pin of a little paper mache sphere with a hole in it and the pinner had painted them up and put a little toy inside. One of those toys was a Fisher Price Little People and I loved it. The source has a link to the vendor who sold the spheres, but they were sold out. When I went back this year, the link was dead.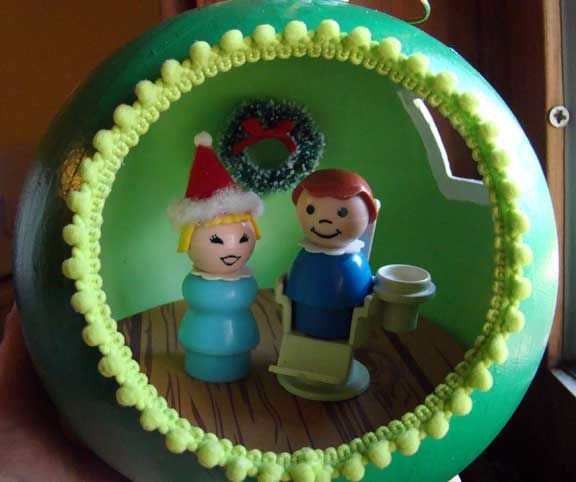 The ManFlesh's sister is a dentist and when I was at a bazaar with my friend, Kittykill, last year I found a Fisher Price dentist chair! It came with the dentist, but the ManFlesh's sister is not an African-American male, so I substituted the blonde stewardess who has pretty much the same hairstyle. I cut off her hat, which it turns out holds her hair, head and collar onto her body. I glued her all together and made a Santa hat out of red felt to cover the scar, a pre-made wee pompon and batting twisted up and sewn on for the "brim" fur.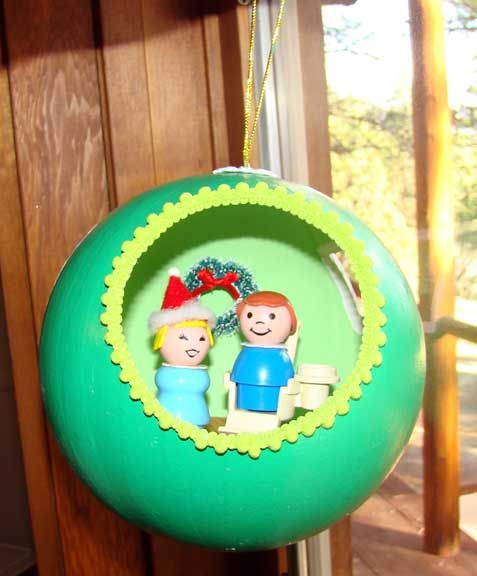 Now the spheres I bought are quite a bit bigger than what I saw in the pin, but I wanted room for the furnishings. They are 6" and when I first cut the circular hole in the front, I realized that it was awfully dark in there and difficult to see, so I cut some windows. One thing they don't tell you about these paper mache spheres is that they are plastic on the inside; so I roughed it up with a sanding sponge & primed it with UG30 before painting. The floor is scrapbook paper glued to a cereal box. There's a section of toilet paper tube glued to the bottom of the sphere and the floor is glued to the top of that.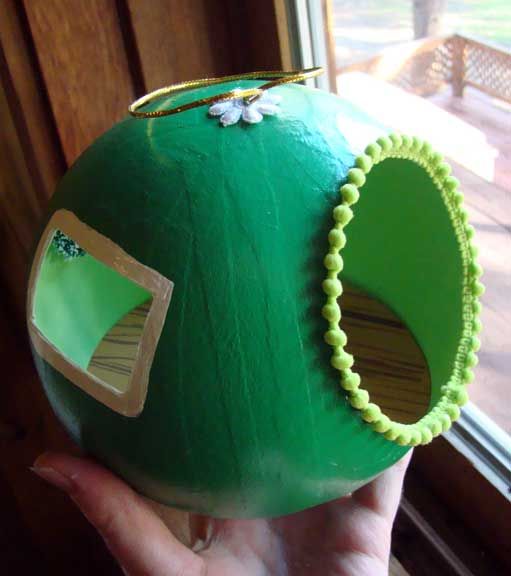 The exterior is all painted except for a piece of vintage trim at the base of the hanging loop and the wee dingleberries around the viewing window.
Another version for a sewist friend:
https://www.craftster.org/forum/index.php?topic=417614.msg4941158#msg4941158