A girlfriend and I (and The ManFlesh) are throwing a Hellacious Halloween Costume Bash at my house this Saturday and one key feature of our party is our
Pictures with Satan
photo "booth" (you know, because "Satan" is an anagram of "Santa"). So... I had to make a throne for Satan to visit all the bad boys and girls.
An internet image search turned up this image which I thought I was capable of replicating:
PS: I forgot to mention that I got adjustable feet (like on table legs) for it so it can be adjusted for our 100 year old floors.
... using old doors. I started shopping around and they were more expensive than I thought they'd be, but I was determined... and then a friend donated these from her attic! WOO!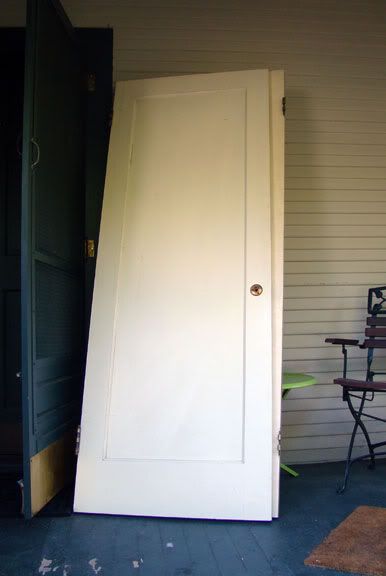 I picked up a few metal swirly bits from the by-the-pound thrift store, stryrofoam tombstones from the dollar store and I had some wood mouldings, pine boards and plywood in my stash.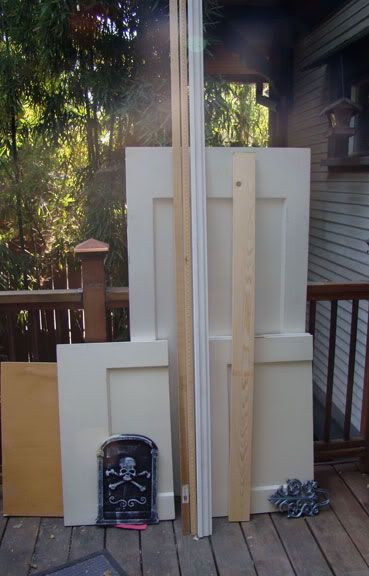 I had a friend with a circular saw (one of the few saws I'm afraid of) and The ManFlesh's dad who has a big table saw (not afraid of that one) make a few cuts turning 2 doors into a back, 2 side/arms and a front. Then I sanded, primed, painted and glazed all the door parts using materials I had on hand. Finally I used L-brackets to attach all the parts - this way I can take it apart for storage.
(in progress)
Here's the finished project!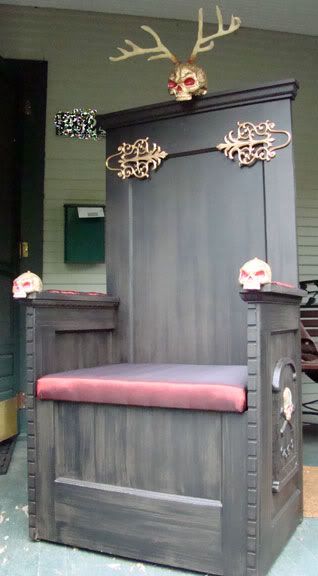 The details:
The side with painted, glazed and gold leafed tombstones, attached with construction adhesive (from my adhesive collection):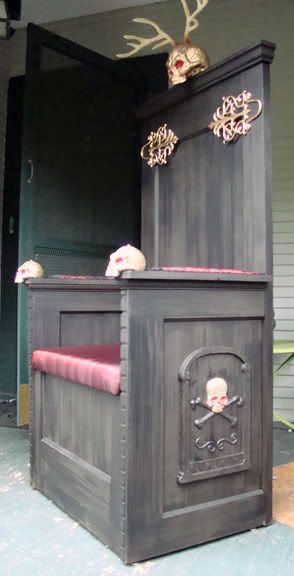 So I cut the jaws off some small skulls from Target then painted and gold leafed them for the ends of the arms. And upholstered the arms and seat.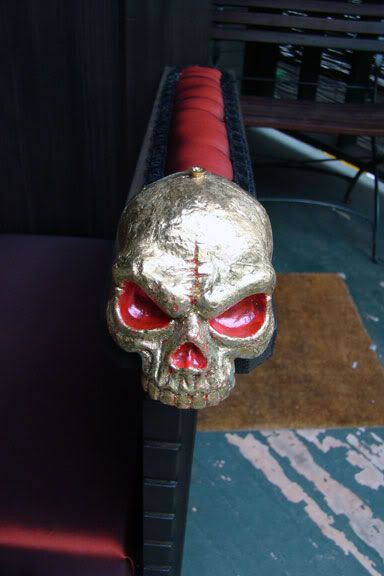 It just felt like something was missing on the top, so I went back to Target for the larger sized version of the arm skulls, which luckily had a hinged jaw so I was able to reuse it - AND attaching the skull to the top of the throne was much easier than the hollow skulls on the arms. The antlers are paper mache over wire armatures, coated with a decorative painting plaster and air-dry clay, then colorwashed.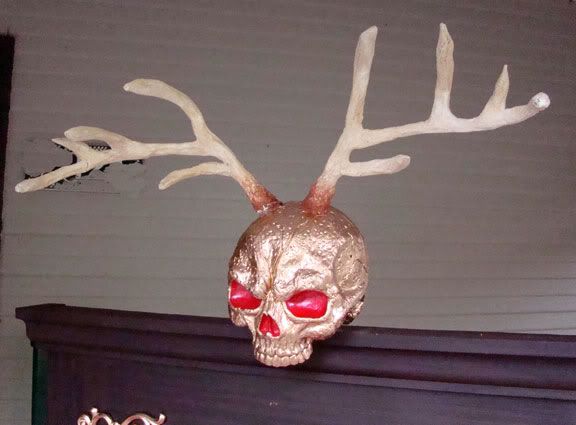 Attaching the antlers to the skull... lets just say that I made up new cuss words and it's still not super stable. Sigh.
Anyway, the next step was assembling Satan's Throne Room in Casa Arachnida (what we're calling the house for the party) and that will be a separate post that included a couple-three projects.