Don't hate me because the tin I received is beautiful. AND glamorous. Without further adeiu, I present the glitter vice tin by alteredmommy!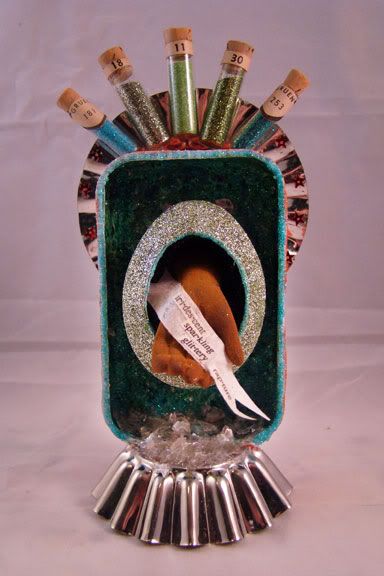 Look! It's on a tart pan pedestal!
A closer view of the front/side: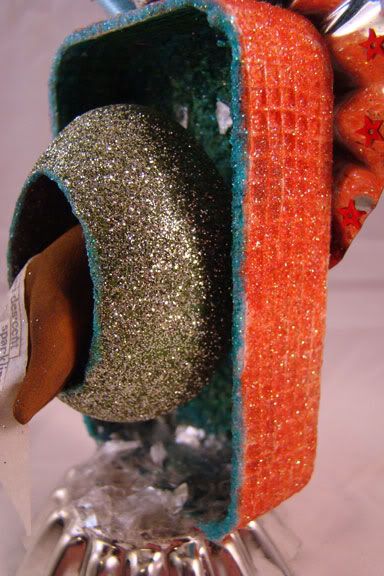 See that neato grid under the orange? It reminds me of fiberglass joint tape for drywall; that may not be anything close to what it is, but that speaks to my history in construction and construction materials. Nice!
Close up of the message delivered by the disembodied hand (one of the best kinds of hand):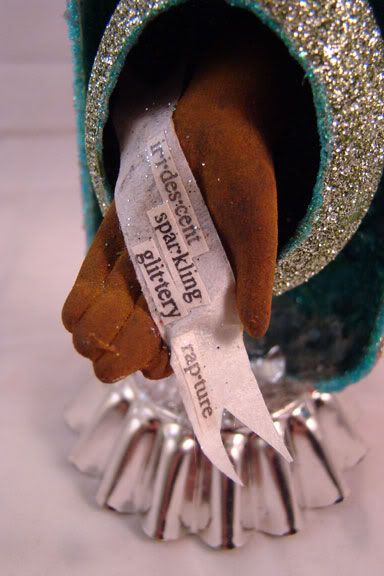 I love how this element adds some tarnish to the shine.
A close look at the vials (VIALS!) of glitter (GLITTER!) arrayed on the top with bonus red, star-shaped sequins (SEQUINS!):
As if that weren't enough, there's a backside of wonderousness!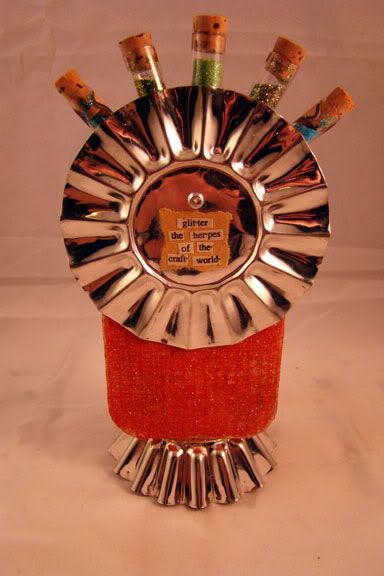 This quote is close to my heart even though I never discussed it with my partner. It is both horrifying and true. I had glitter in my floorboards for months after Halloween and it made me oh-so-much happier than the dog hair!
And look! Rivets! I love rivets! I had even planned to use some on the tin I made for her, but then got all excited and worked on it past the point that I could use them. (D'oh!)
Finally a shot of my cherished tin on the plate rail in the dining room next to Bigfoot and just across the room from the tin I received in the Wicked Circus Swap.
Thank you, alteredmommy!
(can you believe it wasn't until today that I realized that "altered" is in the swap title and in my partners name? [shaking head]