Our new-to-us house came with 2 fridges and a freezer, which is good because when we sold our last house the buyers stipulated purchasing our refrigerators in the contract. But...
this
is the fridge in the kitchen (the other is in the mudroom and is too big for the cabinetry and no newer).
The stickers were sentimental in that they showed the interests and travels of the family that lived here for almost 30 years (not that the fridge is that old), but those weren't our memories on there and that's not our style. Our other appliances are black and we aren't ready to buy a new fridge, so I decided to remove the stickers and do
something
.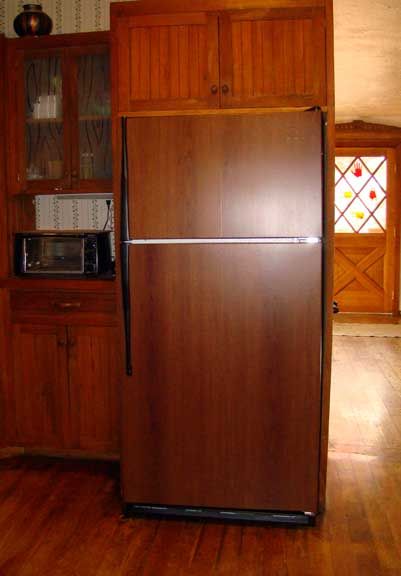 I used four $1 rolls of wood grain patterned contact paper to give that thing the faux bois treatment! Then I spray painted the handles, grill and hinge cover with black spray paint that I had on hand. There are more photos and more details on my blog:
http://suddenlytaxidermy.blogspot.com/2012/11/3-fridge-makeover-how-i-spent.html
.
There is something about the dorm/hotel fridge vibe that tickles me. I do think it looks better than before, but I also think it's kind of a (subtle) hoot.