I spent two (2) weeks redecorating the master bedroom at our new-to-us house in rural Montana. It's ain't rural in there anymore, I tell ya'.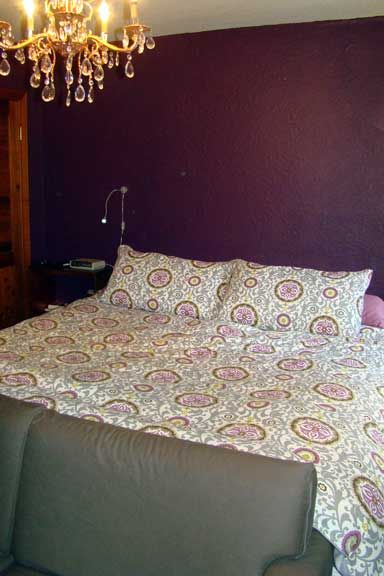 Eight+ yards of this Waverly print, about 500 inches of homemade bias strip, 7 snaps, about a spool of thread, and part of a king sheet set went into this as well as about 16-18 hours of cutting, pressing, and sewing (not including shopping, pre-washing and fretting times).
The bias strip is 1.5" wide, folded in half and pressed. I sewed it into the seams on top of the duvet that are necessary to get a 54" wide fabric to cover a king-sized bed and into the edge seams of both the duvet and the shames.
I did many projects in the room, including making a "wood" beam out of a drywall covered beam: https://www.craftster.org/forum/index.php?topic=422815.0#axzz2Qs53EG9q
The rest of the details and photos are on my blog:
http://suddenlytaxidermy.blogspot.com/2013/04/purple-bedroom-majesty.html