This is the first belt I've made for myself. I've always been sad to walk into Spencers or Hot Topic and see really awesome belts that won't fit, so I decided to make my own. It's not as skull and roses as I was originally planning, but I like it a lot.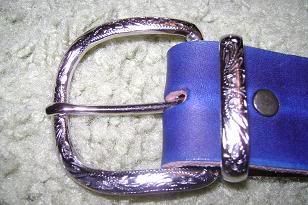 this is the buckle, it's hard to tell but it's got really pretty engravings on it.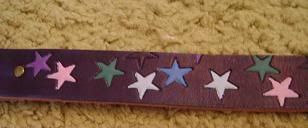 I dyed the leather navy blue, and cut out the holes for the buckle. I used my metal tools to stamp stars into the leather, and painted them randomly. In this picture you can see dark purple, lavender, light blue, ocean blue and teal, there were also a few navy blues in other places.
Approximately where my left hip would be, I stamped out this quote. You can read it fairly well on the belt, but it's hard to take pictures since it's shadow work.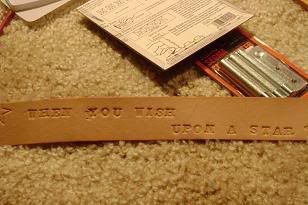 Here's a better picture of it. Gotta love Jiminy Cricket!