Craftster.org Promotes Instant Family Happiness,
in so many ways ... This morning we were able to solve a simmering dispute with a two pair of tights, a pair of pinking shears and one seam. 20 Minutes including the photo shoot. Kiddo is not taking these off for awhile -- she is currently singing in front the mirror, with harmony by her brother.
Oh my, this was fun.
The story!
My 4YO is taking gymnastics, like many, many girls. And like many, many girls, she wanted to dress like an Olympic Star while doing it. For some reason, among them cheapness, but something else I cannot name yet (or perhaps I do not wish to?), I did not want her to wear a schmancy shimmery costume. I don't mind that other kids do. I just don't want her to. Her Dad doesn't either. We cannot explain. Perhaps we do not want to know ourselves? Nevermind!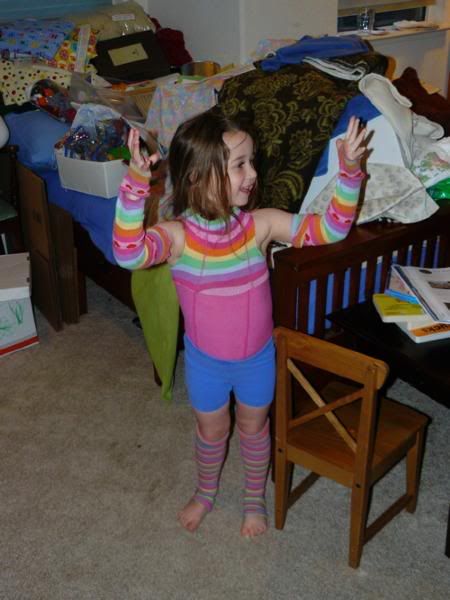 Recently she has become a persistent campaigner and I was becoming annoyed. Family harmony was fraying! Also recently she has frowned on wearing any of the tights I have been collecting for her. More fraying in the family harmony (I refrain from begging but I want to beg, it makes me tense and nervous. O Me O my!) Then, bingo, I recalled that in one of my many boring lectures on the subject of "Why our 4YO does not wear shiny costumes for gymnastics class" I told her to watch the teenagers and see what they were wearing -- bike shorts and legwarmers and shrugs and plain leotards or just t-shirts. Aha! Out came the shears, the tights and Voila!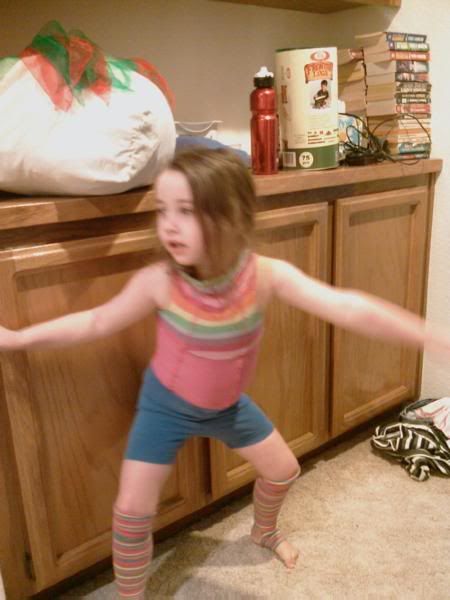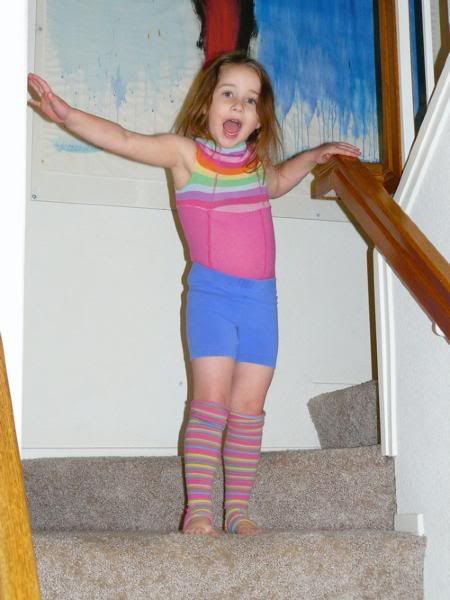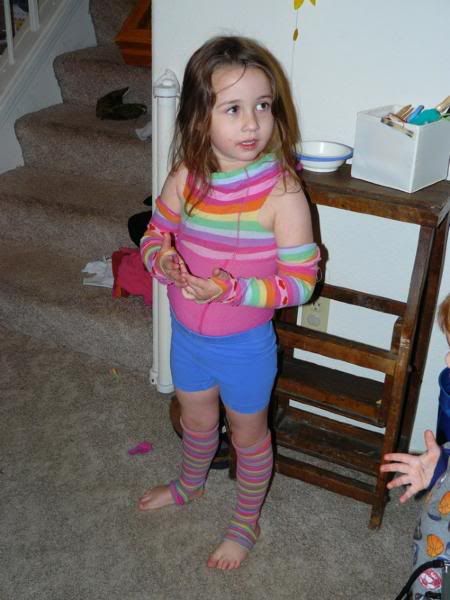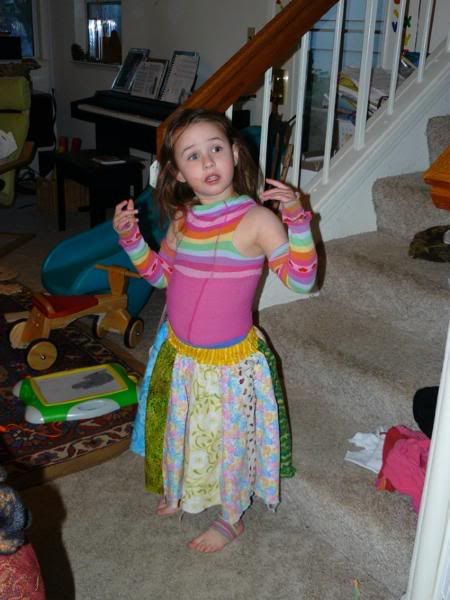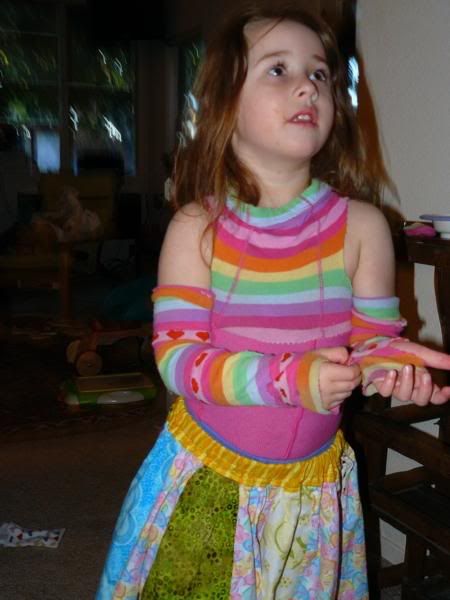 THANK YOU CRAFTSTER! There is such freedom to be gained by pursuing mastery over the things around us ...
Edited to add:
A bit of "How To"
For the legwarmers and armwarmers -- I cut the toe and heel from the feet of the tights, plus a thumb hole and then cut the legs off the tights leaving the panty portion. It didn't fray, surprising and delighting me. Probably any shears would do.
The top is the two panty portions sewn together (with a zig zag, perhaps I will have to reinforce it -- this is my first time sewing on stretchy tights!) with the crotches cut out and arm holes cut about halfway down on the upper portion. (Tell me if this makes no sense)
The shorts are just plain old bike shorts.