Hello, kids.
I recently took a leap into the world of making wool dreads, though I have been producing synthetic hairfalls for over a year now. I think they came out well, don't you?!
This is my friend Molly. She modeled my dreads for me at a performance of her rock n' roll bellydance troupe, Different Drummer (
http://www.margaretsworld.com/dd
).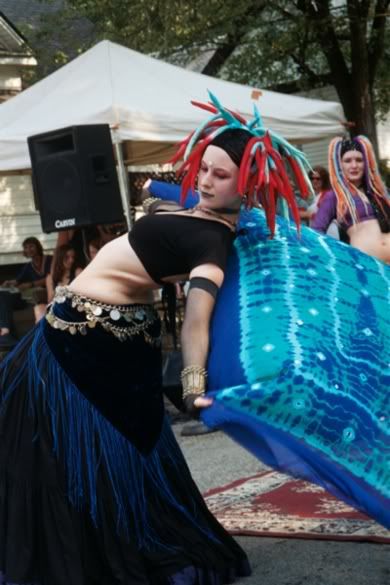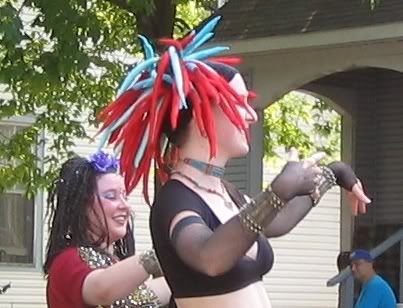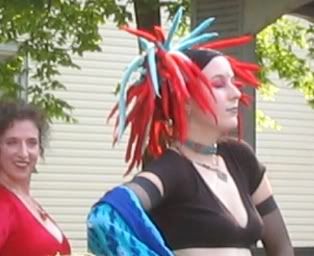 I made these dreads using this easy felting tutorial:
http://www.angelfire.com/freak2/rovingtutorial/
And I dip-dyed them with help from Kool-Aid and Knitty.com:
http://www.knitty.com/ISSUEfall02/FEATdyedwool.html
I love the way wool dreads feel. They are light, bouncy, have a lot of movement, but are easy to wear even if you have shorter hair. I felted roughly 12 ounces of nice, soft wool roving that I got at the local yarn store, dyed the dreads following Knitty's instructions, and attached them by folding them over a piece of thin black elastic and affixing them with matching colored rubber bands. The dreads are super easy to wear: one just makes buns on top of one's head, ties the falls around the buns, knots a few dreads from each bunch together for height and coverage, and then covers one's real hair with scarves or fake flowers or goggles. I find that wool dreads offer a lot more coverage than synth ones without all of the weight. <3