I have had any number of cars with headliners that have been falling down. Your dad's idea, while clever, will not work.
You will need to do one of two things,
1. Take the whole headliner out of the car and remove/touchup the headliner outside of the car, doing it this way is the ideal way to do it in restoration work. (I've done that before, MUCH easier).
2. Make it worse to make it better, gently tug the drooping parts of the headliner until you have access from a side or one of the holes for something like the dome light.
Either option I used the same stuff to fix the liner in place: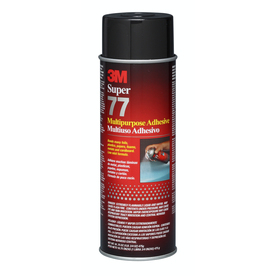 Just make sure all the windows are DOWN if you're doing this in the car, it takes about 24hrs to get to a really full cure and the solvent smell to escape.
If you have more specific questions on how to do this please feel free to ask and I'll be quite happy to answer.
*Note: I know your dad's idea won't work because I've tried it before with very poor results. That headliner cloth is very thin and will allow most glue to bleed right though and discolor that spot for all time, as well as the previous glue that was holding it in place.