I finally got around to making a new Amy Pond costume. Since most of her stuff is usually RTW clothing from eBay, it was nice to sew something for a change.
I started out with Simplicity 4923, which is a Men's Pirate Costume ensemble. I only needed the coat for this. I altered it a lot to suit my needs and to better resemble the screen costume. I changed the shape of the pocket flaps and added pockets underneath (I hate fake pockets, historically accurate or not lol). I changed the cuff to be a split cuff in the back instead of one giant cuff all around. I changed the placement of the buttons on the front of the coat as well. The jacket was also shortened considerably to be as short as it was in the show (at about knee level for the actress). I think I chopped off 7 inches from the hem.
The biggest thing was incorporating a lining into a jacket where there was none. I needed to line this to help give the outer fabric more structure and give a better finishing touch. I really dislike visible raw seams if there doesn't need to be. To do this, I used the pattern pieces for the outer coat as a guidance for the lining. The jacket is self faced under the front plackets. Using my previous experience with lined jackets, I applied it to this project. The lining is actually a loose lining and is not attached at the hem. A few hidden tacked points inside help keep it in place.
For fabric, I used a "cozy flannel" from Joann fabrics. I have a really bad wool allergy (fun in the winter *sigh*) and could not use a coating wool for my version. The cozy flannel had the drape that I was looking for, and came in a perfect color! I was not looking forward to dying 5 yards of flannel. The lining is a kona cotton in a coordinating lighter grey. The buttons were purchased on Etsy and are a placeholder until I can find the accurate buttons. They were 35 buttons for $5, so I jumped on them right away!
I know it's not sewn, but I also made the sword
It started as a wooden sword from Amazon (cheap) and I sanded the heck out of it, used steel wool and then painted a primer base. That base was then sanded, and primed again. That was then wet sanded with 600 grit paper for a glass like smooth finish. I used Rustoleum Metallic Finish in a chrome finish. I let it dry, and then wet sanded that to get it to glass like smooth. A final layer of the chrome was applied and I can actually see myself decently in the reflection. It isn't mirror-like, which is great for this prop. It's a pirate sword, it's beaten up and used. The handle was then wrapped in cotton bias tape for a base and then a thin leather strip over it. The pommel was painted gold for now. I would love to lop it off eventually and put a nice brass knob there.
The cut-off mini skirt she wears is hard to find, and so is an alternative apparently. I found a pair of dark wash jeans that I cut apart and turned into her mini skirt. I used a wire brush to fray the hem and the age the fabric a bit. It was fun to distress a garment lol
The hat was a costume hat off Amazon, but it had this unsightly bright gold trim on it. I used a brown acrylic paint and dry brushed it over the bright gold to antique it a bit.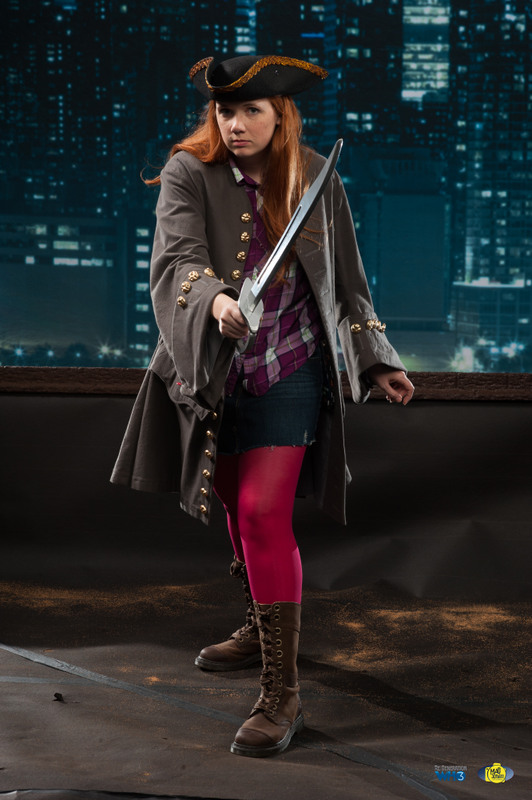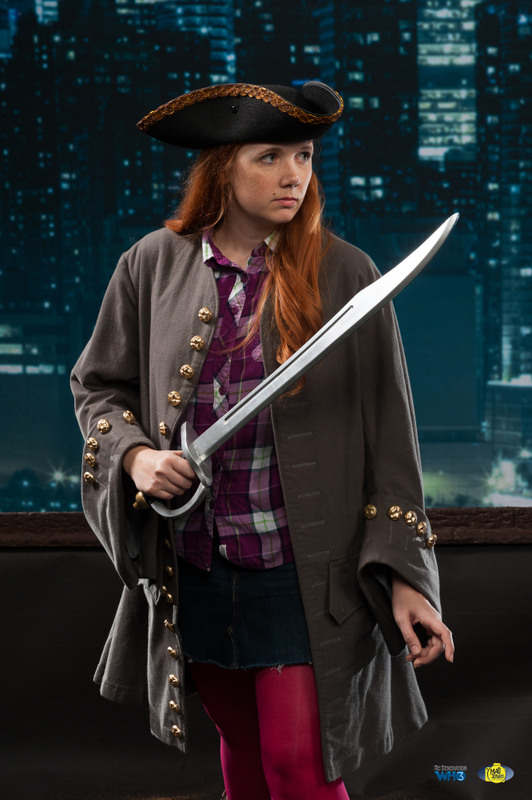 My completed costume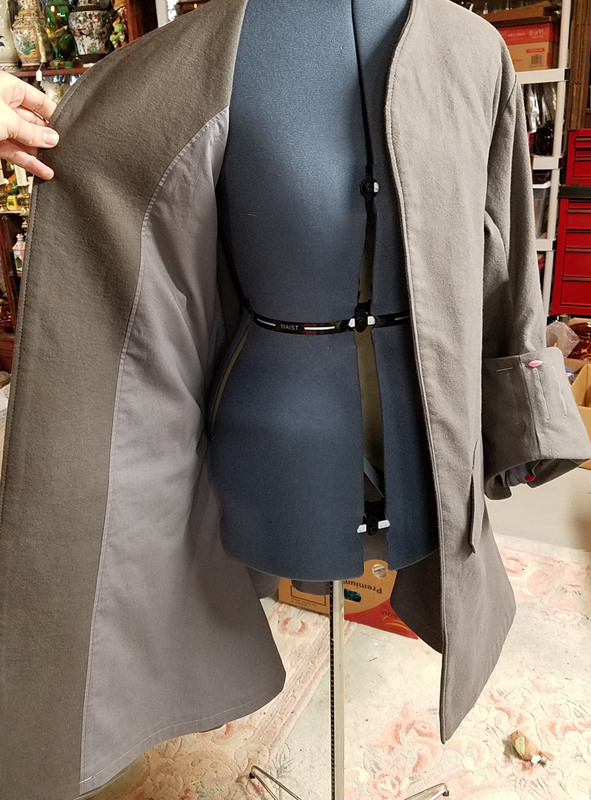 My lining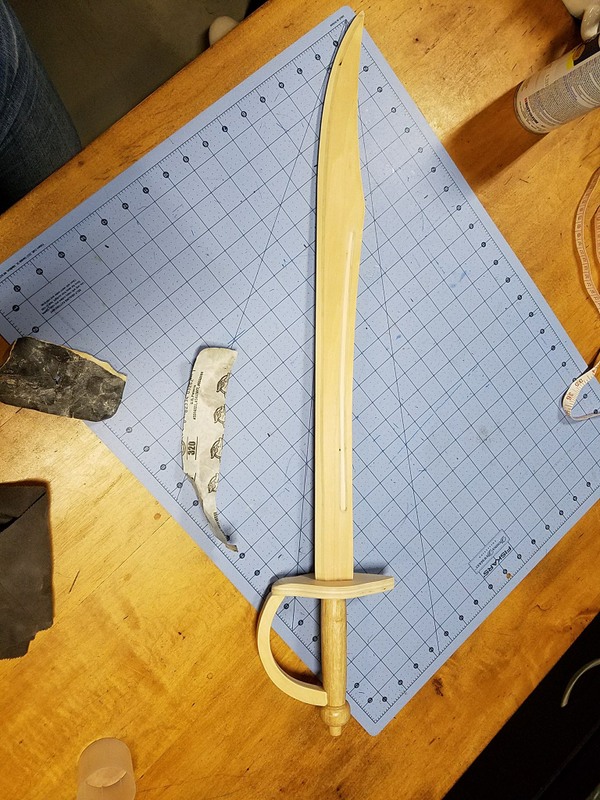 Sword prior to painting, but after sanding with various grit papers until it was smooth.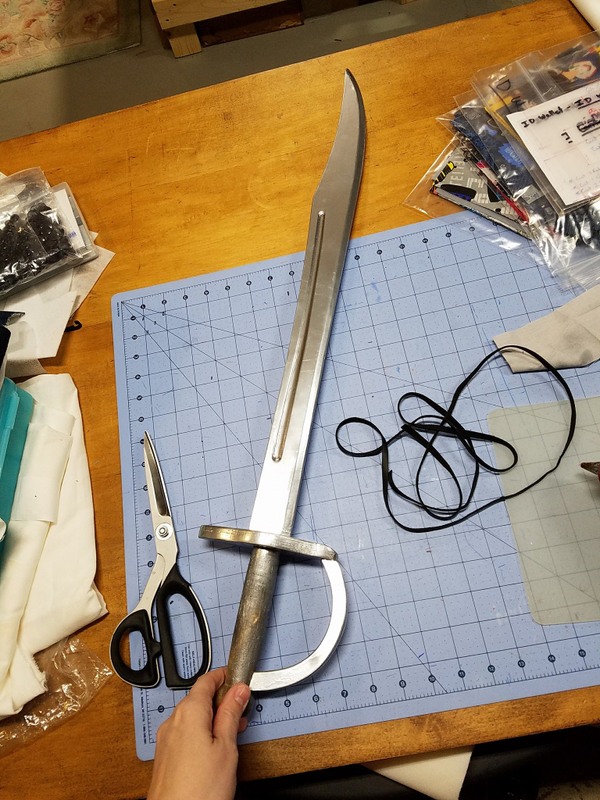 The sword after all the stages of sanding and painting, prior to adding the handle wrapping.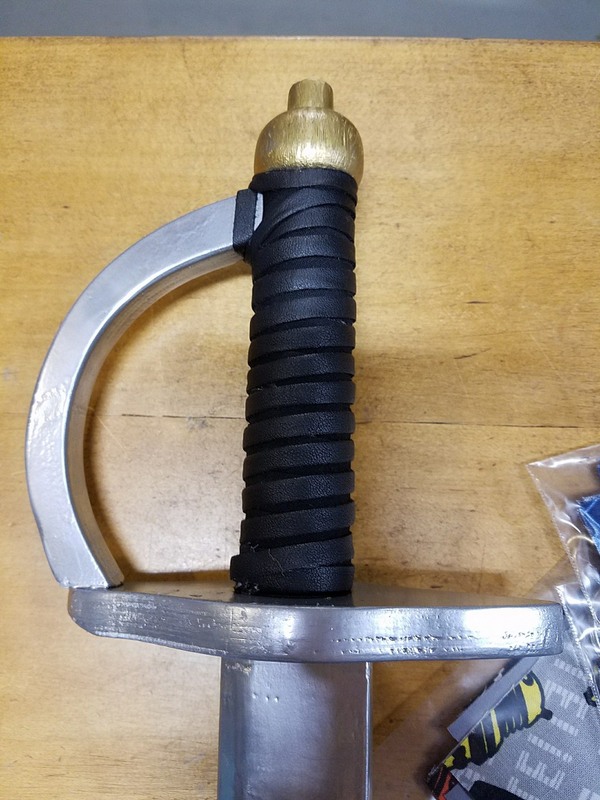 The handle. I just made this up as I went and it looked good to me!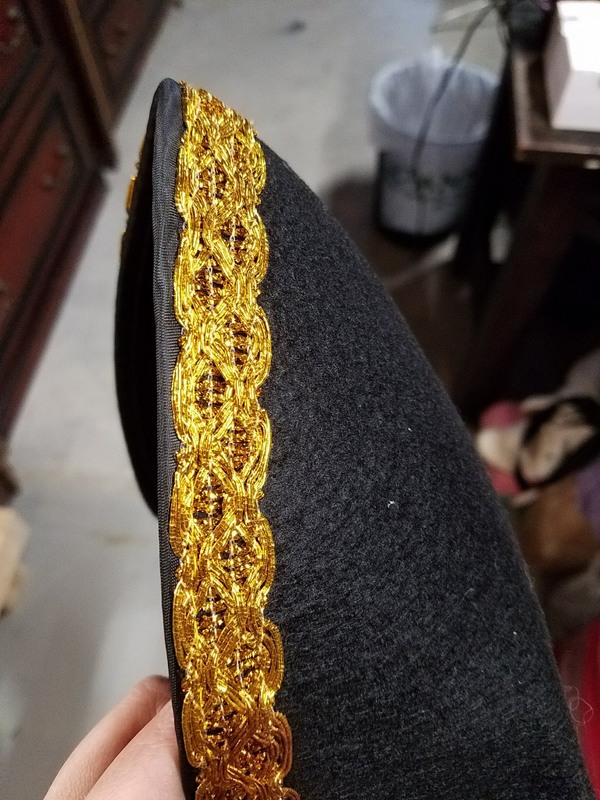 Hat trim before...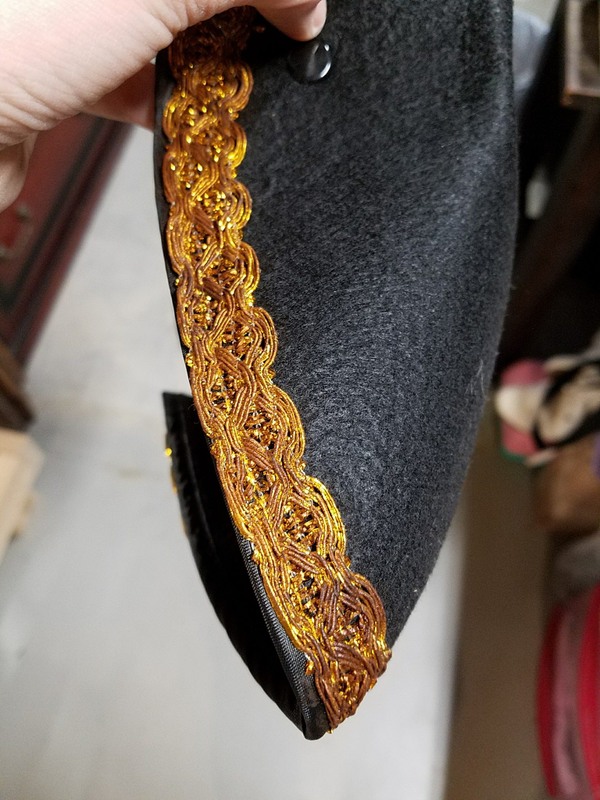 Hat trim after
Here's a reference image as well, just in case you are not familiar with the character...