Ashling, cute tree topper. I'm always at a lost as to what to put on mine. This year I'm using a little santa hat that I bought for my ferrets but they wont leave it on long enough to let me take a picture of them wearing it.
Here's what I made my MIL, I just finished it. It's based on a purse of mine that I was so pissed at my sewing machine I almost stopped. I still wasn't happy with it but I've gotten so many compliments on it go figure. My Mom requested on too but I don't know if I'm going to get it made in time to get it mailed out for Christmas.
Anywho here's the one I made MIL. It's made from my Hubby's old BDUs, the belt is one that came with a pair of my pants that I never wore, the lining is from my stash.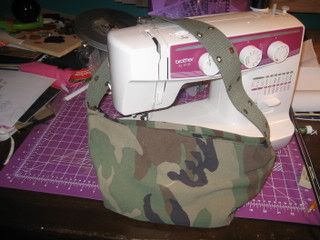 I also cut the pocket off and resized it to fit inside, left the name tape as it's our last name.