In my searches for finding treat recipes that would survive a trip through the postal service to my partner in the Mini 13 Days of Halloween Swap, I found one for Candy Wands. In that recipe, frosting and sprinkles were put onto pretzel rods. Well, I'm a chocolate girl, so I decided to do chocolate instead.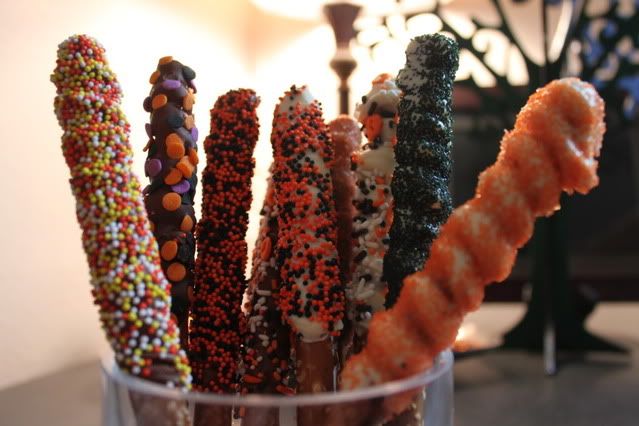 These are so easy and really fun to make! All you need is chocolate, sprinkles, and pretzel rods! I used three different kinds of chocolate on these, because I just happened to have it all on hand. I used Giradehli milk chocolate and bitter sweet chocolate, and Wilton's white chocolate candy melts. I put one kind into a bowl and melted them in the microwave. Make sure you are really careful if you use this method, because the chocolate can burn. I would put them into for 20-30 seconds at a time, and stir and then more time. I used a spoon to apply the chocolate to the wands. That's also how I created those fun swirly patterns in the chocolate. While the chocolate is still melty, apply the sprinkles so they stick. Then place your wands onto a waxed sheet of paper on a cookie sheet and pop in the fridge to set. Then, VOILA!, you have wands!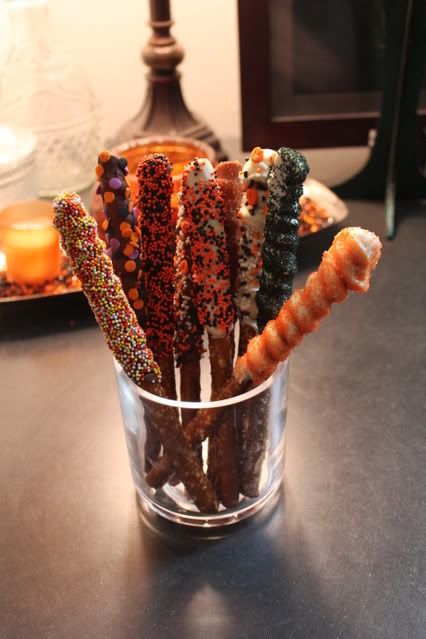 These wands are husband approved! He got quite a bit of them while I was working on them, for quality control purposes. They are so fun and pretty! And tasty, too!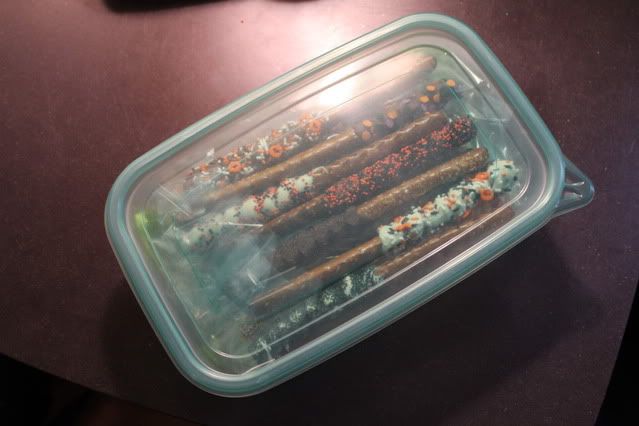 To ship, I stuck them into a long tubbeware container with each layer separately by a sheet of plastic. I originally was going to put them into treat bags, but I soon found that they just wouldn't fit! They do sell pretzel treat bags in the Wilton section, but I found you can really only cram one or two of these in there.
These wands are great for pretty much any occasion! Just switch out the colors of sprinkles to coordinate with the holiday! They are not only a great treat, but also pretty on a table!
Thanks for looking!