Hiya everyone! I participated in the One Smallish Stuffie w/ a Function swap, and this is one of the stuffies I sent my swap partner, goldfishpollywog.
Presenting: Chewie the Wookiee Cookie MP3 holder (with detachable lanyard and Stormtropper Charm)!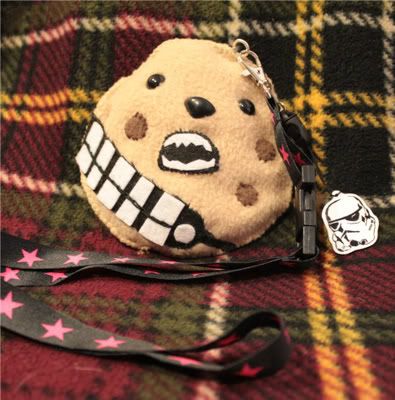 My husband found an awesome picture by Philip Tseng that had a cup and cookie as Han Solo and Chewbacca that were pretty freaking awesome. Once I saw them, I knew I had to make that cookie for my partner! The image he found is here:
http://www.podpocalypse.com/2010/12/02/han-solo-cup-chewbacca-the-cookie/
and more of Philip Tseng's awesome work is here:
http://minicubby.com/indexhibit/index.php?/illustrations/
His style is so quirky and fun! I absolutely love everything on there! <3
Back to the cookie!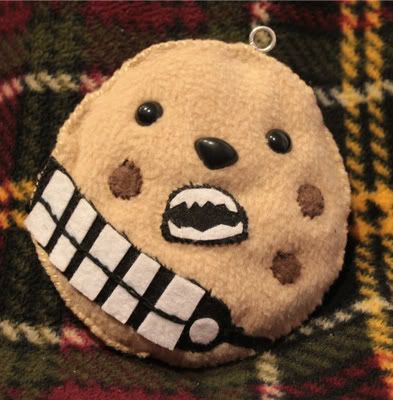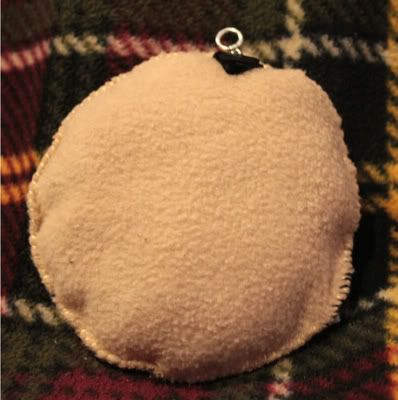 Here is the front and back of the cookie. He is made of fleece and has black safety eyes and nose. His chocolate chips are also fleece, and his mouth and shoulder harness thingie (*gasp!*) is made out of black and white felt. He has a pouch inside of him that holds the MP3 player. The back is plain because I'm lazy, but it shows how the pouch stays closed, with velvet ribbon and a button.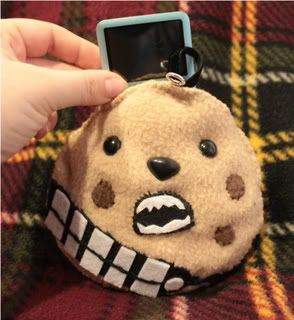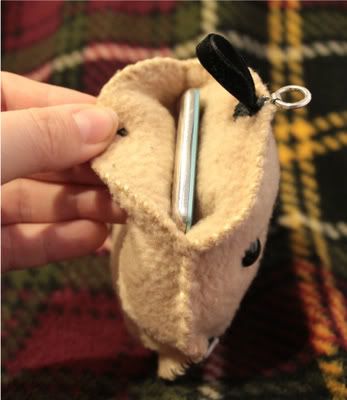 The MP3 player slides in like so!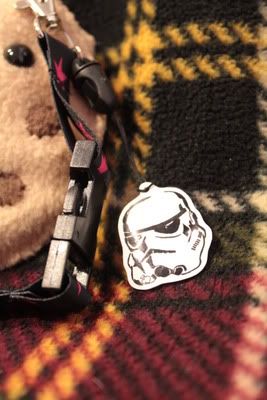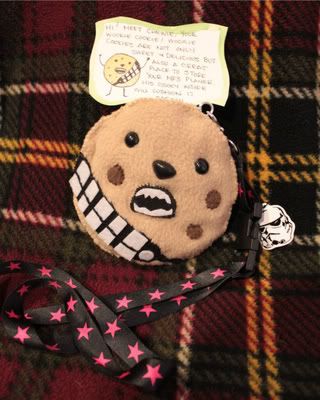 Here is upclose shot of the Stormtropper charm. I did it on shrinky dink! Weee! And here is the cookie with his description card. Its too small to read here, but it says: "Hi! Meet Chewie, your Wookie Cookie! Wookie Cookies are not only sweet and delicious, but also a great place to store your mp3 player! His gooey inside will cushion it safely." The lanyard is so that she can wear the wookie cookie around her neck while she listens to her music.
Thanks for looking!