So, it's been awhile since I've posted anything on here. I made these last year. They're some of the best things I've ever made. So, here's the recipe!
You Need
Software:
1 package or tortillas (I like the Mission Low Carb ones, they tend to stick together, but other wise they're good and taste like regular tortillas)
4 chicken tenders
1 can of green chillies (the medium size, not sure of the oz)
1 can of black beans (again, not sure of the oz size, but the regular old size, probably 12 oz or so)
1 tub of sour cream
1 tub of cream cheese
1 can of enchilada sauce
1 package of Mexican shredded cheese blend
2 limes
Any other toppings you want (tomatoes, green onions, regular onions, olives, etc)
Hardware:
Large baking dish
Large mixing bowl
Wooden spoon
Knife
Skillet
Here's what you do
1. Preheat your oven to 350
2. Spray your baking dish with non-stick cooking spray
3. Cut your chicken tenders into medium sized pieces, meanwhile, heat your pan over medium heat and add some EVOO.
4. Cook the chicken till it's done.
5. Put the chicken in the bowl and add the green chillies, black beans, half of the enchilada sauce, 1/4 of the tub of sour cream, 1/2 the cream cheese, 1/2 the bag of shredded cheese, and the juice of the 2 limes. Mix till well combined.
6. Take a tortilla and place it in the baking dish and add some of the mixture, and fold up the tortilla. Keep adding the mixture to the tortillas till all of the tortillas and mixture is used up.
7. Once you had your tortillas all filled and folded up, add any of the remaining mixture on top. Add the remaining enchilada sauce , your toppings, and the rest of your cheese.
8. Put in the oven for 30 minutes.
9. Remove and let cool. Add sour cream and salsa on top if you wish.
10 Enjoy!
Here's a few pictures: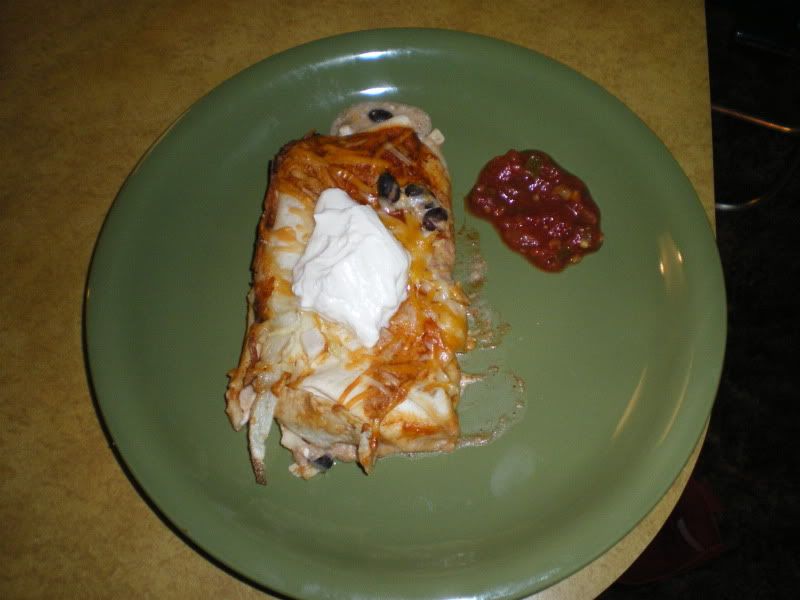 More pictures and more recipes can be found on my food blog, just ask if you want the link.