---
Title: 12th century english wool gown replica
Post by: ScrappySue on May 27, 2012 05:17:38 AM
---
Hi all, I have been working away on my latest garb, and hopefully will get a lovely pic of me wearing it next weekend!
Wool fabric, entirely hand sewn, black wool trim at neck and hem, red linen lining sleeves, red silk embroidery at sleeves, neck and hem, but done subtley so may not show up well.
I will be wearing it over a white linen underdress.
Very happy with finished result ;D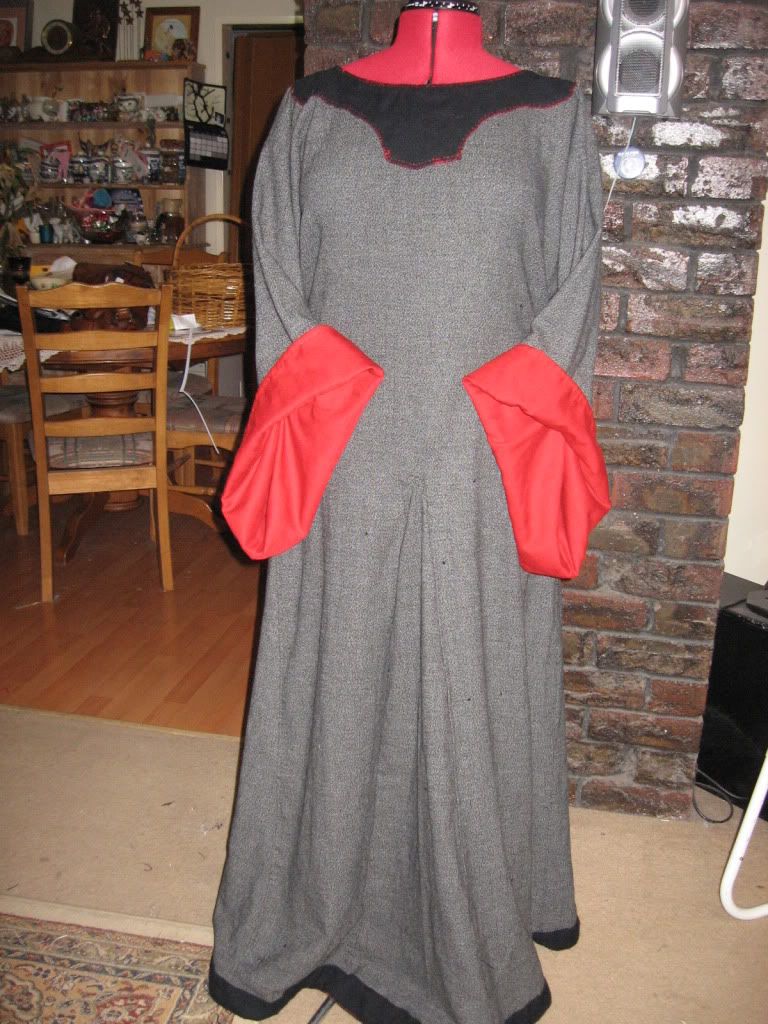 regards
S
---
Title: Re: 12th century english wool gown replica
Post by: mandodeb on May 27, 2012 10:16:47 AM
---
What a ton of work - and it looks lovely! I'm sure you'll enjoy wearing this! I like how the embroidery ties in with the red of the inner sleeves. Nice work!
---
Title: Re: 12th century english wool gown replica
Post by: TroubleT on May 27, 2012 11:37:55 AM
---
Your gown is lovely SS!

I will admit that I read that you were planning to wear it this weekend and I immediately checked your profile for your location. Wearing wool here in Georgia is summer is suicide. I'm glad you Down Under and in a different season! ;)
---
Title: Re: 12th century english wool gown replica
Post by: ScrappySue on May 27, 2012 04:43:03 PM
---
thanks for the lovely feedback! I do love a bit of red.
Yes it is pretty cold here at the moment and the event, Pencampwr, is a camping event.
I expect to freeze a bit at night ;D
This however will keep me wonderfully warm ;D
Yes I can imagine it must be a little warm over in Georgia at present ;)
regards
S