---
Title: [FINISHED] Craft Challenge #1 - Under $5 From a Dollar Store
Post by: leah on April 28, 2005 07:04:32 AM
---
Craft Challenge #1 - Under $5 From a Dollar Store - Due May 31 to June 2 (2005)
I love dollar stores! You never know what craziness you're going to find! And it's usually of the kitschy, plasticy, cheaply made vibe which is just so appealing!
Your mission, should you choose to accept it, is to make something fabulous and hopefully totally unexpected out of items you buy at a dollar store that cost $5 or less.
Official Rules:
Post your craft during the period of May 31 to June 2. No sooner. No later.
To enter, just post your project in this thread during the period of May 31 to June 2.
Voting will happen from June 3 to June 8
Each participant can enter up to two different projects
The item(s) you buy at the dollar store should be the focal point of the craft. But you can use traditional craft supplies (needle & thread, glue, whatever!) as needed and those don't have to come from the dollar store or be included in the $5.00 limit. You don't need to buy 5 $1.00 items. Just spend $5.00 or under at the dollar store.
Originality:
It's probably impossible to know whether your project is 100% original and has never been posted on Craftster. But if your project was
inspired
by something on Craftster, then just give credit to that project.
Non-U.S. Participants
You can participate if you are not from the U.S. Just spend the equivalent of $5 in a store that's similar to a dollar store.
Prizes:
At the end, I'll set up a poll right here in the thread and whoever people vote as the winner gets:
(1) their project in the Featured Projects area
(2) their project in the Craftster Blog (https://www.craftster.org/blog)
(3) and this prize: one dozen Craftster one-inch buttons
(prizes will be different every month for each new Challenge)
So who's up for a challenge?!
---
Feel free to post any questions or comments you have here too but note that I may delete them once submissions come in to keep the thread tidy.
---
Title: Hanging Votive Holder by swalsh
Post by: swalsh on May 31, 2005 12:00:21 AM
---
Here's my entry!
I call it a candlier - sort of a hanging candle-holder.
dollar store supplies:
package of colorful votives
wooden "spoons" - the kind you get with those little cups of italian ice, or, for those of you in the northeast, Hoodsie Cup
s
paper rope
the results:
top-view of the candlier
close-up
hanging view
hanging with candles lit
I'm really happy with how it turned out. I love the colors - especially for summer. I think I'm going to make more and hang them from the trees in my backyard for an evening bbq I'm having. The only non-dollar store supply used was glue. Also, extra caution was taken so the rope doesn't get too close to the flame.
I can't wait to see what everyone else came up with.
---
Title: Marine Theme Stationary by quartney
Post by: quartney on May 31, 2005 05:57:48 AM
---
I bought tissue paper, "go fish" cards, kraft paper, envelopes, and sticky notes. I wanted to make myself some much-needed stationery in a cute marine theme. I got everything from Dollar Tree, except for the kraft paper (from Big Lots).
To make the brightly colored envelopes: I took apart the envelopes, spray-glued the tissue paper onto them, and then reassembled the envelopes with a glue stick. Then I spray-glued the sticky notes on the front of the envelopes as address spaces. I also put some fish postage stamps (I already had these) on the envelopes.
I cut the kraft paper to fit the envelopes and sewed a "go fish" card to the front of each. Then, I lined the inside with scraps from an old nautical map that had been discarded from the library.
---
Title: Spatula Mirror by Fonduie
Post by: Fonduie on May 31, 2005 07:14:56 AM
---
First of all yeah for Dollar Tree!
I Bought a metal spatula, a little grooming set that included a small hand mirror, a bag of small decorative stones and a bag of large decorative stones (and had a dollar left over for snacks!.) I used my handy glitter glue gun to put it all together.
and I turned it into a hand held
or
hanging (as shown hanging from my kitchen wall where I normally keep my oven mitts) little vanity mirror. We're talking about a glamor spatula turned mirror, baby! Who says that you can't check yourself out whilst cooking!
Anyway, thanks for this contest. I had a blast for $4!
---
Title: Vellum Picture Lamp by peptogirl
Post by: peptogirl on May 31, 2005 11:25:32 AM
---
I don't know if this will qualify for the contest, since I used some additional parts that cost more than $5. But I still wanted to show off my project.
4 - 99Cent Store Photo Frames w/ mats ($4 or 99 cents x 4 to be exact!)
1 light bulb (99 cents)
Additional Parts:
Photos printed on vellum, with my photo printer
Lamp Kit
I printed my family photos on vellum with my photo printer and inserted the photos into the frames. Then I cut some drawing paper and slid it behind the photos as a backing (this is an optional step). I glued the 4 photo frames together to make a box. Then, I added a lamp kit (this one was made for a hanging lamp). The lamp kit came with a hook so I improvised by screwing the hook into the back of one of the frames so that the cord and bulb could hang down from the top. I made sure the bulb wouldn't touch the sides of the lamp, of course! When the lamp is on, the light shines through the pictures.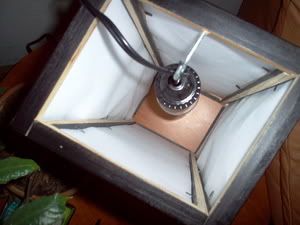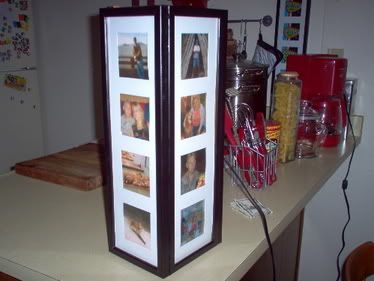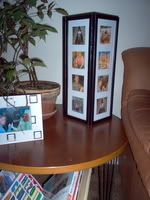 ---
Title: Checkerboard with Muffin Pan Storage by dreamisle
Post by: dreamisle on May 31, 2005 01:04:04 PM
---
Ugh! I'm such a failure! Well, I can honestly say that I could have hunted out better stuff at other dollar stores, but my brilliant idea of making a checkerboard still can't outdo some of the projects I see here. Great job everyone! :)
For my checkerboard centerpiece I spent $5 at the 1 Dollar Bargain place.
$1 - Foam sheets used for the board and decorations on the cups and the little throne pieces that go under 'kinged' pieces (not shown)
$1 - Muffin baking pan used for the base of this centerpiece to store the pieces in cups
$1 - Plastic glass-looking pieces for playing the game. 3 colors, 16 of each piece (12 and 4 replacement)
$2 - Two votive candle holders for the end of the board, either to hold captured pieces or for candles or sand or whatever I'd use if I wanted to make it adapt to the theme of a room.
Hot Glue not included in total
Use of exacto knives not included in total
The board part rests nicely atop the pan and the pieces fit beneath without making bumps. Since the pieces don't stack well (at all), I cut extra squares of thefoam to make little star shaped 'thrones' underneath the 'kinged' pieces. The votive cups stay in fairly well but I haven't exactly tried shaking the whole thing upsidedown yet. I used blue and white for the board because the yellow foam didn't match the yellowish-green-ness of the yellowish-green pieces. :-\
---
Title: Bamboo Placemet Bag by kiki_eks
Post by: kiki*eks on May 31, 2005 01:57:19 PM
---
Just have to say so far - WOW to all you craftsters - loving all the ideas and craftyness... :-*
Heres my booty from my local Dollar Tree:
One gift bag with sturdy wooden like handles, one bamboo place mat, and one 3/pack cloth napkins = $3.00 even (no sales tax in Oregon ;)) and one purse.
I know we are only to submit 2 but just wanted to share. So these are NOT submissions but just wanted to share my first two tries:
$3 @ Dollar Tree - I hated the smell of the glue and I have no patients to grout it. So I have banned this from the house and its sits outside I will use it as garden art...
This was my first try and spent $5 at the Dollar Shoppe - its a candle and I weaved the beads into the sticks for a candle base - not really my style so I have no Idea on what I am going to do with it.
---
Title: Oversize-Fruit Shower Curtain by elmonerd
Post by: elmonerd on May 31, 2005 02:46:27 PM
---
Here's what I found at the dollar store, yummy fruit!
Oversize-Fruit Shower Curtain
The supplies:
1 clear shower curtain - $1
1 Strawberry plastic Placemat and Coasters Set - $1
2 Orange plastic Placemat and Coasters Set - $1 each
Total = $4.00
The Supplies
The curtain
Scary Jumbo Strawberry
i tried to glue the placemats onto the shower curtain with regular white glue :P it wouldn't dry, so I had to tape the ends of the big fruits and then I put it up, amazingly they're still stuck on!
I love this craft challenge it's so fun to see everyone elses stuff, good job guys.
---
Title: Zebra Shoes by Randommarble
Post by: Randommarble on May 31, 2005 03:13:07 PM
---
Hi, um don't know if this counts 'cause I couldn't find a pound shop anywhere so I looked for random stuff.
I got two cork floor tiles from homebase. They would normally work out about 70p each but had to be bought in packs of 9. There were a couple loose ones so I smiled sweetly and the manager gave them to me for free.
I also went to the £1/m (closest thing I could find to pound shop) to see what oddments I could find. I found this small piece of zebra canvas fabric 25cm long so only cost 25p.
Total cost: 25p (50 cents ish)
Several hours later and lots of sticking (no more nails is my friend, I borrowed that off my dad), me and my friend came up with these.
EDIT: If you can't see the pictures please try to see them at my site

www.freewebs.com/sewsimple

It's the zebra sandals, which comes under 'Shoes'
---
Title: Fancy Rubber Gloves by gg05
Post by: gg05 on May 31, 2005 07:24:36 PM
---
OK - I'm almost embarassed to post this. Didn't turn out as cute as I imagined but HERE GOES! Wish I was as crafty as the rest of you...I'm pretty new to this all. I've always wanted to make cool stuff but I've got "Crafter's block" or something.
This is what I started with....all from Dollar Duz It...
And this is the finished project...I like to call it "Who ME, do DISHES? Are you CRAZY?!"
And a close up of the bling on the ring finger...a funky button I found in my awesome stash of buttons from my Grandma...
The colors don't show up so great on screen...the "nails" are painted purple and the ribbon is purple, green and yellow/gold...think Mardi Gras. I had some funky mardi gras stickers too but couldnt' work them in anywhere.
---
Title: TWO ENTRIES: Bulletin Board & Candle Holder by guisi
Post by: OxMonkey on May 31, 2005 08:04:59 PM
---
Ok, so here's what I came up with...

Materials:
1 pack of foamy cushions, the kind you put on the bottom of your chairs so they don't scratch the floor (Cost: $1.00)
1 frame (Cost: 10 cents - the glass was broken so it was on a sale bin!)

http://photos1.blogger.com/img/208/5046/640/IMAG0140.jpg

Removed the glass...brought out my acrylic paints...painted the frame and the backing board...stuck the self adhesive foamy things onto the board and...

THE RESULT!!!

http://photos1.blogger.com/img/208/5046/640/IMAG0153.jpg

A pretty cool and colorful bulletin board ;D



MMM...I'm not done posting yet! Since we're allowed two projects I figured I'd show you guys this one, too!
I started out with a box of black rubberbands and 4 packs of chopsticks (Total cost: $5.00)

http://photos1.blogger.com/img/208/5046/640/IMAG01341.jpg

I used the rubberbands to hold the sticks together and ended up with this...A CANDLE HOLDER!

http://photos1.blogger.com/img/208/5046/640/IMAG0141.jpg


http://photos1.blogger.com/img/208/5046/640/IMAG0145.jpg
A very bad picture of it with a lit candle inside!



In case you can't see the pictures here's were they're posted http://guisidoscrafts.blogspot.com/
---
Title: Accessory Hanger and Mirror by Vey
Post by: Vey on May 31, 2005 08:09:41 PM
---
;D Hello all! Ok, here I go...
In Mexico we do have something similar to the dollar store, though I fell it doesn't have as many (or kooky) things as you might find at an American store, but I decided to give it a try and wandered around one of these stores for a few minutes trying to find inspiration...
This is what I found:
Yup, a kitchen chopping board and a rearview car mirror. They had so much potential I immediately took 'em home!
It only took me a few acrylic paint coats, a dozen of pins and some super glue to come up with this:
A display for accesories with a mirror! I hung it on my wall, so you can even see the reflection of my drapes. Those pins do a great work holding rings, glasses, bracelets, earrings, etc!
---
Title: Pixie Doll by ladyKiwi
Post by: ladyKiwi on May 31, 2005 09:24:33 PM
---
This was so fun that I went back to the store to get more of these dolls. My daughters and their friends have claimed most of the ones I made already.
I started with a cheesy cheapo porcelain/ceramic ballerina doll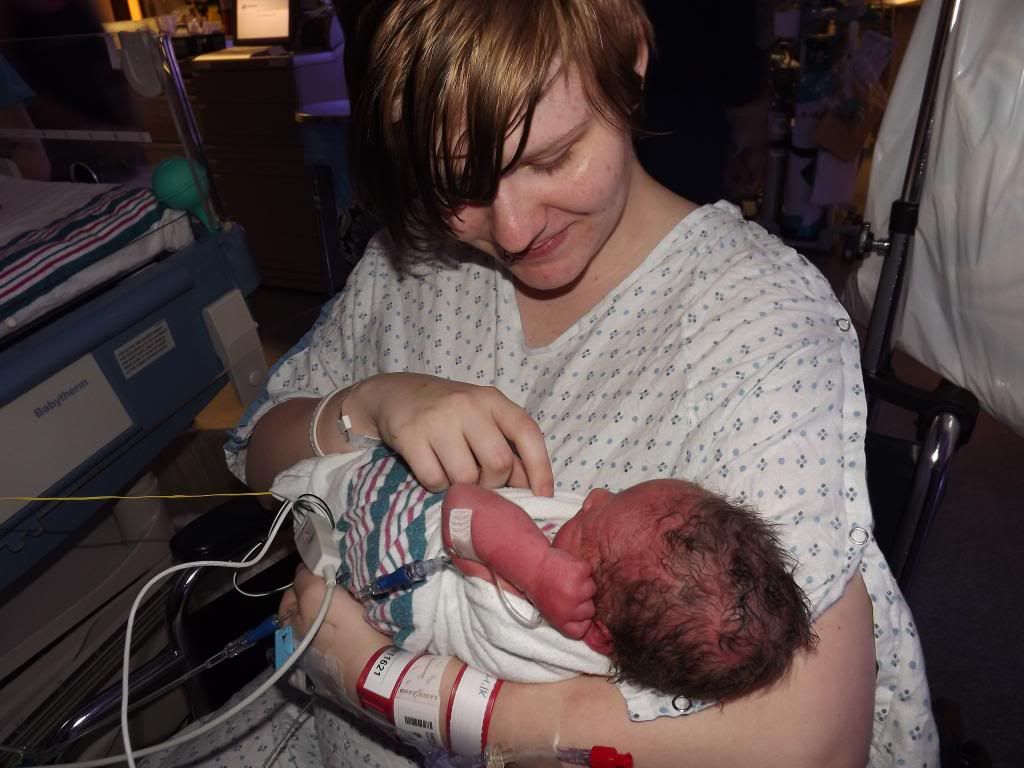 stripped her of her cheesy clothing and hot-glued on bits of fabric flowers. A little paint after the glue was cool and I have a pixie!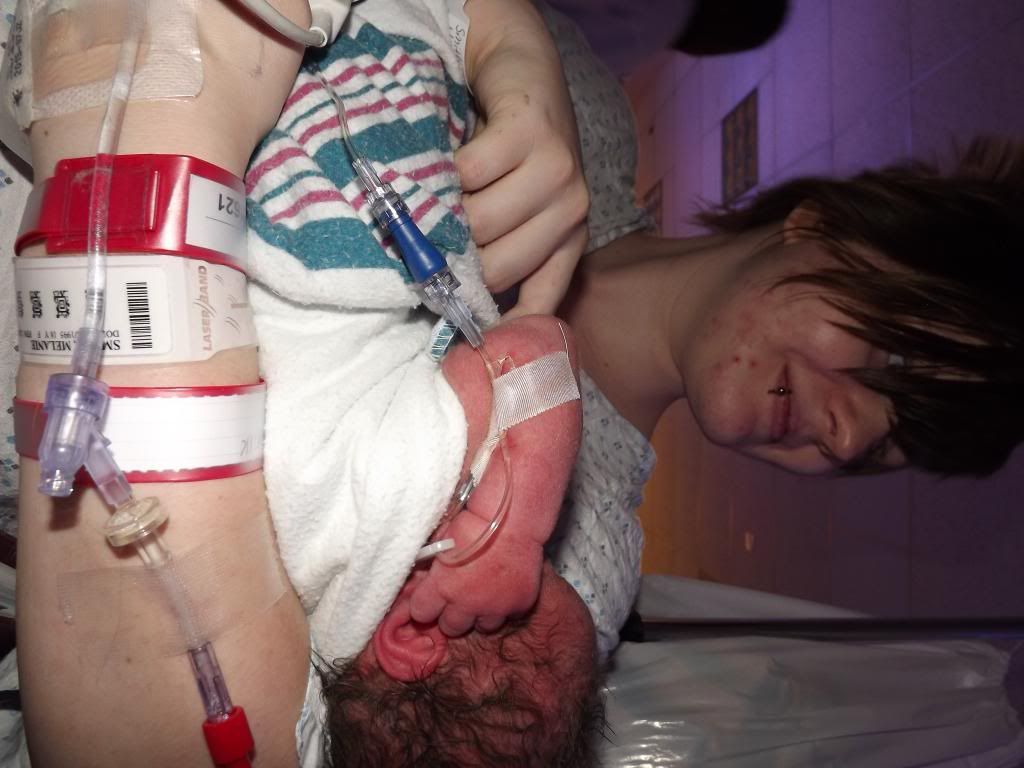 EDIT: Forgot to say, total cost for this doll was about $1.50 US. I bought more dolls and more flowers later - hey I have 12 nieces that need Christmas gifts!
---
Title: TWO ENTRIES: Bejeweled Dog Dish & Babysitter Check List by giggles1100
Post by: giggles1100 on May 31, 2005 10:18:04 PM
---
OK First off Please tell me if my pics do not show up as this is my first time to post pics here.
I did two projects, the first one my 5 year old came up with and he helped me glue all the stones on. We are doggy sitting a friend's dog and they neglected to send him his doggy dish, so we not only made him a special "Regal" dish as Colesays, we made him a fancy placemat so all the other dogs will know not to go near it! Tee Hee
Total cost $3.46, I had the eyelash yarn and fabric paint.
Here I started with a placemat, dog dish and some beads
The finished doggie dish, this after a 2nd degree burn by the dang hot glue gun on my finger!
Placemat and bowl
Critter enjoying his new dish
The second project is a babysitter checklist, this cost $4 and is a corkboard, some shiny tissue paper and a few flowers they sell at Dollar Tree, not that cute but useful! :)
Before
After
---
Title: Flip Flops and Picture Frame by dooney
Post by: dooney on June 01, 2005 10:31:56 AM
---
before:
kids' flip flops, hawaiian lei, clear picture frame, and word beads. i was going to use the sand too, but decided not to.
after:
the words say "wild about sun" and the kids are alex and robyn. they're playing in my backyard.
the word beads are attached to the picture frame on one side only and pulled tight behind the upright flip flop, so you can take them off and re-arrange the beads to say anything you want.
i forgot to take a picture of what inspired this. i live above one of those kitschy downtown shops, and there was a porcelain version of this. kind of ugly in my opinion, but it had potential. i like my version.
---
Title: TWO ENTRIES: Picture Frames & Candle Holder by momwith3kids
Post by: momwith3kids on June 01, 2005 12:55:28 PM
---
Here goes my two items on display..
finished close up
It is a picture frame made out of coasters and sea shells. All put together with wired ribbon.
Supplies:
set of coasters(I still have 3 left over , saving them for after the beach pictures)
seashells
wired ribbon
PLUS>>>>hot glue
NEXT..........
This one is a candle holder, complete with candle. On it are the infamous stone marbles from the dollar store. I wrote "love" and "hope" on the sides with four. On the big stones are a heart, spade, diamond, and club....yep, from the cards I love to play.
Supplies:
clear pink candle holder
stone assortment in clear
candle
PLUS>>>>hot glue
Man I love my hot glue gun.
---
Title: The Portable Oriental-ish Lantern by elmonerd
Post by: elmonerd on June 01, 2005 01:59:01 PM
---
Here's my second entry. it's called,
The Portable Oriental-ish Lantern
Supplies
1 red portable lantern - $1
1 pack batteries - $1
1 pack red chiffon stuff - $1
1 pack of red sequins - $1
1 pack of red hanging baubles - $1
Total = $5.00
the Lantern turned off
The Lantern in its full glory
I hot glued everything together basically, the little baubles are hanging off of a string of glued on sequins. Originally I was going to call it The Portable Burlesque Lamp, but I didn't want to give anyone the wrong idea! ha ha just kidding it just looks more oriental to me.
---
Title: Checkerboard Bulletin Board by LiquidScissors
Post by: LiquidScissors on June 01, 2005 02:42:25 PM
---
I didn't take a before picture of what I bought. BUT I bought a checker set, a cheaply made corkboard, thumb tacks, and one of those doodlepads that when you pull up the film it erases, and made a better corkboard/message board thinger.
I glued the checkers to the thumb tacs, and glued the scribble pad onto the checker board which was glued onto the old corkboard, which I de-framed and cut into a smaller size. =)
I spent 4 dollars! yay!
-Liquid
---
Title: Placemat Clutch by Sharla
Post by: Sharla on June 01, 2005 04:02:32 PM
---
I whipped up this little number yesterday after I was inspired by everybody else's designs.
This is what I started with (all from the Dollar Tree):
1- plastic placemat $1
1- pack of six wine markers $1
1- lime dish towel $1
1- emergency repair kit $1
And turned it into this:
What a fun clutch ( not the most original, I know)!
The lining (and my pants!):
A close up of the decorations:
Hope you like it! This is my first post with pictures-hope it turns out ok!
---
Title: Tablecloth Prom Dress by muchachaK
Post by: muchachaK on June 01, 2005 04:20:54 PM
---
Well, after convincing myself I didn't have time for this challenge, my toilet plugs up (too much cat litter, sorry, TMI), and I have to go get a plunger...at THE DOLLAR STORE!!! Somehow I suddenly had all the time in the world!
So, I spent almost exactly $4...it was $5.07 but I subtracted the price of the plunger ;)
Here are my original materials, a shower curtain liner and a table cloth, both plastic, and let me tell ya, if there's one thing I learned here, it's that you get what you pay for, this is some classic cheap dollar store crap!:
And some mysterious green crinkly plastic twine:
Perhaps the original intent of the manufacturer? Mmm, delicious:
But here's what I did with it--Prom 1964:
I also made the straps out of the green twine, braided.
I did a combination of sewing and taping to contruct it, and yes, it is wearable, I made it to fit me. I cut the top based the shape of a shirt I already had and then I free-cut the skirt from memory based on a pattern I used once. It is a wrap around and just clips in the back with a hook and eye closure. The top also closes at the top with a hook and eye closure. The underskirt is just something I had in the closet.
Woohooooo, Craft Challenge! Now I have time to admire all the other craftiness on this thread...!
-Katy
---
Title: Glam Poker Box by ilovepaper
Post by: ilovepaper on June 01, 2005 04:37:14 PM
---
I hope this counts... I bought the box and furry bag at my dollar store but the cards, dice and musclemen came from the Dollar Spot at Target, I used a few squirts of black spray paint that was in the garage also- Total $5.00 plus tax:
I came up with this handly little poker box-
Inside it holds poker chips (not included in the challenge purchase) and a deck of cards-
---
Title: Crafty Tote by craftyfingers
Post by: craftyfingers on June 01, 2005 06:19:44 PM
---
Here's what I started with: two tool belts and a plastic basket from the dollar store- total $3.99!
Here's what I made - a crafty tote.I always wanted one, couldn't afford the fancy ones they sell in stores.
Here it is loaded and ready to go. I used the straps on the tool belts to make a shoulder strap.
If you can't see the pics go to http://spaces.msn.com/members/craftyfingers/
Thanks for starting this challenge. I've really enjoyed it!
---
Title: Light-Up Goddess Shrine by EmilyFlew
Post by: EmilyFlew on June 01, 2005 07:50:44 PM
---
this is like the most fun thing to read ever! I love the burlesque lantern, and the prom dress!!
Here is my humble addition:
set of markers, night light, 2 dolls, bunch of fake flowers, and silver placemat: $5
becomes...
light-up goddess shrine!
lit up:
pretty goofy, but I had fun making it.
---
Title: Photo Albums by candycanechild
Post by: candycanechild on June 02, 2005 12:04:50 PM
---
For my project, I made a matching set of photo albums. I used...
1. 1950s-style wrapping paper: $2.00 for both.
2. 1950s-style "atomic" shaped gift bows: $1.00 for both.
3. Two different size photo albums that were white and gold. Ick. $2.00 total.
So, basically, I took a bunch of gift wrap and made photo albums. w00t. I saw the bows and knew I had to have them! I was like, "Ahhh!! I need these!" And the old people in the store looked at me werid. Oops.
Thanks for looking!
---
Title: Dish Towel Apron by VaxGirl
Post by: VaxGirl on June 02, 2005 02:45:55 PM
---
3 dish towels $3.00
1 tiny ham who can't resist the camera $0.00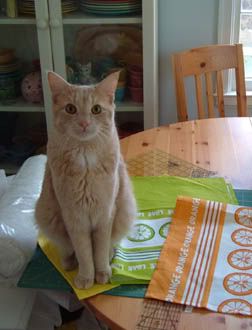 Displaying your silly apron while shamelessly showing off your cute kitty - Priceless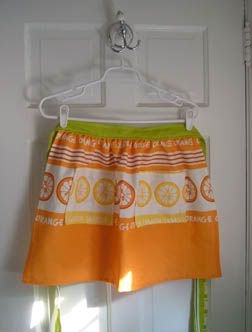 ---
Title: Plunger Doll by maps
Post by: maps on June 02, 2005 03:49:37 PM
---
Okay, here is my contribution to this
awesome
contest:
I spent $5 at my local dollar store and bought: 1 toilet plunger, 1 pair black, knee-high nylons, 1 glass scrubber, and 2 christmas stockings. I also used some old batting that I got for free.
I added some straight pins, acrylic paint, and a couple beads to make this doll. I don't know what to call her, but she kinda reminds me of some opera-type character.
Here's the back side with "button" detail: (I guess they're hard to see, but there are tiny black buttons down the back)
Face detail:
... and a close-up. She has a heart-shaped mouth, bead earrings, and painted bead eyes. Her choker is a twist tie, and she has some collar detailing that was hard to capture.
I've never made a doll before, and this was
so
fun! I used the plunger for the base and armature, the handle of the scrubber as the arms, and the head of the scrubber as the head. I wrapped some batting aroung the plunger handle and then covered it all with the two nylons. My husband said you'd never tell that all came from a toilet plunger. LOL
-Molly
---
Title: Polishing Cloth Shirt by rickrackruby
Post by: rickrackruby on June 02, 2005 04:42:50 PM
---
Okay - here is what I got at the dollar store:
These are cleaning cloths and fruit magnets.
Here is the top and pin that I made:
Of course, now that I've seen the gloriousness of the other entries I can see that my top is kind of ordinary - but it was still a fun challenge!
---
Title: Utlility Towel Apron by rickrackruby
Post by: rickrackruby on June 02, 2005 04:56:29 PM
---
Here is my second entry..... I got a couple of packages of "utility towels..."
and I made a ruffled skirt!
Of course all of the towels were different sizes with chunky hems and not at all cut on the grain... I left the seams on the outside and trimmed the skirt with a rose made from one of the yellow cloths. I only used one package of the towels and I have plenty left over... just in case anyone is interested in duplicating this lovely design.
Thanks to my daughter, Kaitlin, for modeling. She's a good sport.
---
Title: Soda Bottle Birthday Cupcake by Crafty Kat
Post by: Crafty Kat on June 02, 2005 05:27:53 PM
---
In honor of my 24th birthday yesterday I made a soda bottle birthday cupcake! Complete with Cherry .. everything I used was on hand so thus technically it was 'free'.
I put christmas tree lights in it to make it lightup. You can't tell very well in the pic but its on! :D I had fun making it.
---
Title: Box Purse by sighonthebreeze
Post by: sighonthebreeze on June 02, 2005 07:09:10 PM
---
Here's my entry. I wish I had remembered that we could have two, then I would have made the discoball nightlight. Anyway, on to what I
did
make.
Before:
Baby washcloths, reflective 48" dog leash, scrabook letter stickers, and small storage box
Not used from picture: super glue [does not mix with porous materials :(]
Used but not shown: saftey pin, irridescent blue nail polish, and tacky glue [great for everything!]
After, front:
The letters say Terrys Box, and random stickers for looks
Back:
Words - jump quick up joke mind why ha (and) gab [these are on all sides]
Inside:
I originally planned on having a green washcloth inside as a pocket, but that plan went awry with the super glue.
Total cost:
$4
I actually plan on using this purse! Unless anyone else wants it, my mom makes me get rid of a bag everytime I get (or make) a new one. Happy voting and thanks for looking!
---
Title: Army Men Side Table by swalsh
Post by: swalsh on June 02, 2005 07:12:30 PM
---
entry number 2... (pardon the crappy camera-phone pictures)
supplies:
4 picture frames
1 bag of army men
frame before
frame after removing all the pieces
*** finished product - bedside table ***
top view
close up 1
close up 2
table in action
the only non-dollar store supplies used were glue and nails. it's quite sturdy - much more-so than anticipated.
---
Title: Hardware Tiara by GoTo
Post by: GoTo on June 02, 2005 07:17:01 PM
---
Wow! What an interesting assortment of products this challenge has inspired. OK, here's my entry:
The dollar store had a lovely assortment of hardware, so I bought three packages of various sized screws, bolts, nuts and washers. I also bought a three pack of spooled wire, for a total of $4.00. I used some glue, some of those infamous glass gems I had hanging around and a dot of tinfoil, <edit>I forgot to say my FIL happily added the lovely star washer and bolt to my supplies to top off my project (small picture on right)<edit>:
My tiara:
---
Title: Poker Accent Lamp by kellymac
Post by: kellymac on June 02, 2005 08:55:12 PM
---
Before: miniature playing cards, a beer glass, a wire basket, a flashlight, and a bag of shiny easter-grass-type stuff. Each item is from Dollar Tree.
After: a snazzy poker-themed acent lamp!
Additional craft supplies used: duct table, electrical tape, batting, wire hanger, used CD, scissors, pliers w/ wire cutters
---
Title: Re: [FINISHED] Craft Challenge #1 - Under $5 From a Dollar Store
Post by: leah on June 09, 2005 06:19:06 AM
---
The winner has been determined! And by ONE vote! Yowza.

Congrats to swalsh for coming up with the brilliant army men side table!

You can see the blog entry I wrote about it here:
http://craftster.org/blog/index.php?p=76

This was so much fun! I'm psyched for more challenges! ;D