My 10 yr old DD is a huge video game fanatic. Her favorite series is, obviously, Legend of Zelda. When asked what she wanted to be for Halloween, she knew exactly, Skull Kid from Majora's Mask. For those of you that aren't Zelda obsessed (or blessed to live with someone who is :D ) here is a description of the character
"Skull Kid really made a name for himself in the sequel, Majora's Mask. In that adventure, the Kid is introduced to us as both villain and victim – he's corrupted by the sinister magic of the titular Mask and threatens to destroy the land of Termina."
This turned into a joint family project, with DD working with either myself or her father on our respective parts. All told it took about a week of afternoons to complete.
DD & her dad were in charge of the mask (with some "ideas" from me). The mask is papermache and acrylic paints. It was built over a Mylar heart shaped balloon. The spikes are cut off ends from birthday hats glued in place. We mounted the finished mask to the support from a welding mask. This worked really well & was very stable.
However, we forgot to plan for eye holes & the mask was just TOO COOL to cut into! So she ended up carrying it more than wearing it. We also didn't account for the welding helmet when I made the hat, but she ended up being able to wear it under the helmet. It's just too small to be really noticeable, especially compaired to that awesome mask!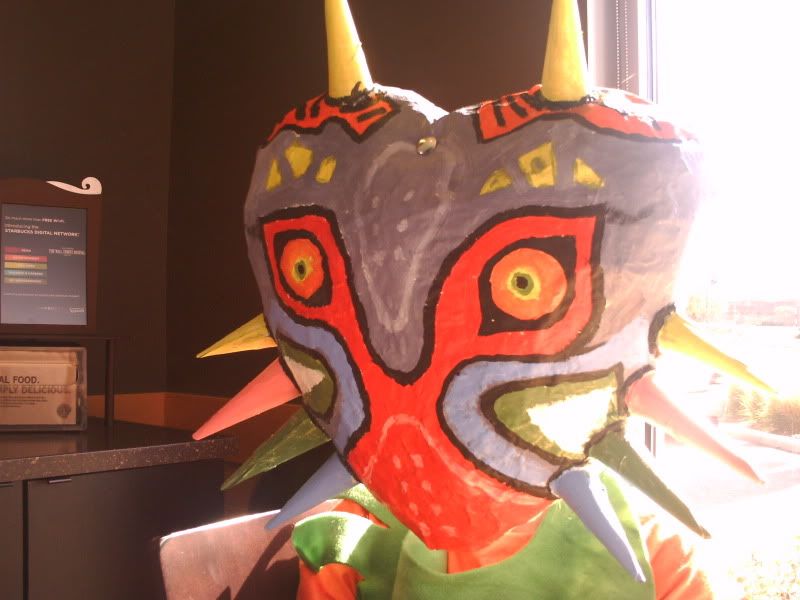 Not bad compaired to our inspiration image!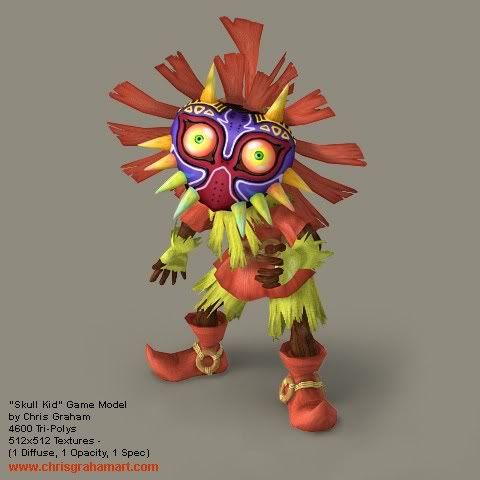 I was in charge of the clothes, but DD did most of the cutting & even a bit of the sewing on the tunic. The tunic is quilters cotton, the rest fleece. Both have a mottled color pallet which DD says "looked like the woods with light in the trees."
I'm really proud of the shoes although I'm not sure why she told me to make them green instead of orange ??? I made over sized socks and altered the toes to give them an elf like point. To give them soles, I slipped a pair of old flip-flops inside. All DD had to do was put her foot into the flip-flop and they were both solid & secure for miles of Trick-or-Treating.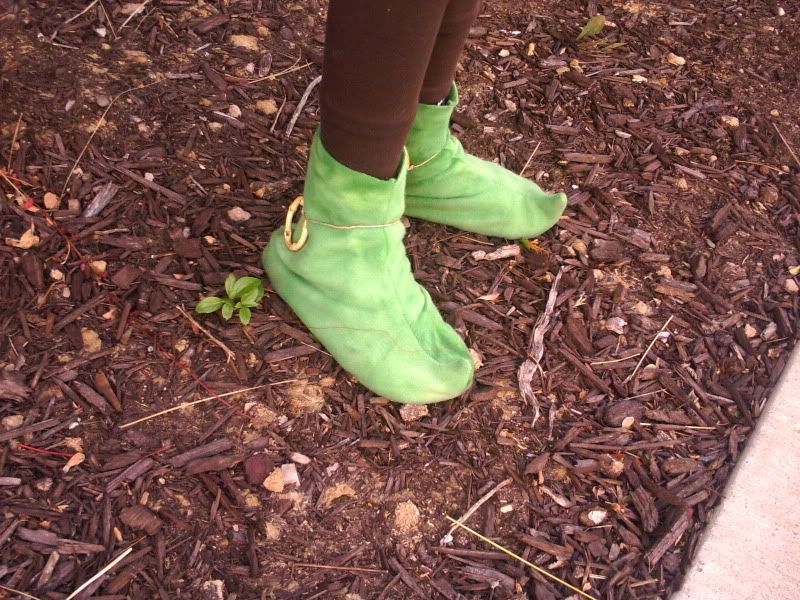 She had a great time working on this costume & is already planning which of the Zelda masks she wants to make next! Getting stopped by another video game fan at the Farmers Market and being told she had "the COOLEST costume ever!" was the highlight of her weekend :D
Thanks for looking.
Chole
I got so excited when I was scrolling through the pictures!! I knew right away that it was skull kid! Great execution and great idea!
Thanks everyone. DD *really* loves this costume. She's been wearing the tunic since Saturday. Just can't get her to take it off! We've been talking of going to a Con now too, since she's enjoying dressing up so much & it would be a good excuse to make & wear costumes more. This is how it all starts right, mwahhahaha :D

Chole
I love it! Such a good costume - so like the original character.

We had the same eyehole issue when I made a Keaton for my husband for last New Year. Turned out good though - http://www.flickr.com/photos/quitekate/sets/72157623113157510/

x