---
Title: Chihuahua Ornament
Post by: 1watermonkey on October 28, 2009 05:26:58 PM
---
I have had the xmas crafting bug since early October and finally made my first xmas craft yesterday. This is a chihuahua ornament in the same colors as my chihuahua, just not the same markings because hers proved too difficult. :o lol
I think it turned out pretty cute though and I'm happy I'll have something chihuahua-themed to hang on my tree. ;D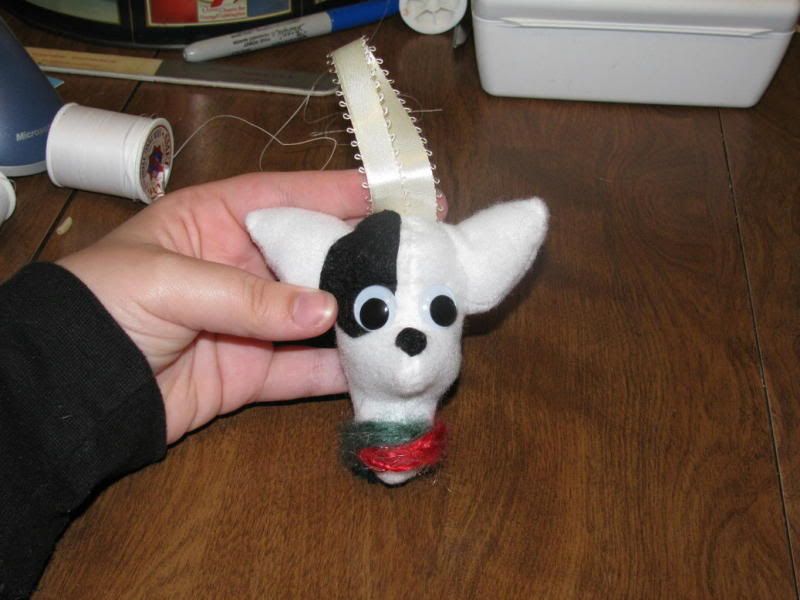 ---
Title: Re: Chihuahua Ornament
Post by: averyg on October 28, 2009 06:22:54 PM
---
It is so cute!
At first I thought it was a poppet head (which I love by themselves),
but then I thought it was a lightbulb,
regardless... I love it!
:)
---
Title: Re: Chihuahua Ornament
Post by: skaborsk on October 28, 2009 06:37:45 PM
---
very cute. if his spot was brown it would look just like my chihuahua!
but one minor thing i noticed was, because of the red bit at the bottom it looks a bit like a severed puppy head, eekkkk! maybe its just me though. its probably from the loads of awesomely morbid halloween crafts ive seen on here lately.
---
Title: Re: Chihuahua Ornament
Post by: pinokeeo on October 29, 2009 06:59:06 AM
---
It's cute, but I agree that it looks like a severed puppy head.

You did a good job on it though.
---
Title: Re: Chihuahua Ornament
Post by: 1watermonkey on November 04, 2009 09:05:15 AM
---
Thanks. :)

I have made a few more and omitted the neck, just the head and I like them better. Since I'm not going for a Halloween look I figured I didn't want severed looking heads. ;)
---
Title: Re: Chihuahua Ornament
Post by: Hellz Bellz on November 20, 2009 07:55:57 AM
---
Awh that's so cute!Now I want to make something like this to include my hamster in the x-mas celebrations