---
Title: Hair stick love!
Post by: olive_juice on July 03, 2009 08:26:04 AM
---
This is my new crafty passion, and I'm pretty sure hairsticks and I are going to run off together. I'm using a handy dandy folding boxcutter and sandpaper, none of those fancy power sanders or bandsaws. Ha! I laugh at you, power tools! My blisters and I are doing just fine without the likes of you.
This is the first stick I finished. It's oak, and I decided to leave it a little rough- there's a wormhole, and its got some nice coloration on the top. This one's going to a man in exchange for some lovely twisted red oak to feed the addiction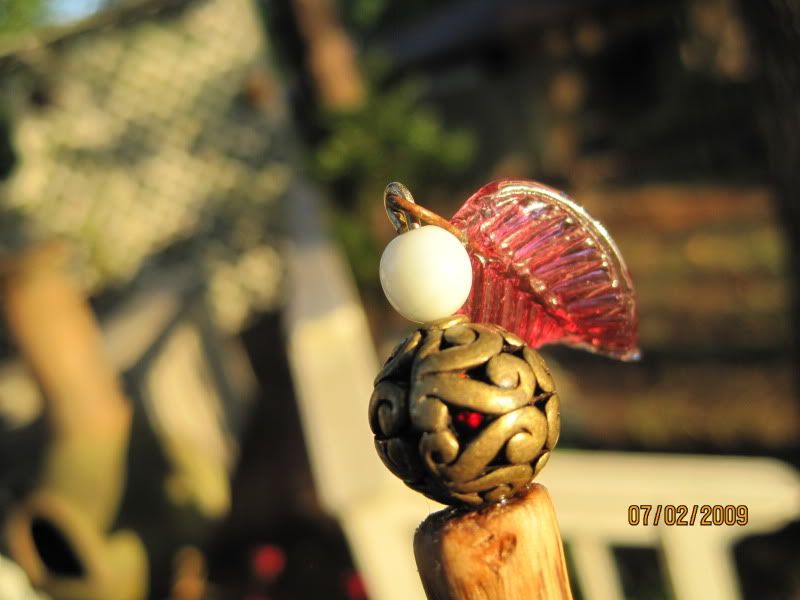 This one shows the bead that's inside the metal one. I like it!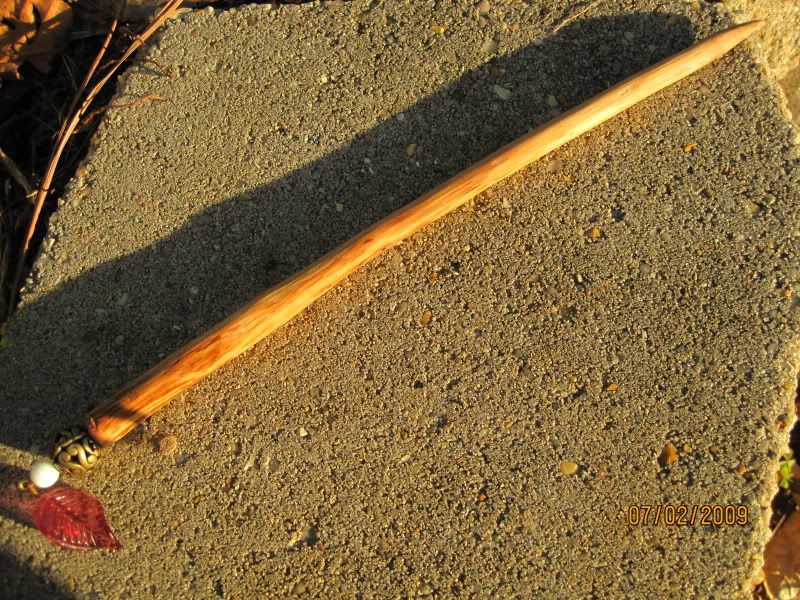 This is the whole thing.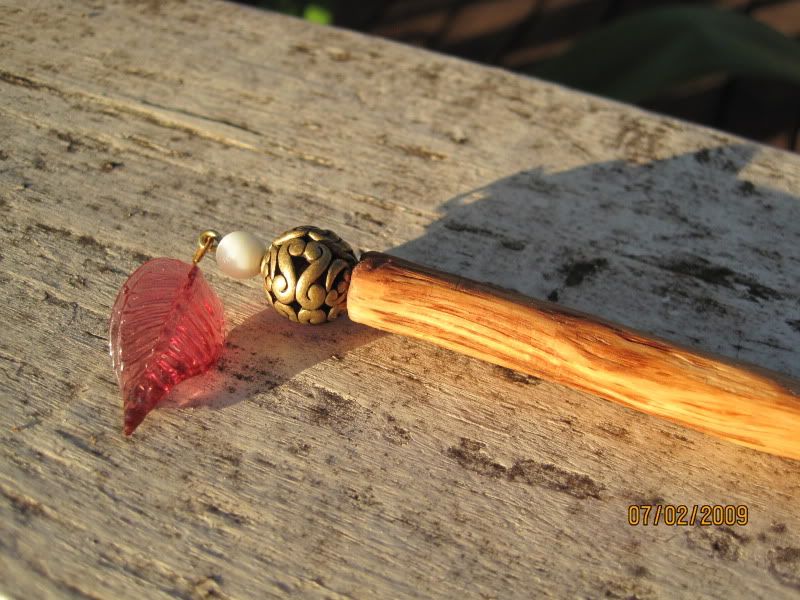 close up of the end
These are the second and third. After searching all over for the perfect stick, my pup trots up on the deck and drops a PERFECT piece of cedar at my feet and wanders off. Weird thing is, we don't even have a cedar tree in my backyard. Or my neighbors', for that matter.
All told, these things took me about a week (note the lack of power tools). They tore up my hands, so I couldn't work on them for very long each day. I'd work about 15 minutes out of each hour, so it was VERY slow going. Anyway, I made these for a swap (my first, to be specific) and my partner seemed to like them. :.)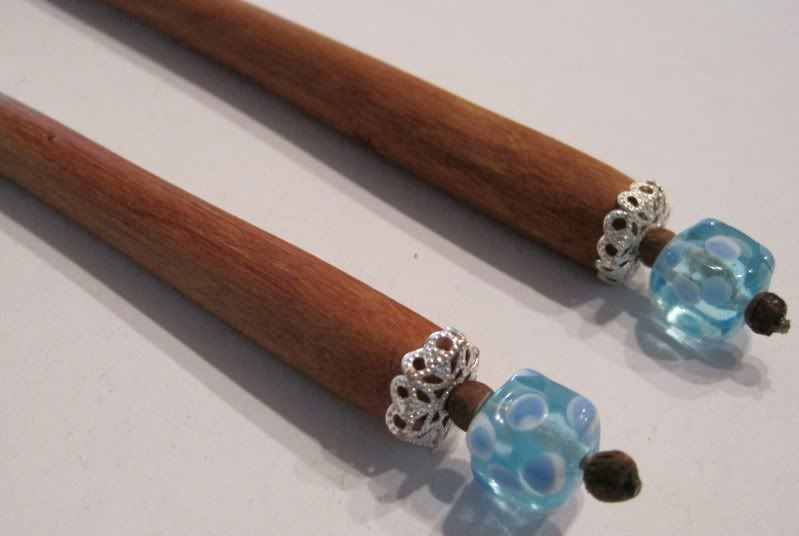 End detail.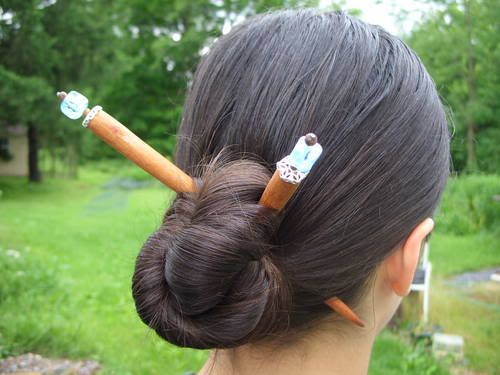 I hope thelastkodama doesn't mind my borrowing her picture, but here they are in action. They ended up being a little over 6" in length.
These are sort of cheater sticks, if you ask me. I took a pair of chopsticks, carved them round and then sanded away. Because you can't really stain bamboo, I painted them black and covered them with several coats of polycrylic. They're wrapped in copper wire with wooden beads, freshwater pearls and abalone shells.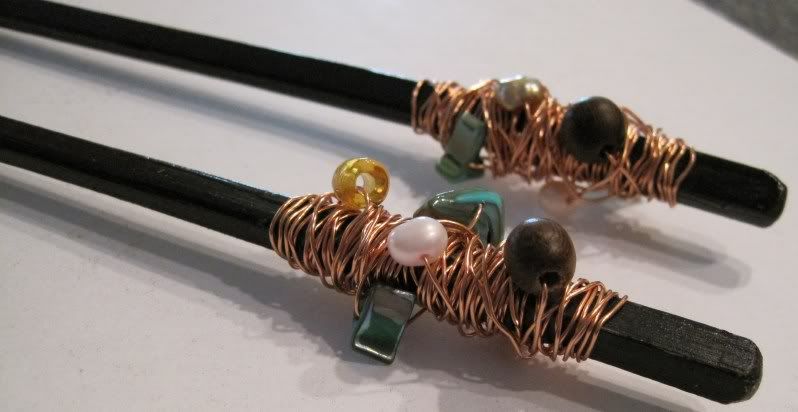 And thus concludes the tour.
So... what do ya think?
---
Title: Re: Hair stick love!
Post by: carmencrafter on July 03, 2009 09:09:55 AM
---
I think they're lovely!!
---
Title: Re: Hair stick love!
Post by: ysmeine on July 03, 2009 10:48:49 AM
---
I absolutely love them. Especially the first two. Maybe I will remake my favorite pair. I lost one a few years back.
---
Title: Re: Hair stick love!
Post by: olive_juice on July 03, 2009 04:53:58 PM
---
Thanks, guys. You really should give it a try, ysmeine. It's very rewarding, that's for sure.
---
Title: Re: Hair stick love!
Post by: Maimun on July 03, 2009 08:21:31 PM
---
Beautiful! I especially love the copper wire wrapped ones. And how nice of your pup to help out!!

I'm on a long hair forum that has a thread for hand made hair toys but a lot of them are with power tools. It's great to see that you don't need them.

thanks!
---
Title: Re: Hair stick love!
Post by: cutek94 on December 19, 2009 06:40:19 PM
---
these are gorgeous <3 ;D
---
Title: Re: Hair stick love!
Post by: jeannebaby1 on January 18, 2010 09:33:24 AM
---
:D Oh so beautiful. I love hair sticks.......I love your hair sticks.

They really are beautiful, and elegant.
---
Title: Re: Hair stick love!
Post by: Ffrogg526 on July 03, 2014 06:18:02 AM
---
These are lovely! I want some of my own! :) Great work!
---
Title: Re: Hair stick love!
Post by: midasjewelry on July 09, 2014 12:53:15 AM
---
it quite pretty. I will try to do same thing in future. Thanks for tips.
---
Title: Re: Hair stick love!
Post by: Beholderess on July 09, 2014 08:20:14 PM
---
Impressive. This requires remarkable patience
---
Title: Re: Hair stick love!
Post by: Nikkifranjenkin on July 15, 2014 02:43:36 PM
---
I'm in love with your sticks. I have dreads, so these would look awesome. Want, want, want!! I'm only a newbie so how can I go about doing a swap maybe?