---
Title: Fiber Friday - June 26 2009
Post by: oddacity on June 25, 2009 10:05:08 PM
---
So yeah, I'm bored and it's technically Friday where I am....so! Let's get on with this week's fibery goodness. :]
I haven't been spinning a lot this month because I've had lots of knitting projects I had to get done for gifts and such. BUT I've got some things from a while back that I've not yet got around to sharing with you all yet. :]
Sail Away - merino/viscose, both skeins together are 115 yards. Fiber from studioloo @ etsy. This one gave me problems, because I was going for a smooth bulky single but I'm pretty bad at spinning consistently anything thicker than laceweight. :\
Untitled - 50 yards. Super bulky! This one is for a project for the Harry Potter Knit & Crochet House Cup on Ravelry. My goal is to knit enough to make a small-sized sweater out of by the end of July. I did this in may and haven't done any more, so my progress is pretty bad...but I've got the wool soaking to dye for the next batch right now!!
"Bloodlust" 190 yards fingering weight, Corriedale. Roving from FairyDesigns @ etsy. I've been listening to the Twilight audiobooks so I can talk crap about them and have the actual authority to know what I'm talking about, but despite my best efforts I was briefly intrigued by the whole vampire concept. And I wanted to spin some vampire-esque yarn to make a neato vampire-inspired cowl/neckwarmer thing. I found this fiber, and it was perfect! I LOVE the way the yarn turned out. Despite horribly, horribly, HORRIBLY tangling my single when I andean plied it, it managed to come through. I'm winding it into a ball right now to begin working on my neckwarmer! :D
Happy Friday everyone!
---
Title: Re: Fiber Friday - June 26 2009
Post by: Jane Doe on June 25, 2009 10:32:53 PM
---
Hey oddacity - are you an Aussie too? ;)
I never know when to show my yarn. Thanks for starting the thread
What I created this week matches in nicely with your "bloodlust"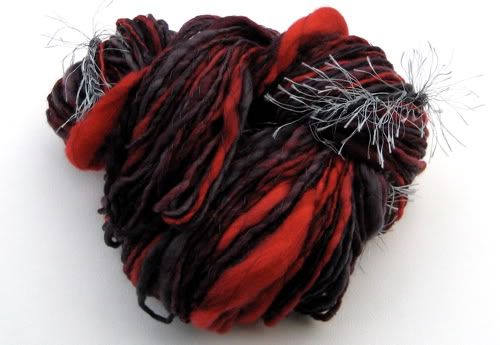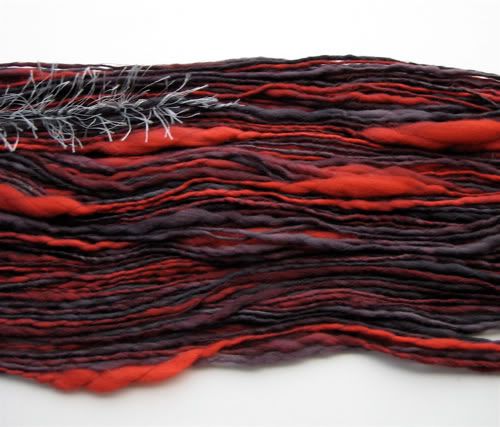 It's going to grow up to be a hat
---
Title: Re: Fiber Friday - June 26 2009
Post by: zombiecazz on June 26, 2009 01:30:20 AM
---
mmm yummy I love your bloodlust.
I'm such a newbie spinner.I have a rickety old wheel and only one spindle, so spinning is slow. I did make this for a swap resently
Blue eyed zombie, 100% shetland.
---
Title: Re: Fiber Friday - June 26 2009
Post by: peachymanaangel on June 26, 2009 04:59:18 AM
---
Jane Doe that yarn pulls on my heart strings.
I have a lot of yarn this week because I need to update my posts more, and I have been spinning like a mad spinster lately.
jumbo 3ply from drum carded batts
Sock or DK wieght 2-ply from bought roving
Three Skeins of Bubble bee taxi drum carded thread plyed
Small Lake thread plyed, durm carded, and strips of fabric
Melon Balls thread plyed store bought roving
Candy thread plyed store bought roving
Fruit thread plyed store bought roving
Watermelon Margerita hand dyed and carded with sequence and thread plyed
Blues store bought roving two ply
This was a cake of pencil roving that I dyed in cake form then spun a two ply yarn with it.
Spun snow and Wire spun Snow. Hand dyed BFL roving with sparkle, and sequence and thread warped. One is core spun on wire. It will be an art hat for my friend.
I am stash busting so I do not feel as guilty when I buy 10lbs or so from RL Linsday. Which I need for felting specimens.
---
Title: Re: Fiber Friday - June 26 2009
Post by: pinkfluffy on June 26, 2009 11:05:11 AM
---
I love wire spun snow!!!!!
I've got four this week:
Grapey, self striping falkland:
Patina, alpaca and copper sparkle:
Another Planet, falkland and silver sparkle:
Wishing Well, Merino and lots of copper sparkle:
---
Title: Re: Fiber Friday - June 26 2009
Post by: Snowberrylime on June 26, 2009 11:42:22 AM
---
yay, Fibre Friday!!
I have been nearly absent, but am always drooling over the great yarns you all spin!
Some of my most recent ones:
Grey elegance, handspun Alpaca/Tussah silk 2ply with freshwater pearls and sequins
Hippie chick and a sequined version of it, both scrap yarns:
Simply pearls, grey Merino with pearl beads:
...yeah, I guess I am on a bit of a grey+pearls=elegance trip. :D
And last but not least my interpretation of pop/dance singer Lady Gaga as an art yarn:
Lots of silk, glitz and sequins.... mainly inspired by a daring light blue outfit in one of her videos, lol. Oh, and how about blonde goat as her hair? :D
---
Title: Re: Fiber Friday - June 26 2009
Post by: the noodle princess on June 26, 2009 03:47:37 PM
---
so many gorgeous yarns! I LOVELOVE wire spun snow and Wishing Well...they are so dreamy.
---
Title: Re: Fiber Friday - June 26 2009
Post by: Pink Hickey on June 26, 2009 04:16:42 PM
---
Great show this week! Everything is so lovely in their own ways!! I live for Fiber friday, I look at it at work with the other tailors that got me addicted to fiber in the first place.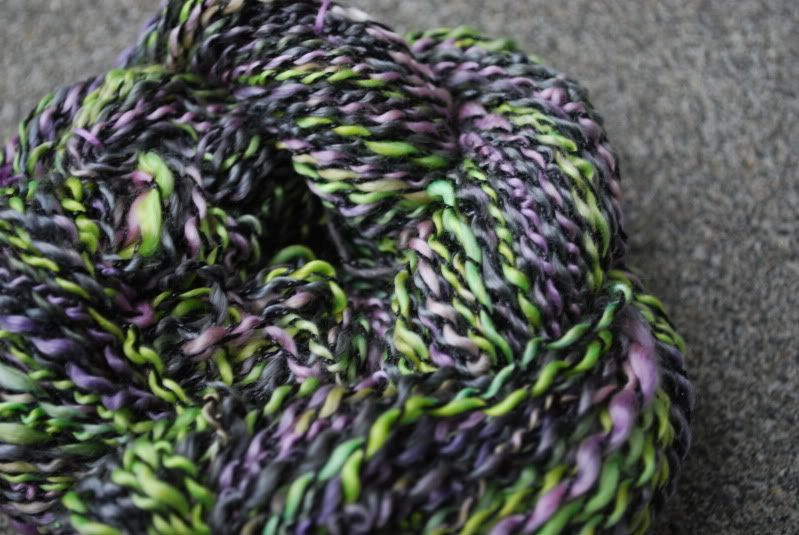 Franknstein from Dragon Fiber 50% Merino 50% Tencel 200 Yards
<3
Laura
I'm getting my first loom in a week! Woot!
---
Title: Re: Fiber Friday - June 26 2009
Post by: the noodle princess on June 26, 2009 04:30:05 PM
---
i have 4 yarns to share this week. :)
A zillion little pieces 2:
Bada bing:
Midnight Swim:
Alien Abduction:
Happy Fiber Friday!
---
Title: Re: Fiber Friday - June 26 2009
Post by: knkurz on June 26, 2009 04:53:43 PM
---
Aw, the first week in over a month that I finish a yarn, and I forget to take a picture?! I've been busy getting knitty fingers out of my system (because it definitely won't last!) so I haven't done much spinning, but I have been commissioned to make a qiviut scarf, and I finished half the yarn a few days ago. It's soft and gorgeous and I am dumbdumbdumb for forgetting the picture! But I do still have to make the other half, and then I can post pictures of in-progress FO and the yarn together!!!
Also, here's a FO for all of you to see, since I have nothing else to contribute :(
Socks! Knitted with Crystal palace yarns [Mini Mochi, their new line, and white Kid Mohair] (no handspun?!)
A close-up of the stitching.
---
Title: Re: Fiber Friday - June 26 2009
Post by: casmir on June 26, 2009 06:53:11 PM
---
I wish I had all of these yarns in my stash! :D
---
Title: Re: Fiber Friday - June 26 2009
Post by: CohesiveChaos on June 26, 2009 08:50:38 PM
---
such beautiful yarns this week, I'm completely enchanted by so many of them! beautiful work everyone
---
Title: Re: Fiber Friday - June 26 2009
Post by: SciFunk on June 26, 2009 09:12:52 PM
---
Geez, these are so pretty. This is my very first fiber friday, although the "finished" yarns were finished a few weeks ago.
These first two are just wool, I believe. The were given to me in a personal swap, so I'm not completely sure.
First up, my very very first yarn EVAR:
It's two-ply, and I can't for the life of me think of a name. I can already tell I'm not going to be able to name my yarns. :(
And then my very second yarn:
I am thinking of calling it "Blueberry Crush". It's also a two ply.
This next one isn't really finished, but it's taking me
forever
, so I'm going to post it anyway. I bought plain 'ol cotton, and it was a whole ordeal, but I dyed it. When I'm all done, I'm planning on a long long post that will discuss it all. I don't really like the color, I was hoping it would turn out more like oddacity's. :-\
I'm totally willing to swap these for more fiber (or, y'know, other stuff), in case anyone is lurking and can't spin stuff themselves. I can't figure out what to do with them. I can't remember what the yardages are right now, but I know it's not very much. Any ideas?