---
Title: I spy bags...
Post by: stitchitquick on September 04, 2008 08:29:30 PM
---
I've been making these the last few weeks! The kids like to play with them! (Since my kitty toy bombed last time:(
Here's the 5x7 version...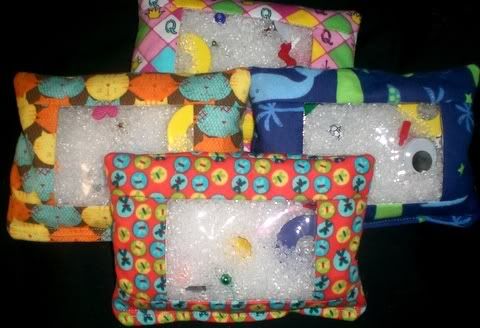 And the 4x4...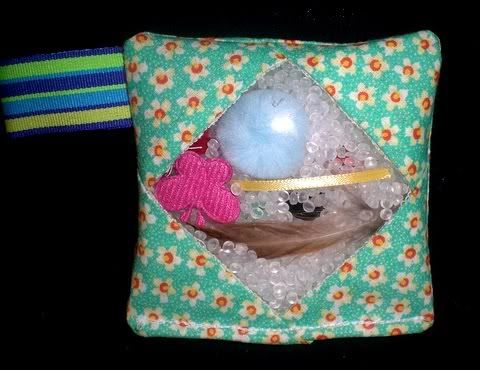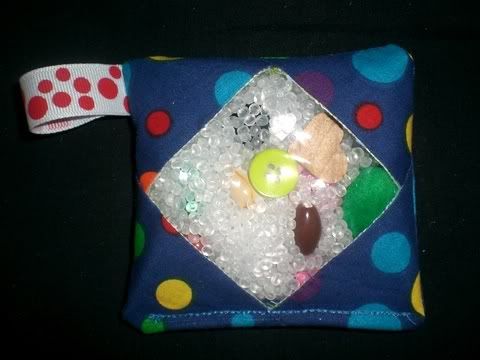 Some of these are for Christmas gifts. I'm starting early this year! ;D
Thanks for looking!
Roxanne
---
Title: Re: I spy bags...
Post by: crafty_mommy on September 04, 2008 09:12:18 PM
---
These are just the neatest things!!!! This is the second thread i've seen about these.. I think I might just have to make my own!
Do you just pick what you want to put inside??
---
Title: Re: I spy bags...
Post by: olive_juice on September 04, 2008 09:47:21 PM
---
Oh, i think i like those clear bead things better than the sand! While you do lose a little mystery (i mean, they are clear), it looks a bit more... finished. Or professional. Or something.

I wish my friends would hurry up and make babies! Better yet, make toddlers!
---
Title: Re: I spy bags...
Post by: MareMare on September 05, 2008 01:46:40 AM
---
These are so fun! I'm trying to imagine how sturdy I'd have to make them for my nephews not to bust them all to pieces immediately. hmmm...

Oh, and I have that kitty cat fabric! And a co-ordinating fabric. I don't know why I get so excited about stuff like that. Someone posted a pic the other day that included their cell phone, and I almost posted that I had the same cell phone...then I thought, she really doesn't care lol!

Can you list some of the things you put inside? I can imagine finding lots of good stuff in my junk/craft drawers and at the Dollar Tree! Do you think rice would be a decent sub for the filler material?
---
Title: Re: I spy bags...
Post by: stitchitquick on September 05, 2008 06:22:50 AM
---
Thanks for the nice comments!
I checked out my kids toys for some of the items inside....
bell, round disk, buttons, barbie shoes (Missing the other one lol) Pencil top erasers, pom poms, beads, Letter beads, Pegs from battleship, shells, sport theme beads (football, soccer ball) Music charms, charms, fabric butterflys from scrapbooking, feathers, ribbon/rickrack with ends sealed, coins, googley eye, plastic ants, Really any little item can be put into these bags.
I've never seen these bags made with sand. I'll have take a look at them.
I've also never used rice but have seem them made. Not sure how well it would work but I think it would be fine.
I print a list of the bag contents on a fabric sheet and put on the back of my bags. Here's an example...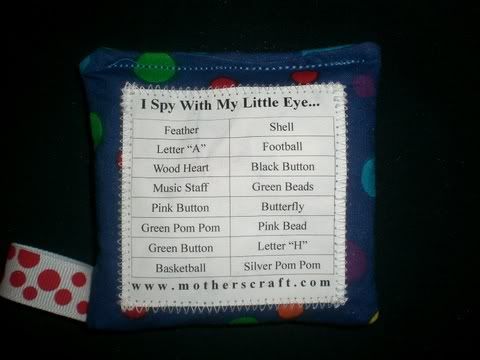 I put 16 items in the 4x4 and 24 items in the 5x7
Maremare...
I know what you mean about getting excited...
I do this all the time!
Oh and I love that kitty fabric. Should of bought a lot more of it. I use it all the time!