---
Title: Topeka Monopoly
Post by: UnsceneObserver on March 03, 2008 09:15:29 PM
---
My hometown is Topeka, KS, which I hated until I moved away for college and now when I go home I am reminded of the charm of the city. My friends and I play a lot of monopoly, so I decided to make a Topeka edition so that when my boyfriend and I go home we can play the Topeka version with our friends. I found a template online and set to work changing the names of the streets to areas of Topeka, starting with the worst areas of town to replace Baltic and Mediterranean (Oakland and 6th Street) and working around the board to the richest areas for Park Place and Boardwalk (Clarion Lakes and Potwin). We just used the chance and community chest cards from an older game, but made new property cards. I haven't gotten any "in action" shots yet, but here's the game board: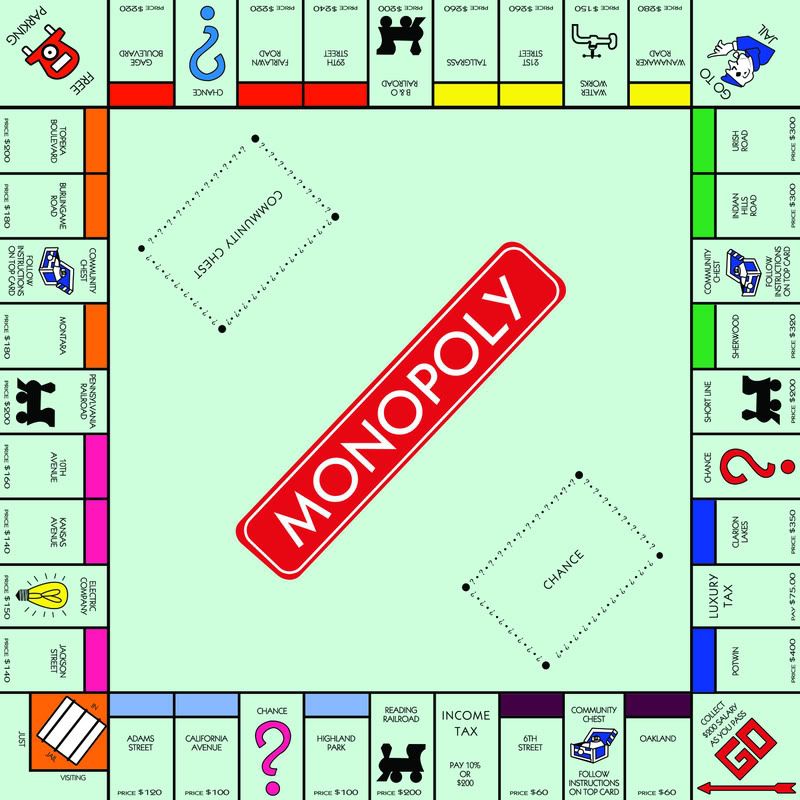 ---
Title: Re: Topeka Monopoly
Post by: spurtiic on March 03, 2008 09:25:46 PM
---
Ha... funny
I moved from Topeka but moved back cuz my fam is here. I can't wait to leave, again! I'll be happy to take a Topeka Monopoly with me as a reminder though :)


---
Title: Re: Topeka Monopoly
Post by: caretostayfortea on March 03, 2008 10:40:24 PM
---
Very cool!
Do you happen to still have a link to the template you used?
---
Title: Re: Topeka Monopoly
Post by: ultimate_sacrifice on March 04, 2008 07:27:20 PM
---
OMGG!! MY BROTHER AND I MADE A KANSAS CITY MONOPOLY! Pretty fantastic job you did there... we hand drew ours.
---
Title: Re: Topeka Monopoly
Post by: UnsceneObserver on March 05, 2008 08:57:45 PM
---
I found the template on this guy's blog (http://bradfrostweb.com/blog/). You can only use it if you have photoshop, but I just downloaded a 30 day trial to make it.

I am at a loss for a camera, so there won't be action shots, I'm sorry!
---
Title: Re: Topeka Monopoly
Post by: accountantbyday on March 24, 2008 05:18:48 PM
---
I love this! The first thing I looked for was Wanamaker Road. Yep, it was there! How could it not be?

I'm from Emporia originally, but my dad worked in Topeka for many years. I've also lived in Lawrence, and live in Kansas City, KS now. I'd love to see the Kansas City version someday too! I was just skimming since I hadn't checked out any of these challenges before, and I'm happy to see Kansas represented!
---
Title: Re: Topeka Monopoly
Post by: missnihkii on March 25, 2008 09:38:43 AM
---
wow.. thats cute!! my best friend from crew resides in topeka, so i had to check this out!!
on crew- we sold magazines door to door, and i got the chance to work in topeka.. not such a bad place, but i can understand what you mean on lhating til you move away, thats how i feel with this shithole- hayward wi..
that board is just too cute though!!!