---
Title: happy velvet waistcoat
Post by: nushybum on April 01, 2007 02:47:56 PM
---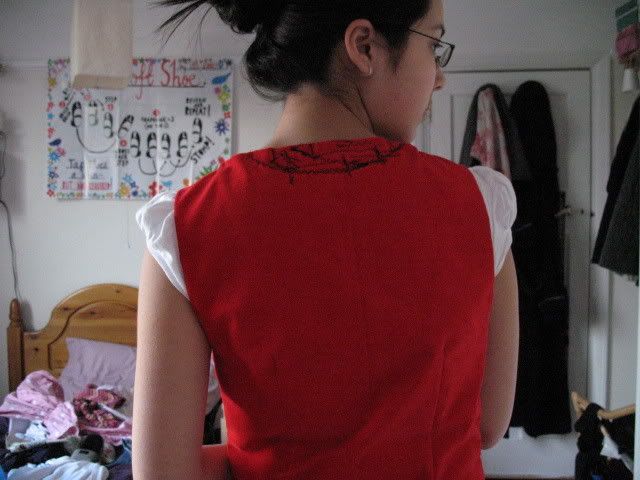 I'm very pleased with this waistcoat! I made it over the weekend and hope to wear it a lot over the summer. I love the mismatching buttons (only the top one is functional, but the two lower decorative ones have hook and eye fastenings beneath them) and the little black embroideries, as well as the happy red velvet fabric. The waistcoat is made from a pattern (can't remember which one, though it was view A...) and it's lined with a white polycotton.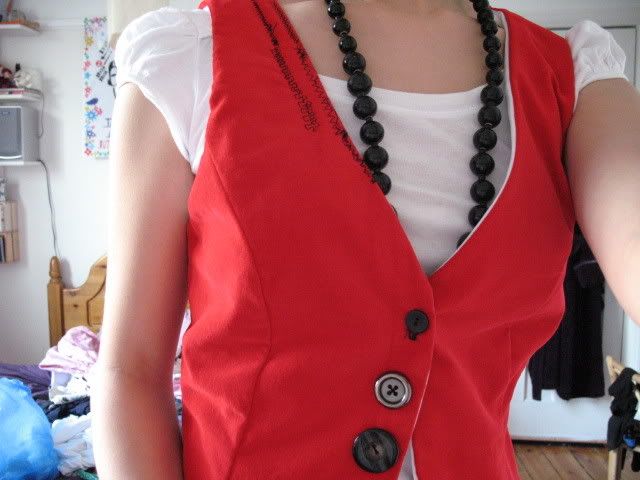 To read more about the waistcoat (including how it primarily made me look like a morris dancer :o) see this blog entry: http://magic-fingers.blogspot.com/2007/04/on-avoiding-becoming-morris-dancer.html.
I'd love to hear what you think!
~Anushka
http://magic-fingers.blogspot.com
P.S. - you may remember me from the librarian dress episode (https://www.craftster.org/forum/index.php?topic=143855.0). Yes, now I'm onto morris dancers *sigh*
---
Title: Re: happy velvet waistcoat
Post by: ica_grnKhameleon on April 01, 2007 03:35:55 PM
---
WOW! this is amazing!! I love it!!!!can you please try to remember the pattern? It looks amazing on you!! I lurves it! ;D ;D awesome job!
---
Title: Re: happy velvet waistcoat
Post by: thecoffindontwantme on April 01, 2007 03:57:56 PM
---
That's so beautiful.
I love that you made something so average look so unique and gorgeous. I love the buttons and black embroidery as well.
It looks great on you, by the way. :)

---
Title: Re: happy velvet waistcoat
Post by: emiwcch on April 02, 2007 04:39:54 PM
---
that's so cheery! i love the buttons, they really add something. and i don't know what morris dancers are, but the waistcoat is still adorable!!
ps-- are you sure you can't remember the pattern? i'd love to make one too