The ManFlesh's nieces live "far" away and we won't be able to be with our families of origin this year for Thanksgiving or Christmas, so I wanted to send them a little pre-Christmas treat just so they remember that we still think of them even though we're not what you'd call "phone users." They are 7.75- and 5-years old (will be 6 on Dec 20).
I saw a pin for bias tape shoelaces and I am a sucker for making bias tape so this seemed right up my alley! I don't think that the original blogger (
http://sara-vs-sarah.blogspot.com/2011/03/scrapbuster-no-18-challenge-submission.html
) actually cut her strips on the bias and at first I wasn't going to and the I realized that store bought shoe laces usually have some stretch so I ended up cutting on the bias. I made a little wrapper just for funsies. I wish I'd waited until the laces were done so I could have sized them better, but I bet the kiddos won't even notice.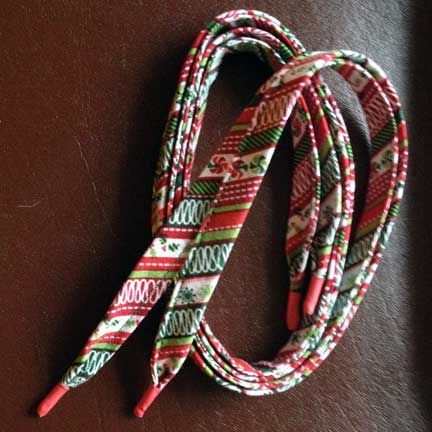 The biggest trick is using heat shrink tubing to make the aglets (you know the plastic bits that keep the ends from fraying). The blog suggested and I bought mine from Radio Shack, but I'm sure there are other options with more color choices, too.
Sorry the pic is a little out of focus, but you get the idea.