The ManFlesh doesn't have an xmas stocking so I decided to make him one. He has worn these big black platform boots with his last 2 Halloween costumes, so I used that as my inspiration. (
http://www.craftster.org/forum/index.php?topic=204653.msg2183719#msg2183719
) & maybe not safe for week
http://www.craftster.org/forum/index.php?topic=276742.msg3129641#msg3129641
)
Whole thing: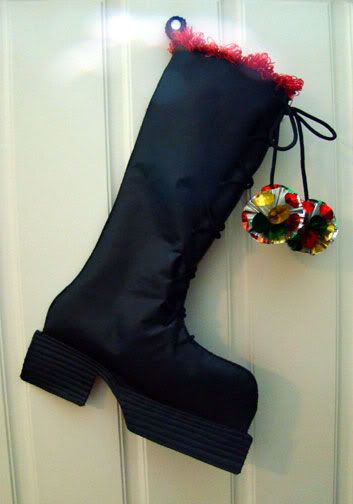 I was able to use remnants from last Halloween's costume for the exterior & remnants from an old project for the lining. The trim is from a remnant bin in the upholstery dept. at a local fabric store that I had on hand.
Gotta have sole: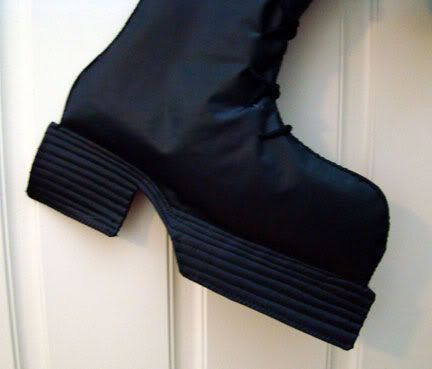 Details: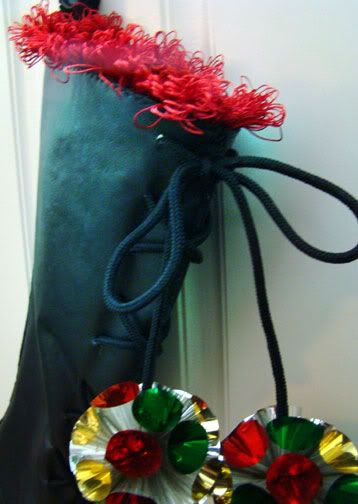 The lace bobbles are ornaments from a big box of various styles that I bought at an estate sale for a couple dollars this summer.
I was trying to find something to add to the top so it looked Christmas-y and festive, but was kind of stuck between something dull and barely noticable (like darker green satin cording) and kind of feminine which is what I went with, because the other was too dreary and serious even though it was more masculine. Both the bobbles and the red trim could be easily removed if he can't handle it, but I'm pretty sure he'll not really care about those details and just be touched with the gift.
We're having quite a winter storm here in the Pacific Northwest and now I'm not sure I'll get to give it to him in time for Santa to fill it.