So last year I came up with the idea that instead of bringing the hostess/host a bottle of wine when attending a party, I'd try to bring some "gourmet" mixer for her/him.. Not long after coming to that conclusion The ManFlesh was telling me about his "famous Bloody Mary mix" and I thought that would be a good homemade version of the mixer idea. And then I did nothing about it... until yesterday.
We were invited to a great costume party and I wanted to take them something to enjoy the day after the party (or whenever they wanted). I decorated the bottle (emptied and cleaned vodka bottle) and The ManFlesh made the mixer.
The front reads, "Witchy Mary's Morning After Potion/Add vodka to taste & serve over ice with garnish of choice./Works best when consumed in a quiet room with dim lighting."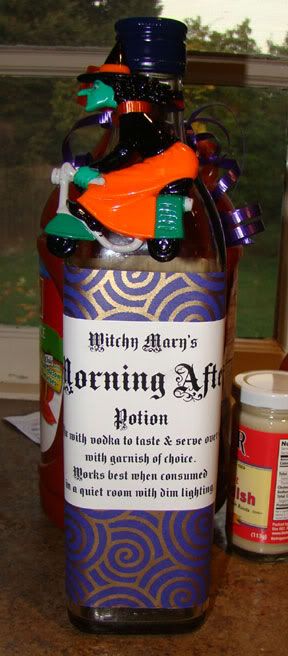 I realized yesterday that we're coming into the time when it's hard to get good photos of projects because the days are so short. Sigh. It's nicer looking in person.
The back
The label says "Produced in a facility that also processes eye of newt, and toe of frog, wool of bat, and tongue of dog, adder's fork, and blind-worm's sting, lizard's leg, and howlet's wing. Not tested on animals."