So, I end up wearing men's "painters' whites" for work most of the time. They don't fit well (since I'm not built like a man), but they are durable, handy and inexpensive. There is a line of women's painters' whites, but they are more than twice as much as the men's version (at my contractor discount at my paint store) and it's just hard to get excited about paying much money at all for clothes that are going to be "ruined" pretty much instantly. BUT, I'm so tired of not getting to dress like a girl very often. This is my compromise.
THIS is my butt:
I dyed a pair and made "painters' purples!"
And since every pair of men's painters' pants I buy eventually get too short, I bought a 24" inseam and just cuffed them. I added some handmade seam tape left over from making boxer shorts and snaps because these pants never stay cuffed.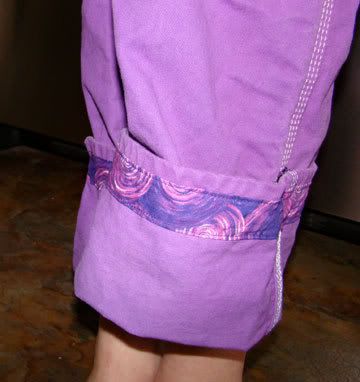 Pardon the wrinkles, but I draw the line at ironing painters' pants.
Before shots:
These are unbleached cotton, but traditionally painters' pants are true white.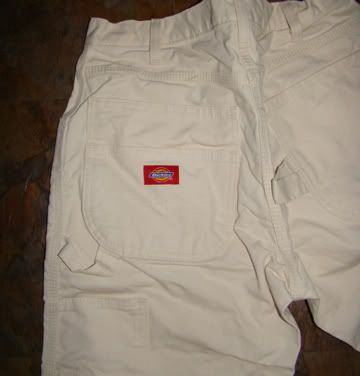 It seems like all the pockets on these things would be handy, but really the only truly cool extra feature is the double back pocket on one side. There's a "cell phone" pocket on the leg that dumps my phone everytime I crouch - I don't know if it magically holds cell phones when these pants are worn by men or what.
In progress:
Sometimes I get to where a tyvek bunny suit for work and I thought it was a good idea considering I'd be working with a giant pot of simmering purple pants. The red on it is Venetian Plaster, the blue spots are bits of painters tape. I didn't actually wear the hood for dying.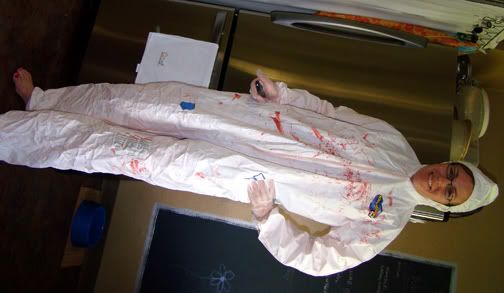 Thanks for looking! I know it's not very exciting, but the women painters I know are going to appreciate it.