I made the apron and cap out of bleached muslin and much help and guidance from GraceOblivious and her post:
http://www.craftster.org/forum/index.php?topic=280005.0
. I made the buckles and their straps out of foam core, aluminum foil and vinyl and the pom poms from a cheapo plastic table cloth from the dollar store and some cloth tape. All of this stuff was laying around the house so this was a no-cost project. Didn't realize how the dog's leash and the camera might further de-authenticate my look. Oops.
Closer view of the cap.
This is one of the few times I didn't read all the directions carefully before beginning and I messed up the cap because of it. Luckily, it's just a goofy costume and no one noticed. I know it looks like my team lost, but the event hadn't even started so I don't know what that sad face is about.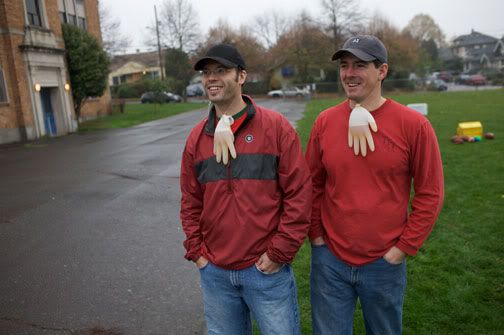 "Ok Mistress T, but why?"
Well, The ManFlesh's pals have an event 'most every Thanksgiving called the Turkey Trot which is a series of "athletic" events completed by teams of 2 all the while they're wearing latex gloves of beer under their chins like turkey wattles. Yes, they're a "bunch of yahoos who like to drink" and yes, it's fun and funny as heck. That said I'm not athletic, nor am I "athletic" so I decided to be a pilgrim cheerleader. Any excuse for a costume.