Most of my creative time and energy is going into a thorough surface remodel of my kitchen, but I was able to do a quick & easy project from start to finish!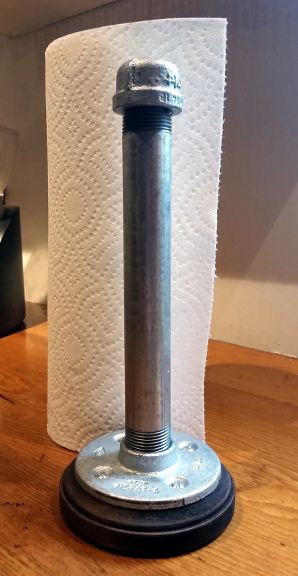 Because I have never had a counter top version, I did an informal survey of my Facebook friends and learned that it did not need to have a finial or a broad base to function properly. This was good for me because where I want it to go will have a lower-than-standard height limitation and I want it to take up as little counter space as possible.
This also saved me quite a bit of money in supplies as galvanized pipe and fittings are pretty expensive, so smaller is cheaper. Ditto for the wooden plaque from the craft store. I added felt pads to the bottom to protect the counter surface. The size does mean that you can't see much of it when it's loaded with a roll, but that's fine by me as paper towel rolls aren't that decorative in the first place.
It's stable when used and will fit where I want it to go.
I am pretty sure it doesn't look quite so, uh, suggestive in person, but maybe it just took photos to make me notice! A good reason to keep it loaded with paper towel!