The Manflesh's sister's family has a cabin at Mt. Hood. It came furnished which included an vintage doll cradle that the last owners (who rented the cabin out) used for magazines and local guides. The ManFlesh's sister and her hubby don't rent it out and go there almost every weekend once ski season starts. They have two young girls who play with the cradle every time they're there.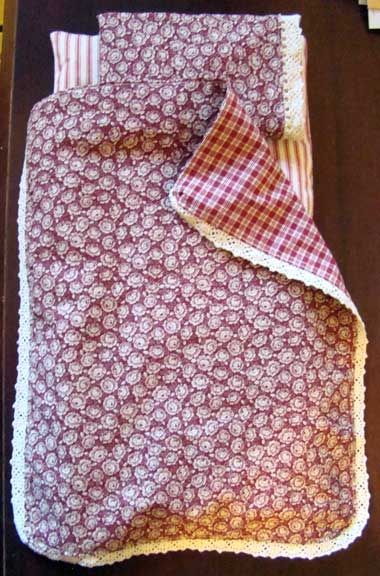 There were no bedclothes for it, so one of our last visits I took measurements (8 5/8" x 15 1/2") and finally made some for it!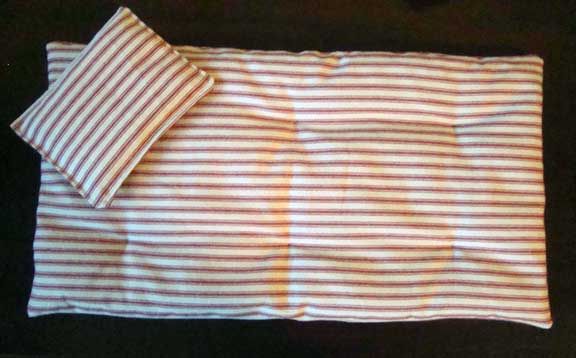 I made a "mattress" with batting and some ticking from my stash. They have a lot of red in their decor there and ticking is so old-timey I thought it was appropriate. I also made a pillow with the same materials.
There's a reversible blanket using similar colors as the ticking and machine crocheted lace.
And a reversible pillow case of the same fabrics and lace. Originally, I was just going to make a 2-sided pillow with one of each of the fabrics on each side, but then I decided it would only be a bit more work to do it this way which would be more interactive... and maybe cause more squabbles between the 6- and 8-year old girls. But, I'm not going to have to hear them and that's one of the best parts of being an Auntie-type; giving obnoxious toys that kids love and parents my not.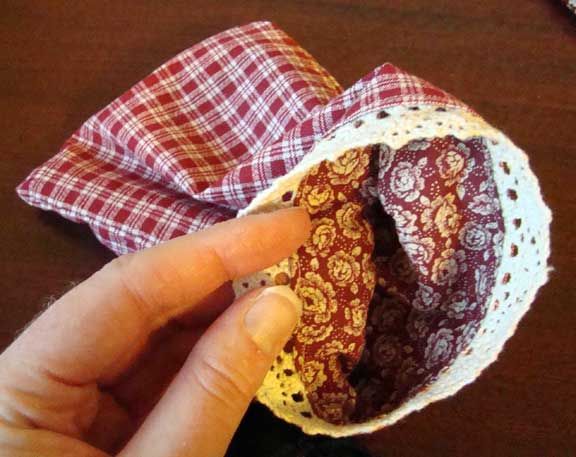 I do think that their parents will appreciate it, though.
If I have a photo of the cradle, it's one where it's in the background and that photo is on an external hard drive that I don't have easy access to as we've recently moved, etc.