Since I'd made and sent save-the-dates (
http://www.craftster.org/forum/index.php?topic=380340.0
) and invitations (
http://www.craftster.org/forum/index.php?topic=388795.0
), I knew I had to wrap up the Betty's 1st Birthday (
http://www.craftster.org/forum/index.php?topic=388793.0
) project with Thank You notes. I'm big on them for me and set high expectations about manners for my puppy. (Ignore the jumping, please)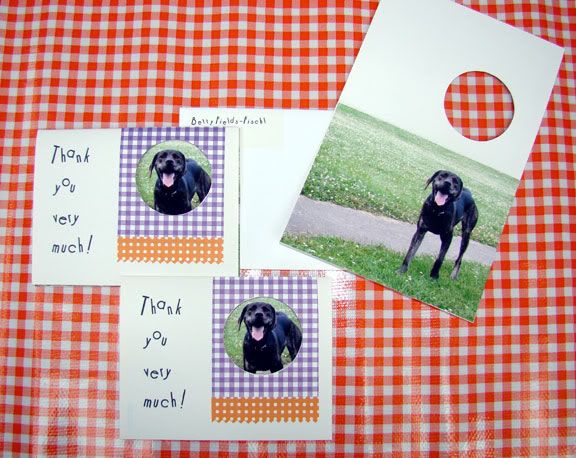 I used printer-friendly cards from my stash to get the "Thank you very much!" on there, then used a circle cutter to make the hole that her smiling, happy, puppy face shows through. I used scraps of the papers used for her s-t-d cards and invitations to doll it up a bit and glued a photo to the inside.
She dictated and I did the writing on the inside front to the left of the hole and she signed down below her feet on the picture like the glamor star she's growing up to be!
I made return address labels using the same font from all the cards. Of course for all the mailings we used the Adopt a Shelter Pet stamps!