... and by "cats' pajamas" I mean "my mom's pajamas and The ManFlesh's pajamas." I got the idea to make The ManFlesh footie pajamas for Christmas this year after a conversation we had reminiscing about our footie pajama days. I got lucky and found a pattern for adult footie pajamas: Kwik Sew 3713 (mens)! After finding the pattern I decided my mom needed a pair, too (Kwik Sew 3712). There's quite a bit of difference in the sizing on the patterns and there's quite a bit of difference in the sizing of The ManFlesh and my mom, so I got both, but the only other difference is the side the opening buttons/snaps on.
This time of year it's hard to get good lighting around here with the short days and it's REALLY COLD outside right now and I don't want to wear these outside, so... crappy pictures it is! Sorry. I hope to get action shots of these jammies' rightful owners on Christmas.
I'm taller and bigger than my mom, so these will be a bit more roomy on her. They look okay on me, but are a bit less comfy-cozy than I'd like for such a garment.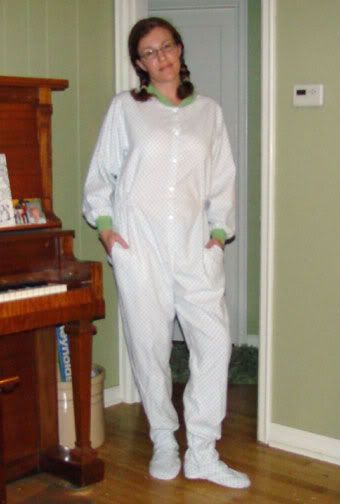 There are side-seam pockets which I'm pretty sure Mom won't use and The ManFlesh will.
A close-up of the flannel, the ribbing and the cute snaps!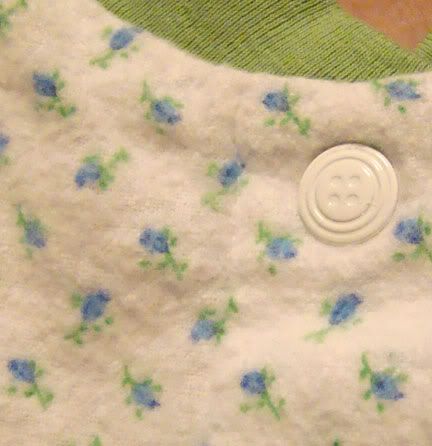 I chose green binding because I thought white would get dingy and there wasn't a suitable blue (and it was a 35% off all fabric sale) and I think that the green is probably cuter than either of the others would have been anyway!
And a quick pic of The ManFlesh's which are actually purple-purple polar fleece with black ribbing and purple snaps. Purple is his favorite color and there wasn't a good match to the fleece, so I went with the safety of basic black.
He's taller than I so these are pretty baggy on me. Also I left the elastic waist out of them, because I think he'll prefer the looser fit.
Both pairs have that no-slip fabric on the bottom of the feet, which are lined with the body fabric. I only very rarely craft for myself, but I think I'll be making a pair of these for me in January if I can! Thanks for looking!