DISCLAIMER: Between the lack of natural light on that side of the room because of the bookcase/room divider and my lack of photography skills, the photos are kind of crummy. I think it's nicer looking, more inviting, in person. I hope I am right.
Last November both out mothers came to visit for the long Thanksgiving weekend. We have one permanent guest room, so we got one of those tall inflatable mattresses, cleared out the studio mess, and set up an auxiliary guest room in there. This is probably the one room in the house we haven't done any updating in since we bought the house about 2.75 years ago, so pardon the fake paneling, etc. Since we already had a third comforter and enough pillows, I went ahead and made a duvet set to help it look like a "real" bed. I used a cotton ticking stripe in black/natural and a natural/black gingham check around the seams.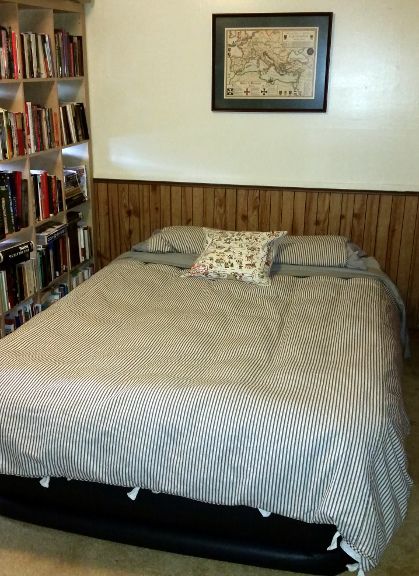 I can't remember my logic or inspiration (probably something I saw on Pinterest), but instead of standard pillow shams, I made lined "tubes" with ties on either end. I think the look suits the "utilitarian" quality of the ticking, though.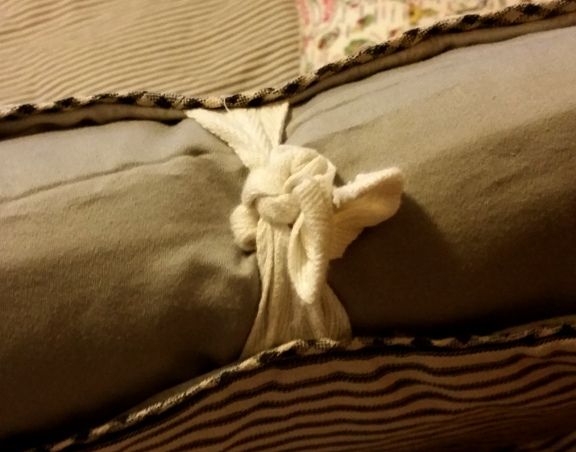 It is backed with a material from a natural tan sheet set. Instead of snaps or buttons, I used ties for the closure on the duvet as well. Some unbleached cotton twill tape I had in my stash. I am pretty sure I saw this style of closure on Pinterest, too.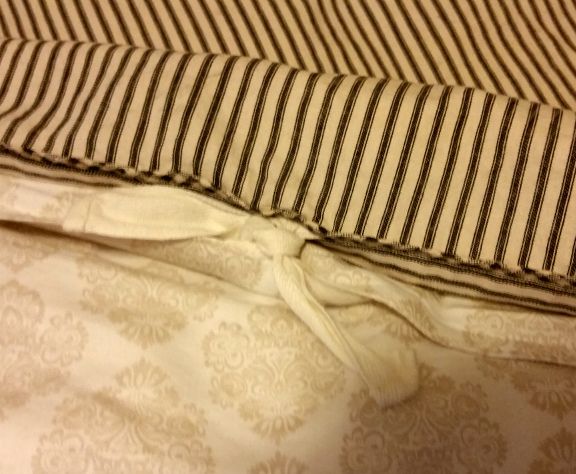 Since the photo was taken I have set up a little side table with a milk crate topped with a vintage metal tray and added a lamp. Hopefully it will be comfortable enough for a girls' weekend coming up in a few days!
Once it was made, I noticed that a vintage-style souvenir tea towel I had looked really neat with it, so I made a cushion cover out of it for a little extra bit of the "real" bed look. Here's a post on that:
http://www.craftster.org/forum/index.php?topic=439425.0