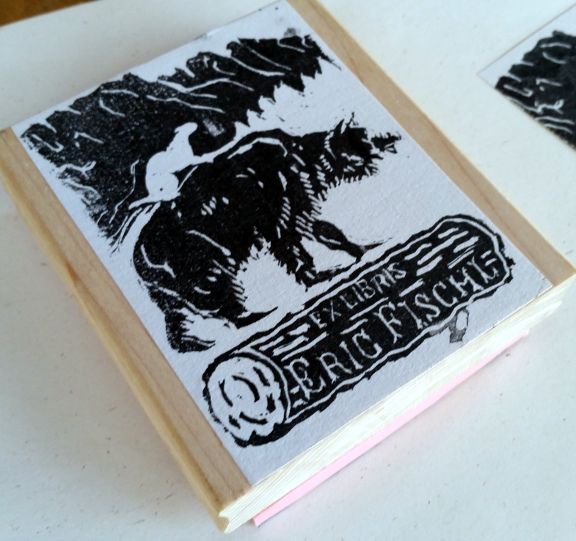 My Beastie Grrrlz' papa, The ManFlesh, is a BIG reader. BIG. Like, can read for 14 hours a day if he doesn't have any other obligations or tasks-at-hand. Between us we probably have a couple thousand books, but about 80% are his. ALSO he loves the look of wood and lino cuts, so when I saw this post (
http://www.craftster.org/forum/index.php?topic=176460.0
), I decided to give stamp carving a try for the VERY FIRST TIME.
I used a drawing of a weasel riding a bear that my friend, Bascom Hogue, made for me for embroidering a western shirt for The ManFlesh for Christmas. (
http://www.craftster.org/forum/index.php?topic=437308.0
) I added a local, striking rock feature in the background, and a stylized log for the text below. When I went in search of something suitable to mount it to, I happened upon the uber discounted bin of wood-mounted stamps at the craft store and picked up a stamp with the right sized block for about $2! I just removed the label and the stamp, cleaned off the remaining adhesive, and attached my carving and an impression of it. The carving is approximately 3" wide and 4" high.
Now I just have to wait in agony for TWO WHOLE WEEKS for Father's Day!