I'm gearing up for a surfaces-only remodel of our main bathroom early next year. (Yes, that means this wallpaper is history!) I had put up "creepy cloth" in place of our usual shower curtain for Halloween and when I took it down, decided that now was as good of a time as any to make the new shower curtain instead of put the old one back up. We use a liner, so we were safe to continue using it in the mean time.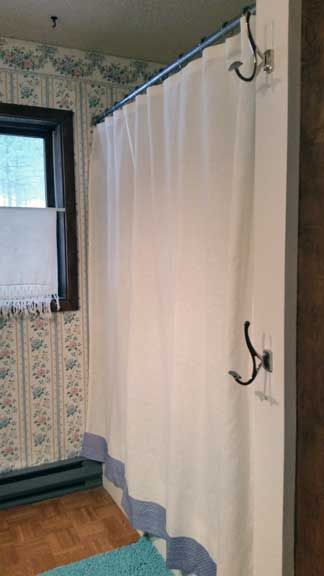 I want to use and display some of my "collection" of heirloom and vintage linen towels and such in the new bathroom so I had already decided to make it out of linen (or rather a linen blend) which I was able to get a pretty good deal on by using a 60% off one item coupon. WOO! Good thing, because linen is not cheap and it took about 5 yards.
I made my first French seam to attach the two panels it takes to make the fabric wide enough, but the flappy bit bothered me so I sewed it down. I still like the look and feel good about the durability of the seam, too. I decided that instead of grommets, I'd use button holes for attaching it to the rings. It seemed more old-fashioned AND it meant I wouldn't have to make another trip into town to buy enough grommets to finish the project.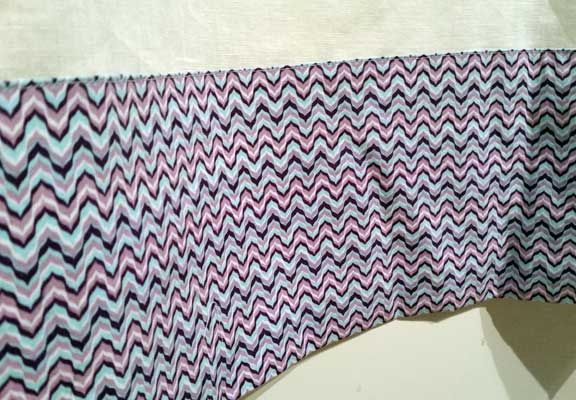 The accent colors I want to use are purples and aquas and I had already bought this fabric before we moved just for using in this room. I found new step-out mats a couple of month ago at a discount store and picked them up, but have had them stored until I put up the shower curtain.
I finished it last week and got it installed just in time for out of town guests for the long Thanksgiving weekend! WOO!