I got one last Thanksgiving project in and just in the nick of time; after I'd finished my food responsibilities and before I go to the airport to pick up our moms!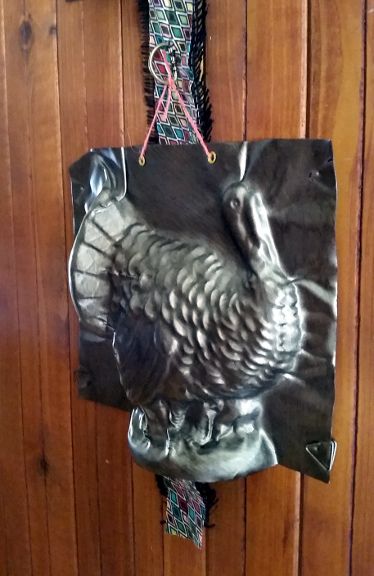 I was given the reproduction, two-piece chocolate mould as a birthday gift back in January. I am pretty sure it would not be good to use to make a giant chocolate turkey both for health and logistical reasons, so I felt comfortable drillling holes in it for the eyelets. I had every single bit of supplies in my stash: eyelets, handmade bias tape, burlap ribbon, D-rings, and orange twine. (the color in the photos is a bit off, the twine is an orange-red and the eyelets are a golden tan n real life)
There is another eyelet in the top of the ribbon for hanging. It hangs on the side of the kitchen cabinets that you walk by to enter the kitchen from the living room.