So, I was invited to an Adult Pinewood Derby that is based on the Cub Scout Pinewood Derby, but WAY more fun! For one, it's all grown-ups so you're on your own for self-esteem and crap like that.
For two, there is a Presentation category which included costumes, dioramas and even multi-media presentations. For three, there it is potluck food and booze. Which brings us to four, which is good-natured trash talk and high-quality sass.
So this is the 3rd or 4th annual, but my first. I was invited to be the partner of a friend of a friend of the host who'd been before, but not competed. Most people had 3 months to come up with their cars and presentations, I had 2 weeks notice w/ less than one week to work on the car. You will see how that came into play.
So, when I was telling The ManFlesh about it I kept calling it the "Pinebox Derby" so the idea of a coffin was born from that and a vampire/cemetery theme arose.
The top of the diorama with a view of the coffin car: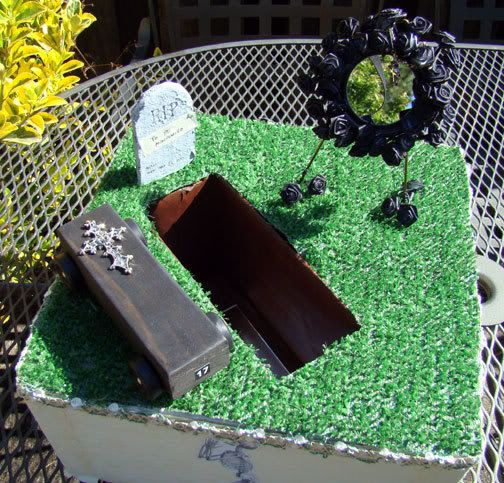 A fuller view of the front of the diorama: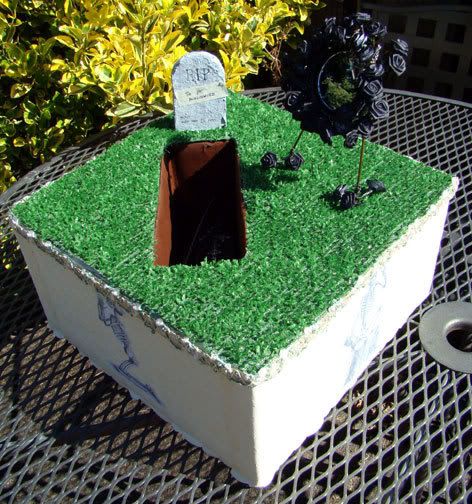 The sides are vintage paper placemats with print outs of anatomical drawings of a human begging for mercy from the 15th century or so.
The back with other anatomical drawings (ostrich and monkey/ape):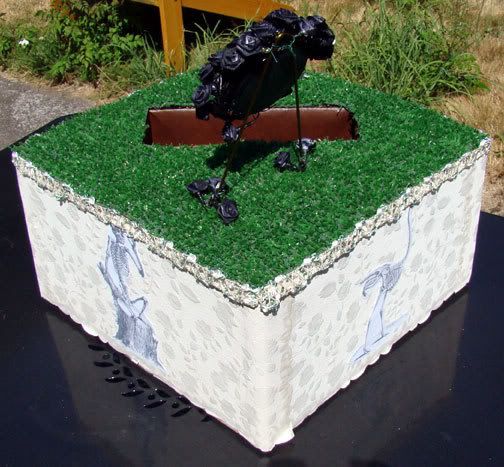 The headstone:
View down the open grave:
That's a mirror under the car, so when the car was out and the competition looks down in there they would see themselves. Bwahahaha!
Close-up of the grave-side floral wreath:
A mirror in that, too and a crucifix necklace from a Snoop Dawg action figure (yes, really).
Costumes were a little more low-key. Neither of us could get excited about wearing lots of black clothes or heavy make-up for mid-day outdoor event in July. So, it was black summer shirts, some kind of scout-ish shorts/skort, fire boots from him with a scout neckerchief and black sandals for me with a black umbrella that I scavenged and made into a creepy parasol. We did a light white make up (mine lighter than his, because he doesn't know how to apply make up), black and read lipsticks, lots of black eye-make up on me, some on him, plus he got black spray-on hair color.
Together before getting in the hearse, I mean Honda, to go to the derby: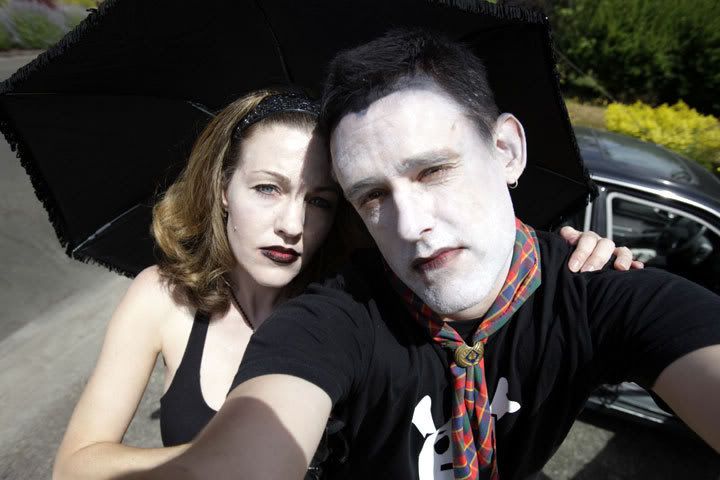 The sun was super bright and right in our eyes. Most of the day we wore sunglasses worked fine with the costumes.
Just me with a pretty good shot of the parasol: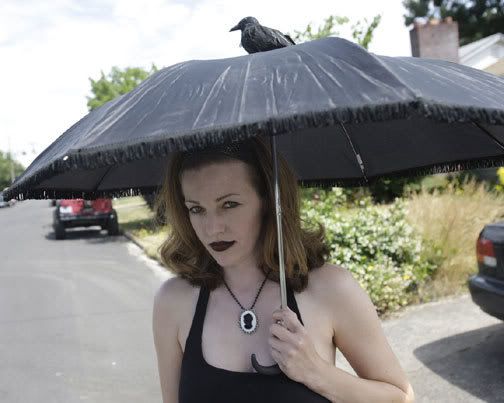 I hand-sewed inexpensive fringe to the edge. The top finial was missing, so I just stuck a dollar store raven on there by poking its feet wires through the fabric and twisting them around the frame.