Obviously she's so much happier AFTER getting her new blanket than BEFORE.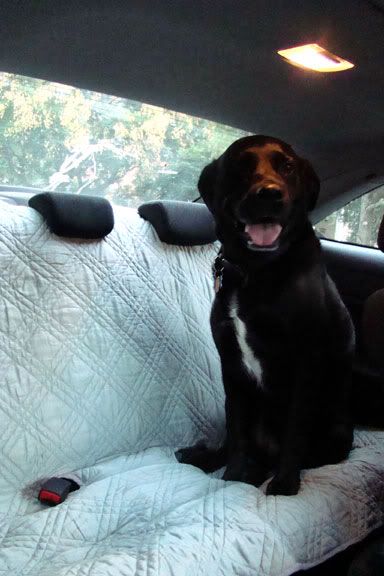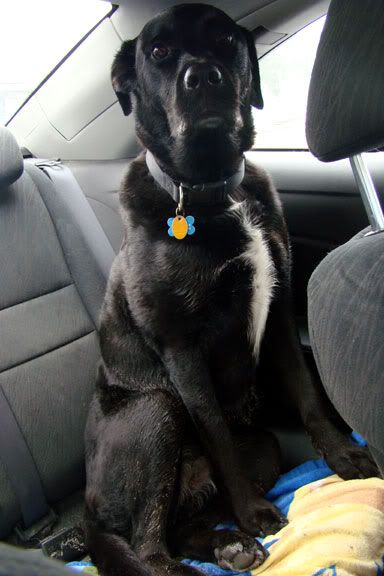 The ManFlesh's sad old sheets and towels weren't quite doing the trick of protecting the backseat of his car from his beloved dog, the lovely Miss Olive (above). I had this thrift-store bedspread that I'd picked up to make into pet blankets for the Snuggles For Homeless Pets* program and thought it would be the perfect car seat cover. Of course, I had to customize it.
Installed:
The headrests in the back seat come off, so that made for a great place to attach it AND keep it in place:
I made some slots for the seat belt fasteners which also help keep it in place. Of course, sitting back there on top of the blanket kind of defeats the purpose as you'll surely be covered in dog hair if you do.
A close-up of the bias tape binding of the edge and one of the holes for the headrest posts: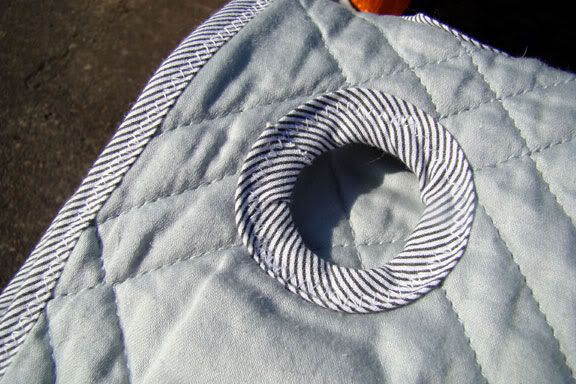 I also made the bias tape from free fabric from my aunt's stash, so the whole project cost < $2 including the thread.
The in-progress shot with my helper.
*The scrap from this and the bunches of other blankets will be made into smaller blankets for this project.