This is perhaps less "cooking" and more "food crafting, but here's where I'm putting it unless someone shows me the right place.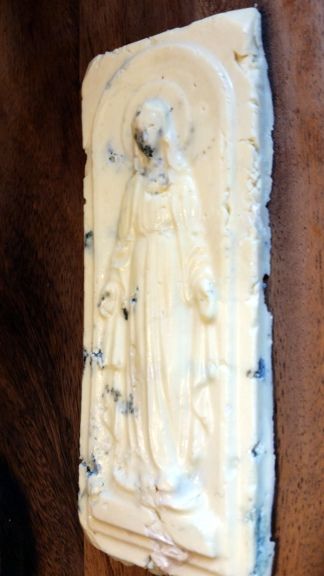 On our first overnight trip together, The ManFlesh and I went to the Czech Republic for 3 weeks. (yup) And we drove all over in a little rental car and heard lots of pop music on the radio. One English-language song we heard a lot sounded like "Funky Cheese Madonna," which became one of our jokes-of-the-trip. We learned later the lyric is "she thinks that she's Madonna" in a song called "She's Madonna" by some guy named Robbie something. Soooooo for Valentine's Day I have made Madonnas out of funky cheese, Cambozola which happens to be his fave cheese.
I used a candy mould that I found online, softened the cheese to room temp, then chilled it again before popping them out of the mould.
More details about the process I used on my blog:
http://suddenlytaxidermy.blogspot.com/2015/02/funky-cheese-madonna-of-how-i-used.html