The ManFlesh's birthday is coming up AND he's a big fan of weasels. In fact, he jokingly refers to them as his spirit animal, even though I don't think he'd much fancy an actual live weasel other than for a quick visit and probably at the weasel's house, not his. I used scans from an old copyright-free clip art book of animals to make him a couple of tee shirts and iron-on transfer paper for inkjet printers. There was A LOT of tidying up and tweaking the scans in PhotoShop, but I'm glad I stuck it out.
Here they are in poor lighting. The white has a cream neck and the other is light blue, its weasel wraps around the side.
Here are close ups of the weasels:
The original images in the book had numbers that corresponded to descriptions at the bottom of the page. This one was originally 44, but I made it 35 since that's the birthday he's celebrating.
Front: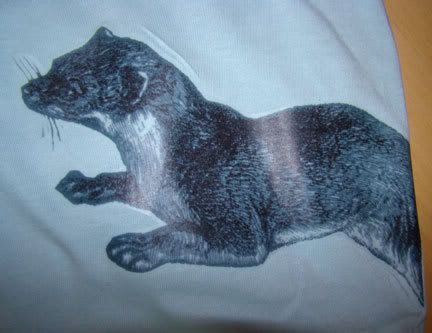 Back: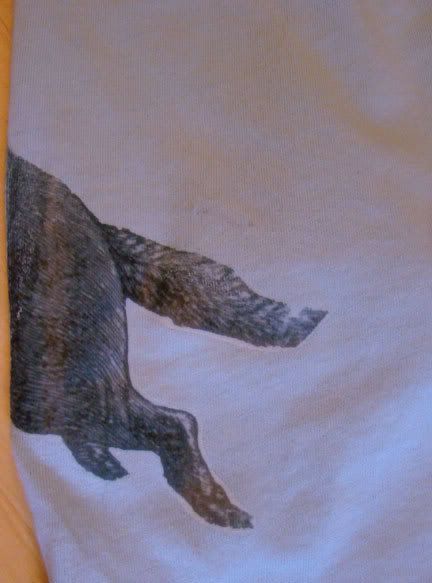 I noticed that the GAP had put info on the inside of the hem and thought it might be fun little surprise thing to do something like that. I meant to make them upside down so that when he was wearing the shirt he could flip it up and read it, but I got confused and got them right side up. Grrrr!
The white ringer with a reference to some funny weasel conversations we've had: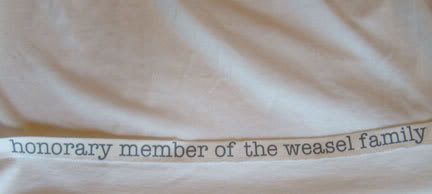 The blue

Iron-on transfers always make me nervous, but I'm mostly pleased with how these turned out - I hope they make it through the first washing. I just hope he likes them. And not just because I made them, but like them-likes them. This might be worse that swap anxiety!