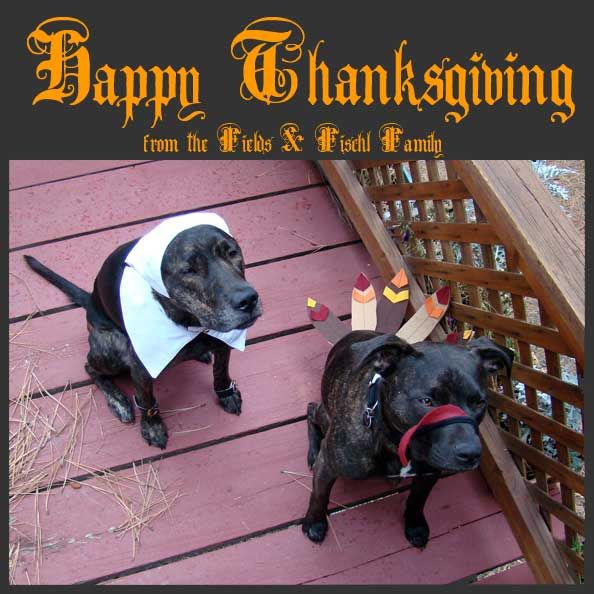 The Manflesh calls our Beastie Grrrlz "you turkeys" all the time and now that we live in a place with actual turkeys wandering around that our turkeys sometimes chase, it seemed appropriate to make turkey costumes for our turkey-chasing turkeys for Thanksgiving.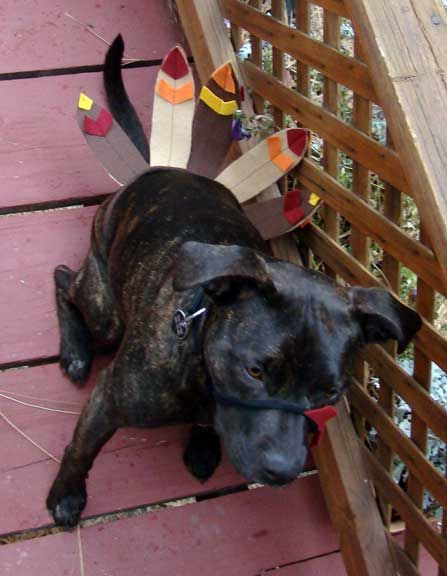 I made front and back feathers out of felt, then sandwiched cereal box cardboard in between to make them stand up. The waistband is polar fleece that fastens with hook and loop tape.
While plenty cute on it's own, I felt like an additional key turkey part was necessary: the wattle. Its design is based on the Gentle Leader "headcollar" and it's made of a 4-way stretch cotton blend I had laying around with red felt for the wattle.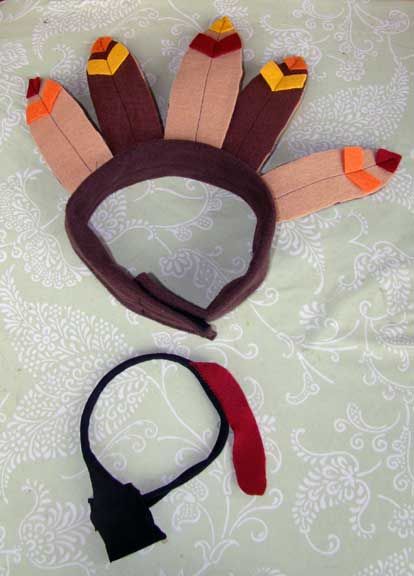 It took me FOREVER to make that tail feather set up and I just did not want to make another, but both dogs needed costumes. Or rather I needed both dogs to have costumes. So I did a quick lady pilgrim!
The collar and hat are a cotton blend scrap and each are made from 2 pieces cut the same, sewn right sides together and turned right side out. The collar fits over her daily collar and the hat has a wide elastic strap. I had used this hat pattern a few years ago for myself:
http://www.craftster.org/forum/index.php?topic=280005.0
and the dog hat is based on it with a few proportion adjustments.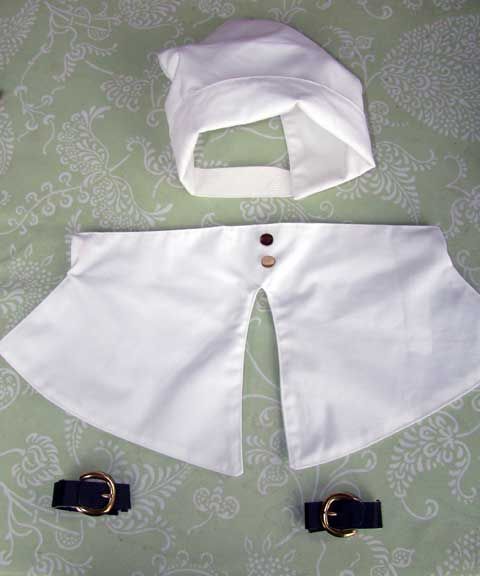 The final detail are the "shoe" buckles! What stereotypical pilgrim is complete without buckles? These are made with leftover vinyl, buckles from my stash, black elastic, and more hook and loop tape.
There is so much that is good about dog costumes, but one of the best things about these is that the only things I had to buy were the felt squares, which I got on sale. I used <$1's worth of the $2 I spent on felt. The rest was all things I had in my stash. I am proving to myself that it was worth it to move 20-some boxes of fabric, notions, and craft supplies.
A funny video of what it's like to take pictures of moderately trained young dogs wearing costumes, ore photos and painstaking details on my blog:
http://suddenlytaxidermy.blogspot.com/2012/11/a-holiday-isnt-holiday-without-costumes.html