The ManFlesh and I were Anthony and Cleopatra (
http://www.craftster.org/forum/index.php?topic=363372.msg4267049#msg4267049
) for Halloween this year. I made or reconned everything on them except the shoes. I like how Anthony turned out better, so that's the one I'm entering.
First, the big picture; front: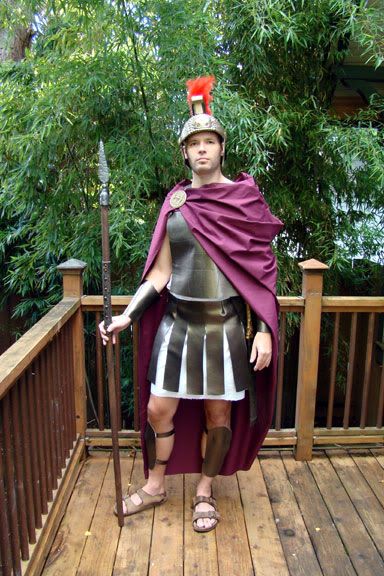 And back, with a cat for scale: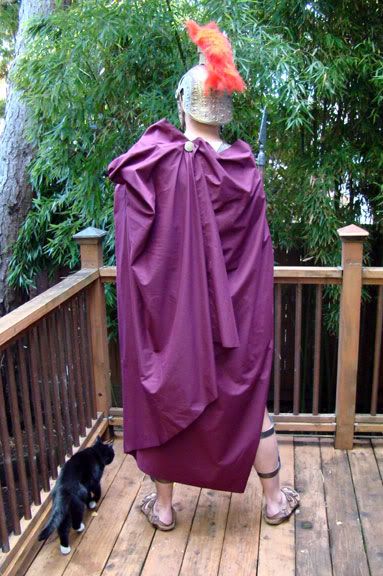 Underneath is a simple cotton/poly blend shirt (elastic waist) and a slim fit tunic-ish shirt. But the fun stuff is on top of those!
Starting at the top, I repainted and glazed the store-bought Galea (helmet) to make it more bronze-y and less gold. I also added the chin-strap to keep the on better as well hold the cheek guard parts in a better looking place. And finally I added a couple layers of felt inside to fit his peanut head better. We both wish I'd been able to easily find darker feathers to replace the bright red ones with.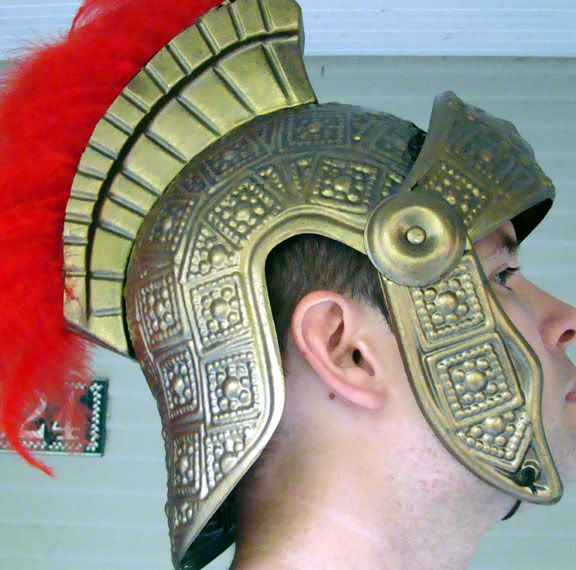 The paludamentum (cape) is simply hemmed yardage that we wrapped according to the authentic Roman style (supposedly). The fibulae or pin is painted and glazed polymer clay glued to a tin can lid based on a coin that he paid his soldiers with way back when... the 6th Legion or something like that.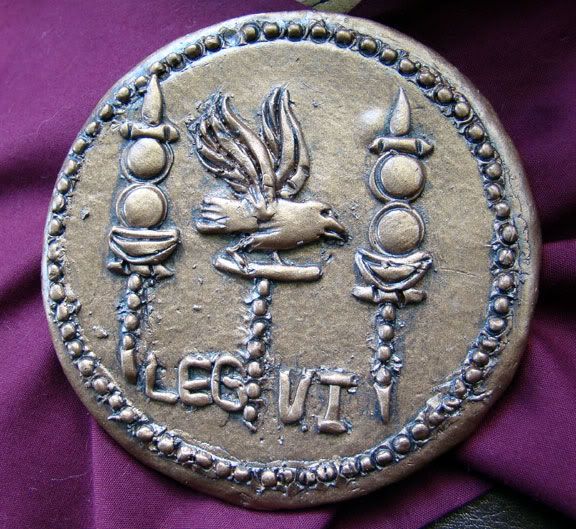 Like all the Lorica (armor), the chest plate is bronze upholstery weight vinyl with sewn details: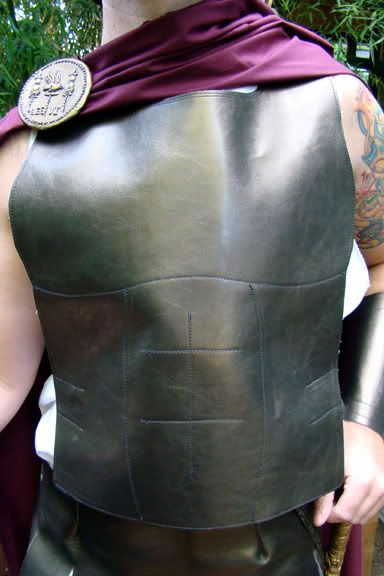 The back straps are sewn at the shoulder and fastened by Velcro at the front waist: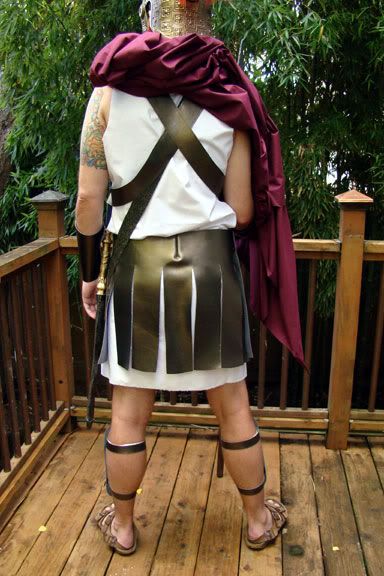 Lorica manica (gauntlets):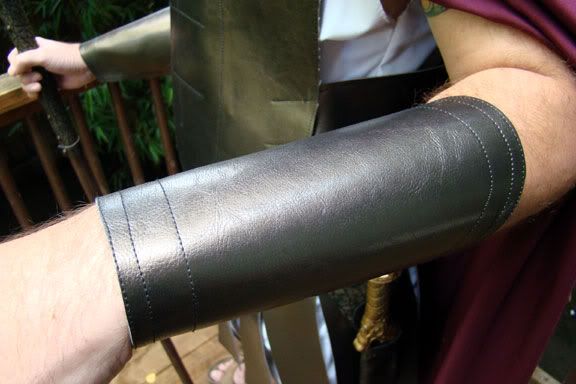 Pteruges (skirt) with darts, fastens with Velcro on the side: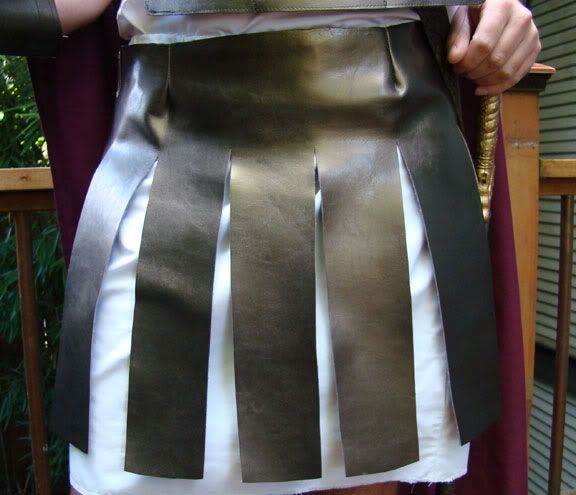 Greaves (shins guards):
Then there are a few accessories:
The spear-head is based on an image he sent me and is painted polymer clay on a wire armature: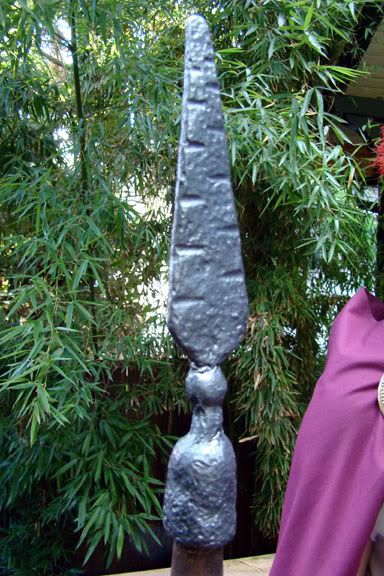 The spear handle is a push broom handle that I stained with an acrylic stain/sealer product. I wrapped it with some vinyl elephant hide, trimmed with bronze vinyl and attached with upholstery nails.
The sword is an old thrift store find and not at all Roman, but since it was mostly hidden and already bought, I just repainted the handle bronze to make it fit better.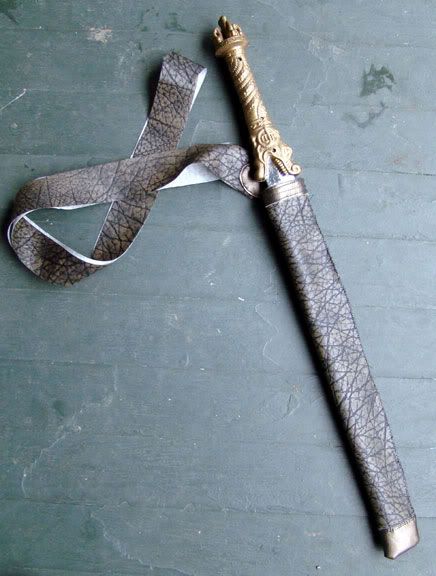 The real fun was making the Baldric which is also faux elephant hide with bronze vinyl details. I was really pleased with the crude top stitching, because I think it added some of the hand-hammered effect that real Ancient Roman metal parts would have.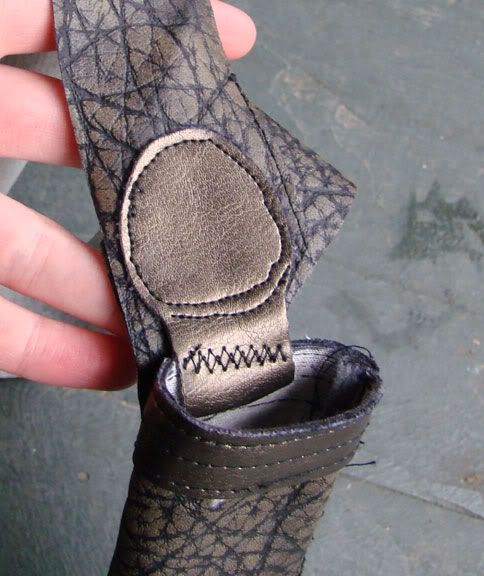 Whew! Thanks for looking!