Our Betty sometimes goes to work with her papa, especially on Halloween! His office really does the holiday up right and Betty loves the attention she gets as part of his dept's group costume. This year they did a Mexican theme with Luchadors (Mexican professional wrestlers) and Dia de los Muertos calaveras catrina (dapper skeletons).
Betty and her papa were a tag team luchador pair! And another member of the group was a calavera mariachi.
I also made parts of her papa's outfit (shorts, gauntlets, champion belt, and a few years back the boot covers)
And now a long serious of more details shots, both action and non-action, all taken at home.
Note the pink gauntlets on her "wrists."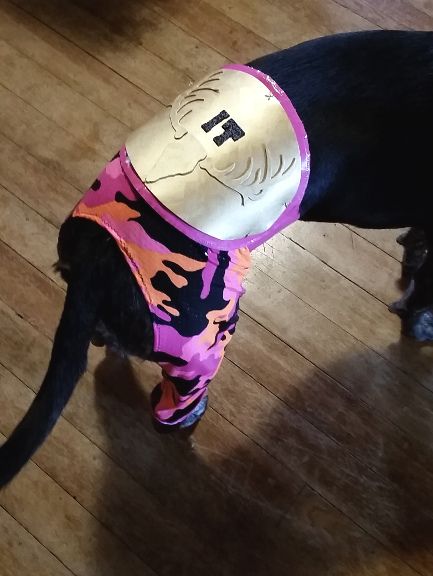 Working from the ground up:
The "boots"! Attached to the ankle area of the pants.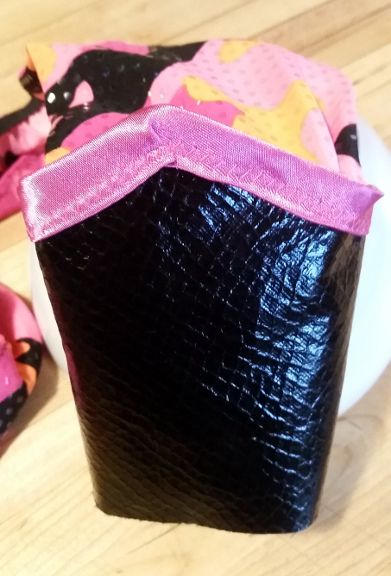 Close up of the pants fabric: pink/orange/black camo with shiny dots!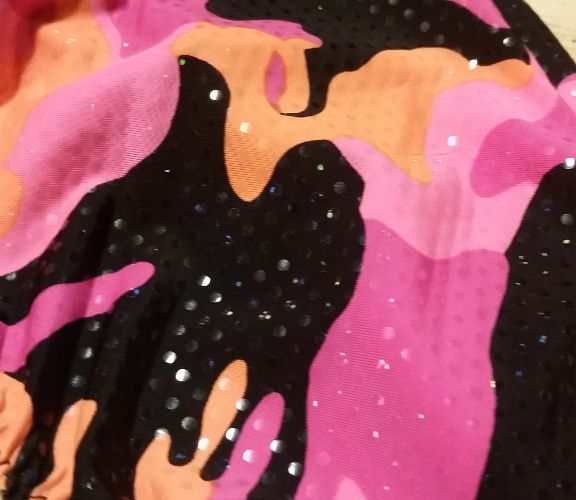 The pants would have never been possible without the expert help of craftster and sewist extrodinaire, MrsBowles! She was visiting and took the time to help me modify a free pattern I found online which has an XL fitting a 15-pound, short-legged pup.
Her champions belt! Her papa's work is an elk-based conservation organization and he is the IT Manager. His belt had the same "buckle", but was on black vinyl instead of pink. The "buckle" is craft foam painted and glued together, then attached to the vinyl with metallic embroidery floss. The belt is tacked to the pants in a couple places, but fastens separately.
The mask! And boy was she a champ at wearing it both for the office party and for all the fittings and photo shoots.
Front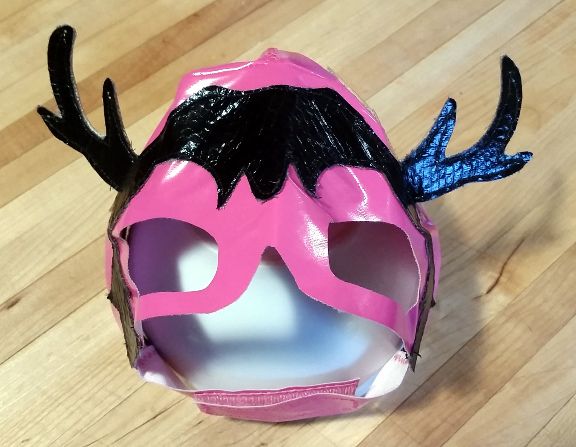 Side/front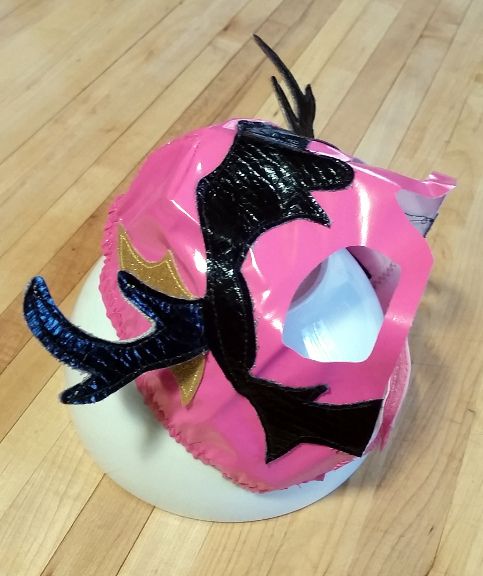 Side/back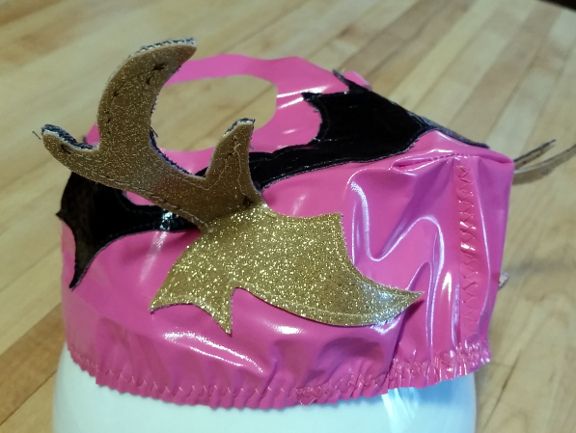 Back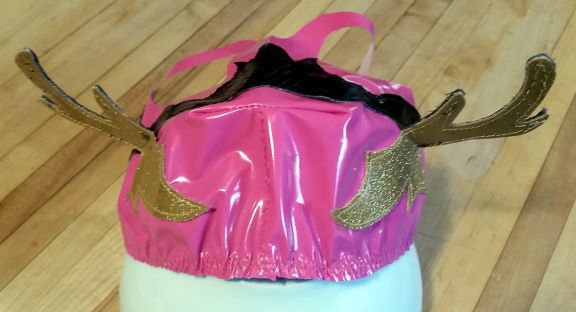 I had added a black strap to the back that slipped around her collar after I took these. I found that if she put her head down the mask would slide down over her eyes, so that kept in in place. I found a pattern for a luchador mask for a pug online and modified it to fit Betty. Believe it or not, it needed to be made smaller. Less space between the eyes and less "deep" so her ears wouldn't be interfered with.
All the mask's decorative details are my own design. The antlers are to pay homage to the elk focus of the foundation.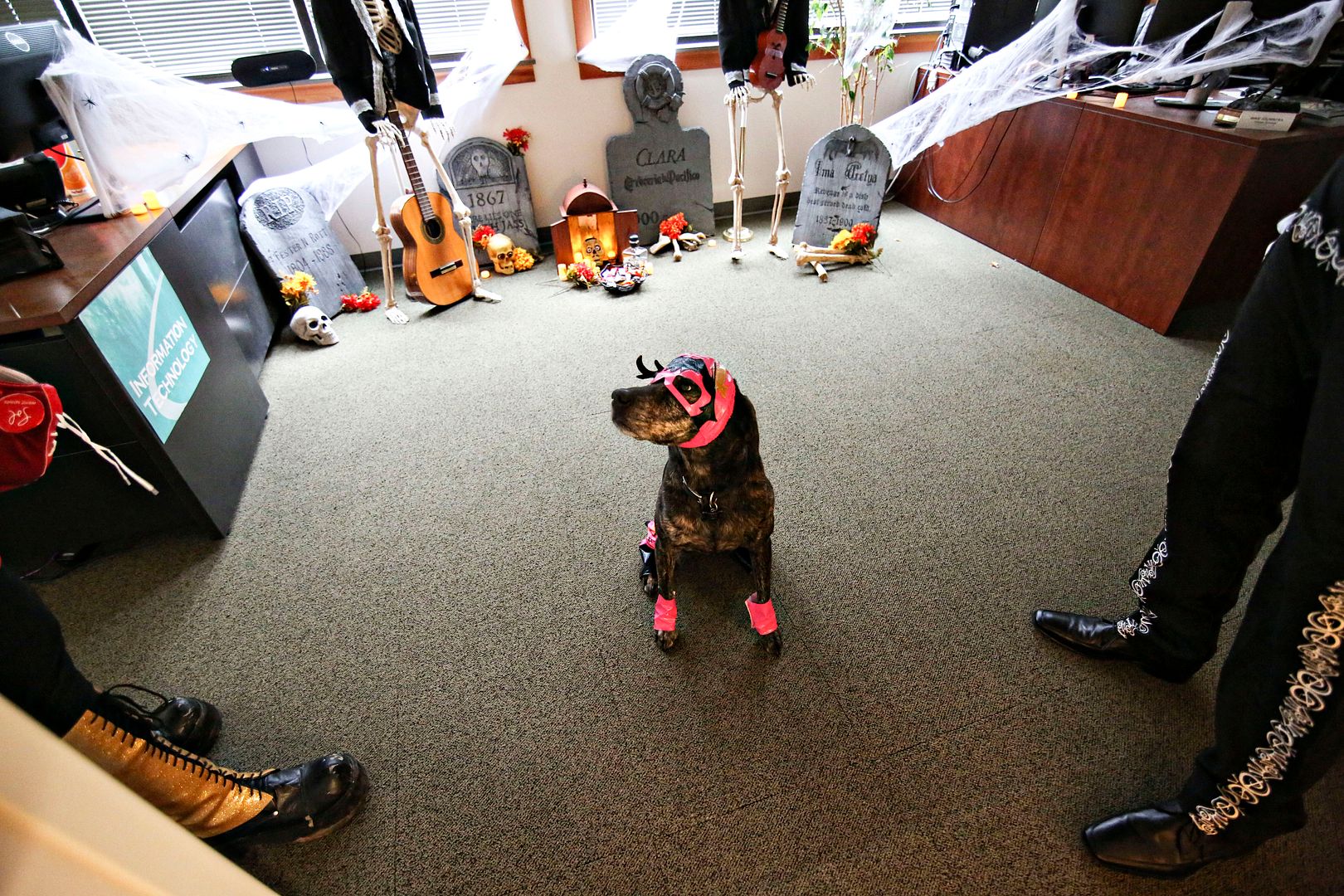 Photos taken at the office were taken by their photo editor.