Does anybody remember Wendy's pitas? I worked there in high school and my (very) early 20's and they were the best! I was craving some the other day so I made an easy version, and am listing all the other ones too in case anybody else wants to re-create them! Super super easy to grab when you're in a hurry if you do a tiny bit of preparation ahead of time, like making the cucumber relish and the broccoli slaw up and keeping chopped cooked chicken in the fridge.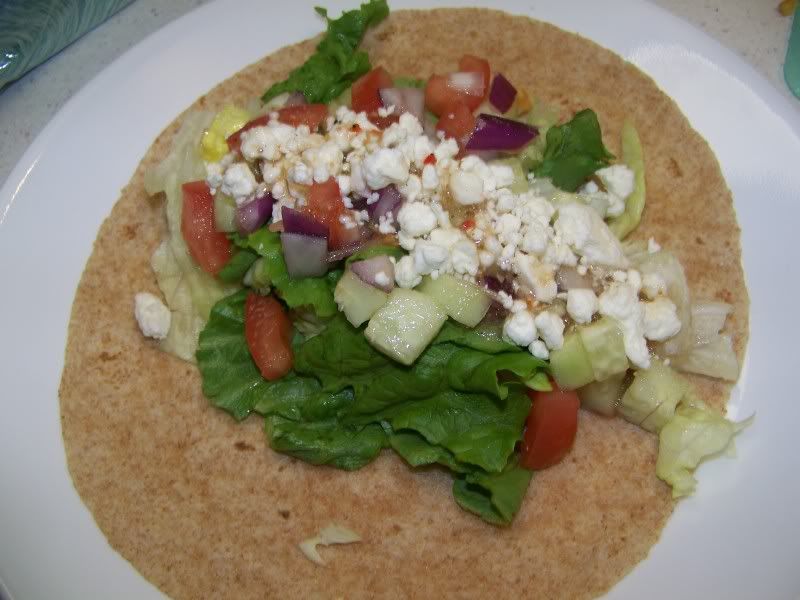 Greek Veggie "Pita" (pictured)
Ingredients:Cucumber relish
1/2 cucumber, peeled and chopped
2 roma tomatoes, chopped
1/2 small red onion diced
Combine veggies in bowl to make relish. Will keep in fridge for a couple days, great to top salads and chicken and other things too.
Warm pita bread (I used whole wheat tortillas)
Lettuce blend (romaine, green leaf lettuce, iceberg, whatever)
Cucumber relish
Feta Cheese
Caesar Vinagrette or Italian dressing
Layer ingredients in pita or tortilla, voila!
For other mock Wendy's pitas~ (I might have some of the names wrong, it was a long time ago!)
Chicken Caesar Pita
Warm pita or tortilla
Lettuce Blend
Shredded Parmesan Cheese
Cooked, chunked white chicken breast
Caesar Vinagrette or Italian dressing
Chicken Ranch Pita
Warm pita or tortilla
Lettuce Blend (packaged mix works well)
Broccoli Slaw
Cooked, chunked white chicken breast
Light Ranch dressing
Veggie Ranch Pita
Warm pita or tortilla
Lettuce Blend
Cucumber Relish (see above)
Broccoli Slaw (packaged mix works well)
Light Ranch dressing