I decided to go as Chiana from Farscape, so I had to make myself a comm. Here it is: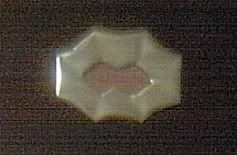 It's two layers of cardboard, top layer wrapped with gold wrapping paper and a hole cut out, and cardboard colored with colored pencil for the middle. I also glued some ribbon on the back so I could pin it more easily. It would have been easier to use paint, but I had wrapping paper, so dammit, that's what I used!
The rest of the costume I just put together with clothes I already had, black pants and a corset top, and I lacked the funds to buy knee and elbow pads, so I had to leave that off. I'm going to wear the makeup though, hopefully they won't send me home from work.