I finally finished this colorful beast of a project!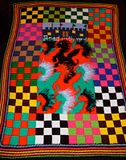 I'm calling it Thestral Tessellation.
It's an homage to J.K.Rowling and her awesome creation of the Thestral, (which, for non-Potter-a-hol-ics, is a winged horse-like creature that is invisible to most people). Most children anyway.
I've also crocheted the words "Read with me!" in there as well. I was going to put "Read
to
me!" but I thought "
with
" was more interactive.
It's the theme of the whole afghan as I believe reading with your children is so very important.
It's crocheted using a size J cabled afghan hook and many colored yarns.
(Mostly I Love This Yarn and Red Heart yarns. Also some TLC yarn as well.)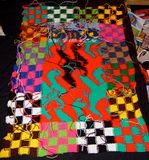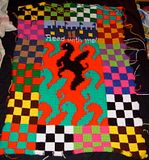 Here's the back and the front before I wove in all the loose ends and added the manes to the thestrals. They look like a bunch of bald-headed sea monsters with wings.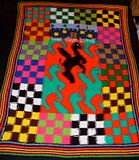 This is the back after weaving in the loose ends.
The manes were sort of surface-crocheted onto the front using the vertical stitches that are present when doing the afghan stitch. That is why they don't show up here on the back of the afghan. You don't go all the way through the afghan.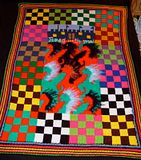 For the border I single crocheted around and around with a regular size J hook. I wanted it to look like a rainbow. There's a dark row and light row of each color, (except purple because I ran out of purple), and a black row between each color.
I used a graph for the thestrals that I got at Jessica Tromp's site.
I used a cross stitch alphabet for the words.
And I made up the castle part on my own.
My kids are now 21, 20, and 17. I miss reading with them. We always couldn't wait for the next Potter book to come out. I really miss that.
Hope you enjoy the afghan!