Two years. That's how long it took to make this Recycled Pop Top Granny Square Vest.
(Click on the photos for enlargement).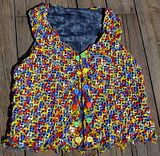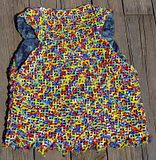 It took 960 pop tabs to make. (Four tabs per granny square).
I used Omega nylon thread for extra strength, (it's heavy), and a steel thread crochet hook US 5 (1.7 mm).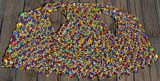 Here's the whole front laid out so you can see it all at once.
I used a denim vest that fit me as a template. I would lay the finished pop top granny squares over it and know where to sew the squares together to create the vest.
After they were all together, I strung lots of beads onto the thread and crocheted a sort of fringe around the bottom and sides.
Once I had the "skeleton" of the vest made, I knew I would have to line it, (although I dreaded it because I really can't sew at all). But it needed the lining because of the roughness of the tabs and occasional snagging onto my shirt.
So, I folded over some black "marbled-looking" material and sewed to the inside of the vest.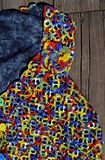 This flower pin is made with one of the granny squares. Inside the center I put an old bottle top I had picked up many many years ago. It says "Recycle Smiles" on it. So that's why I have chosen some smiley buttons to put on it too.
I also have a surprise for you-all. I made a tutorial on making the Pop-Top Granny Squares so you can make them too. (Granny squares are so versatile and you can make whatever you want with them. Scarves, hats, purses, and, yes, vests!).
Here's a link to the free tutorial. It's super-image-heavy because I knew that a picture is worth a thousand words and it was the best way to explain how to make them). Hope your computers can handle all of them.
http://www.geocities.com/quibblerscribbler/pop_tab_granny_square.html
There's a few more pictures of the vest in my blog, (including me wearing it. My son also modeled it too). It's very shiny. The camera just doesn't pick up on the shininess of it all.
I'm not sure you could wear it going through an airport security scanner, LOL!!
Earth day this year is Tuesday, April 22nd. I might be brave enough to wear it around that day.
Have a great one!