The snow has finally melted off our deck and I was able to bring out my latest afghan and take some pictures.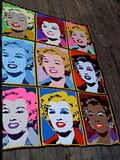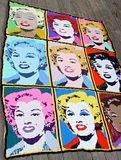 I couldn't seem to get the whole thing in one photo. Sorry about that.
This is crocheted in tunisian (afghan style) stitch with a size J cabled crochet hook.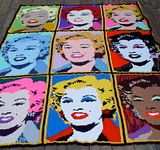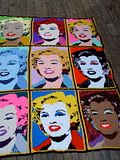 I crocheted it in three different panels of three graphed Marilyns.
Starting with the top right one, on the right side, and crocheted it throughout to the left side, (going across). That way I only had to work with one Marilyn color scheme at a time. Then I crocheted the three panels together in the middle. Once it was all together, I crocheted around the whole afghan. I wanted it to look like nine portraits like Warhol's pictures. (See below).
I used all the left-over yarns I had from previous afghans I have made. But I had to keep going back to Hobby Lobby to buy more black yarn. (You can never have enough black! LOL!!)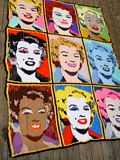 Here's the ugly back. You can see where I wove in some of the yarn into another colored area because there wasn't enough of that color to just weave it in and blend it with the matching color.
The picture of Marilyn is, of course, based on the great artist Andy Warhol and his 1967 artwork of Marilyn. The photo below is his work...
I decided to do this multi-colored Marilyn theme with the colors I had available to me. My Marilyn's are meant to represent her as a sort of "Everywoman". That is, no matter what colors are splashed on her, her beauty still shows throughout. She is a timeless sex symbol. I hope you all enjoy it. It was a lot of work but a lot of fun too!