I made this in April but I never posted about it here at Craftster.
I thought with Christmas coming up, it would be a good time to show it.
I know some of you may have already seen it.
(Images are clickable for enlargement).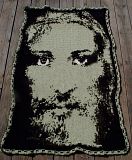 This is my interpretation of a portrait made by someone who used the Shroud of Turin as their basis for a painting of Jesus.
I took a photo of the picture, made it black and white, cleaned up a lot of the extra unnessary lines and bits,
(kind of like people do who make their own stencils),
and then graphed it at knitpro.
Then I crocheted it in the tunisian stitch using a size J cabled afghan hook.
Here's the original photo.
I don't know the name of the artist who did the drawing/painting. The site I found this at didn't say.
The yarn I used was the same kind as I used in my Purple Squishy Potter afghan, that is; TLC's Amore yarn in Celery and Dark Sage and Red Heart's version of the same type of yarn in black.
(My hubby freaked out at first because I chose green colors. "A green Jesus?!", he asked. But I think now that he can see my results it all worked out fine.)
The yarn is very crinkly and has the feel of terry cloth.
The whites of the eyes are not the same type of yarn, however. For that I used the same Fashion Knit off-white yarn I used in Dobby's afghan.
This afghan was very hard for me. There were so many color changes and the yarn was difficult to work with for the tunisian stitch. It kind of puckers around the edges in spots. I think it should be mounted on a board, stretched just right, so that all of the afghan lays out perfectly.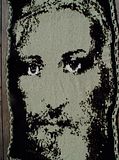 This photo was taken from the side.
It's eerie in that, no matter where you stand, his eyes are right on you.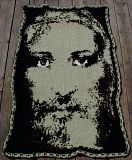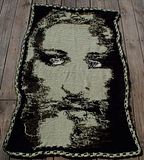 So, as a comparison, here's the front and the back.